Note: Joomla 3.8 is a one-click update. It is recommended to update from Joomla 3.7.5 to Joomla 3.8.
Highlight New Features in Joomla 3.8
New Routing System

Cleaner, shorter and more friendly URLs! New Routing System in Joomla 3.8 gives you more control over your URL structure including the often requested "remove IDs" feature that can benefit to your SEO.
Multilingual Associations Component Joomla! 4 Compatibility Layer
Joomla! 3.8 includes a Joomla! 4 compatibility layer. The core PHP classes will be moving to PHP namespaces in Joomla 4 that extension developers smoothly migrate to our next major Joomla 4.0 version.
Improved Sample Data Installation
With new sample data installation, you can install any sample data for testing any time you need with multilingual support included. In addition, extension developers can deliver their own sample data.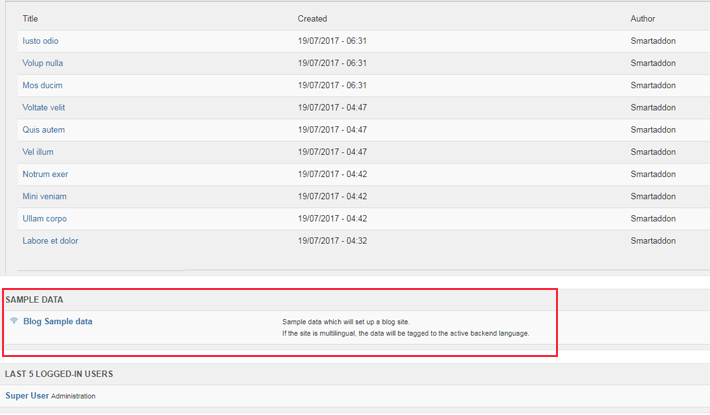 Sodium Encryption Support
The core encryption library supports the new sodium extension which will be added to PHP 7.2 and through a polyfill this library will be available to all users of Joomla! on all of our supported platforms.
Cleaner Codebase
A cleaner, faster codebase is presented in Joomla 3.8 that has been applied to improve both readability and processing times.
Security Issues Fixed
Core - Information Disclosure in LDAP Authentication Plugin (affecting Joomla 1.5.0 - 3.7.5) More information »
Core - Information Disclosure in com_content Archived Articles Model (affecting Joomla 3.7.0 - 3.7.5) More information »
New Installations
Upgrade Packages
Please read the update instructions before updating and remember to clear your browser's cache after upgrading.
SmartAddons & Joomla 3.8 Stable
Our team have been starting to update all our Free and Premium Joomla templates and Professional Joomla Extensions to Joomla 3.8. If you've already updated Sj Templates to Joomla 3.7.5, you can smoothly update to Joomla 3.8. For others, please wait for our update release.
Besides, if you update SJ Templates to Joomla 3.8 by yourself, please follow this article for Fix Bugs, Errors When Update Sj Templates to Joomla 3.8. So, keep in touch with us for the good news!
Follow up all of the news of Joomla 4: