Along with each city, there is a content table which displays ads details: picture, title, description, price, date, hits... You can create new ads as well as module location in AdsManager component back-end. Moreover, you can set the target for your links with New Window and Same Window. This is an awesome feature that SJ Filter Location for AdsManager offers to you.
Furthermore, the user friendly interface Admin panel totally lets you control all the parameter from adding your own CSS class or custom layout for the module to setting the content to show at the top or at the end of the module and many other advanced options...
This module is used in SJ Live Joomla Template. Visit SJ Live Demo to feel more!
#
Main Features
1.
Support Responsive layout
2.
Fully compatible IE7+, Firefox 2+, Flock 0.7+, Netscape, Safari, Opera 9.5, Chrome
3.
Support Multi-Module in the same page
4.
Support Multi-Language
5.
Allow to control the number of columns
6.
Support to open link in: Same Window, New Window
7.
Support to display Ads content table
8.
Allow to set module position
9.
Allow you to include Jquery OR NOT
10.
Allow to select the HTML Tag for module
11.
Support the CSS Class for module header/title
12.
Allow to select the HTML Tag for module header/title
13.
Support to add content at the top of module and the end of module
14.
Support caching to make your website loads faster
CONTENT TABLE FOR EACH CITY
SJ Filter Location for AdsManager provides an interesting way to present Ads detail in a table. Users can totally create and control Ads for all places in the AdsManager component control panel.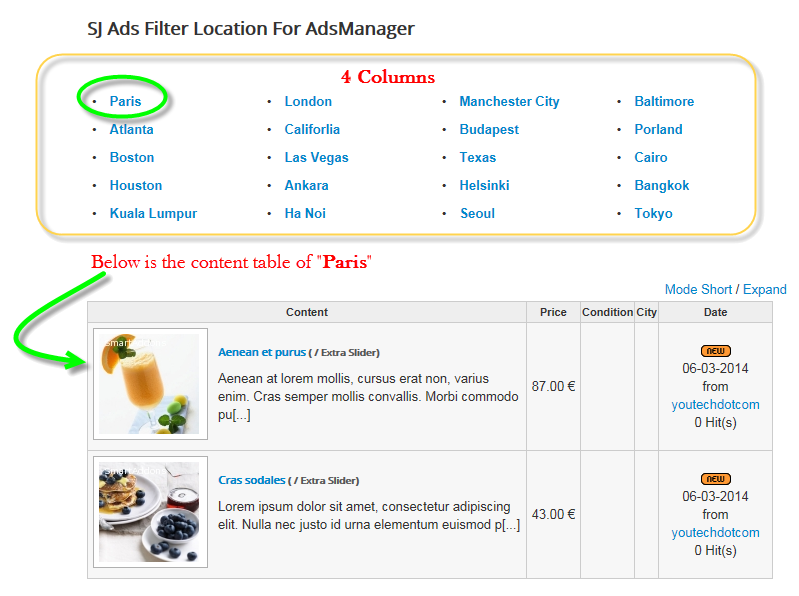 COLUMN LAYOUT
In back-end, you can customize the number of column for your content which will be displayed as below.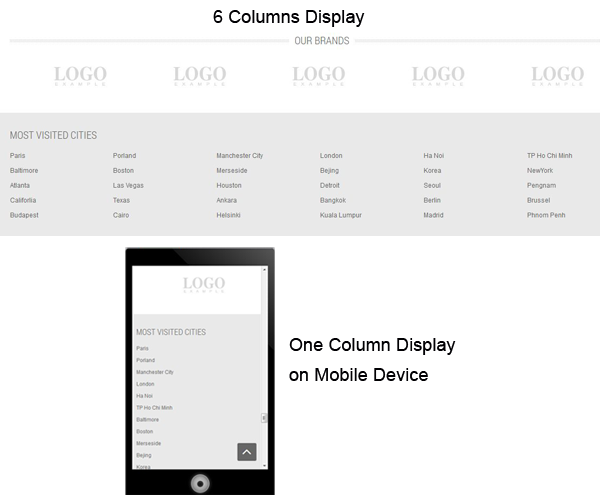 Changelog:
VERSION 1.0.0
- Released on 12-June-2014
+ Compatible with Joomla 2.5.x and Joomla 3.x
+ Support Responsive layout