There are numerous Free Joomla Templates out there, but it's really hard to choose the one that fits your need perfectly even premium templates from popular Template providers. So, if you are looking for a template for your blog/news/magazine website and don't have much time as well as don't want to waste your wallet in unsuitable templates, this post is for you.
Today I took my time to find out the special list of Best Free News/Magazine Joomla Templates 2015 for Joomla 2.5/3.x which are the newest ones with modern design, rich features, various content supported, well-structured and include many style options to personalize your site.
For more other types of templates, let check out 20 Best FREE Responsive Joomla Template in 2014 we revealed before.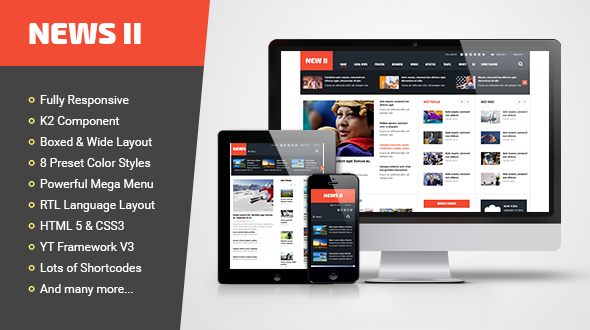 SJ News II is an exquisite Joomla 3.x Template for News/Magazine websites, which is built based on YT Framework V3 and integrated with K2 component.
It has a beautiful design with 8 modern styles, powerful mega menu, shortcodes built-in and support RTL language and various content types. This template is fully equipped by latest technology such as HTML5/CSS3 and includes all of necessary features which can help you create an attractive new portal website to gain more audiences.
Some its features: responsive layout, 20+ shortcodes built-in, 3+ menu types, boxed and wide layout and many configuration options.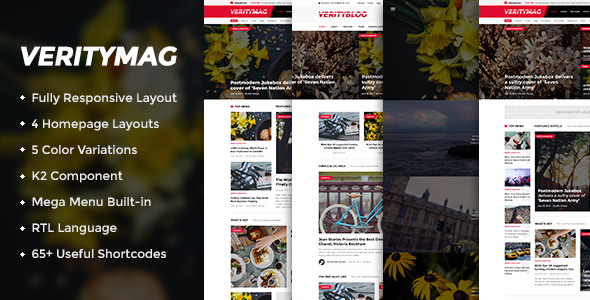 SJ VerityMag
is a verified responsive Joomla template that inspired to be an international news/magazine website with
K2
supported. The template is available with many powerful in-house modules as well as dozens of awesome features:
4 Homepage layouts, 5 color styles, powerful mega menu, 65+ useful shortcodes
, etc...
Furthermore, SJ VerityMag comes with a clean coded design and well-structured layout allows you to present content in a creative way to meet your ideas. Besides, based on YT Framework V3 with Bootstrap 3 integration, SJ VerityMag is really easy-to-use and works well on all devices and screen resolutions.
3. Magazine Free Blog Joomla Template (Demo | Details)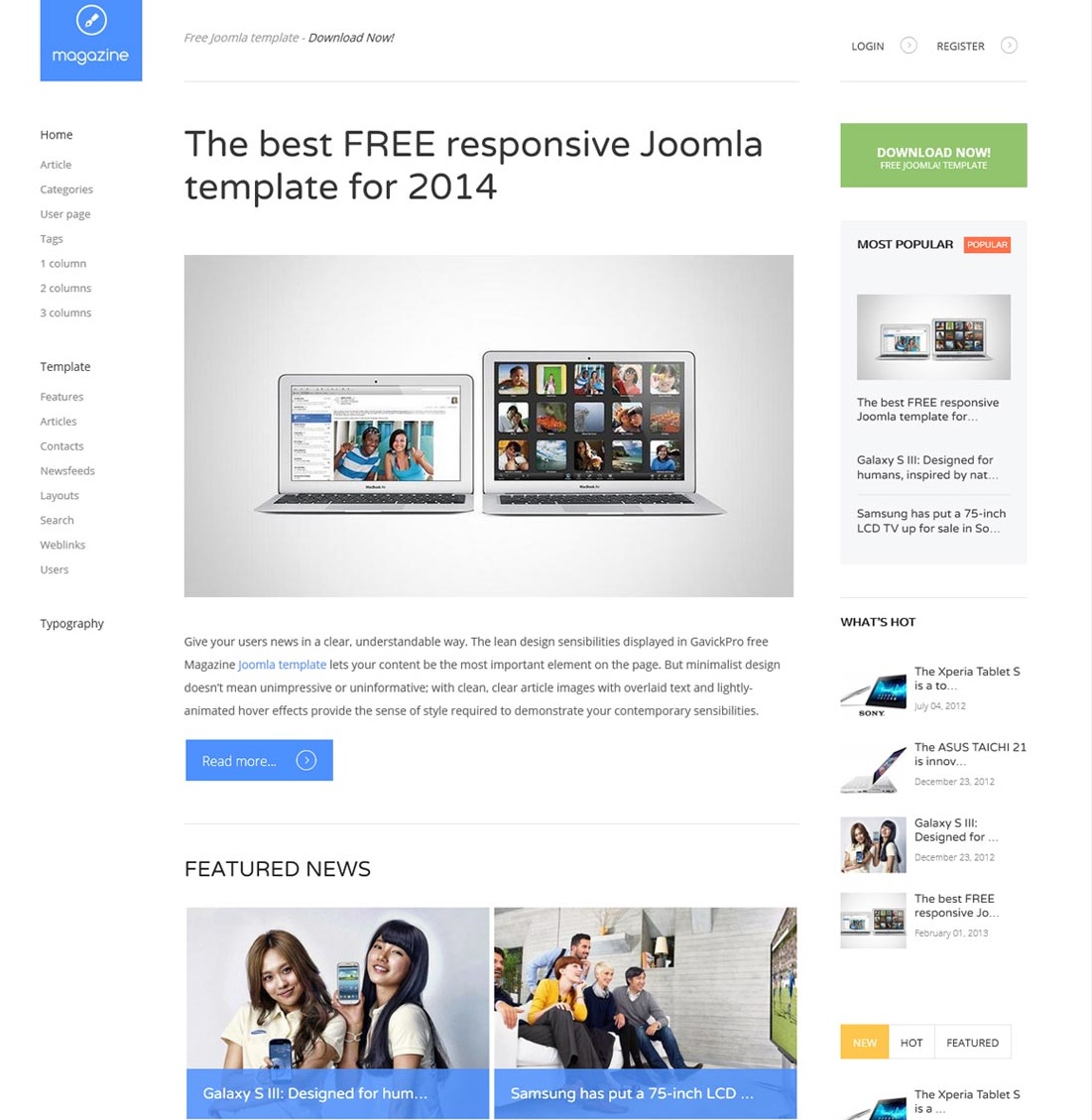 This is a responsive Joomla Template which is specially crafted for Magazine sites. The template will help you build modern-styled blog which offers classic article-listing frontpage with a technical twist that great for budding bloggers or writers new to the medium.
The powerful features of News Show Pro and Tabs module combine for ever-updating article links that populate the sidebar and bottom of the frontpage listings; your site traffic can be linked throughout your posts in seconds. You can also customize your blog as you want with many style options.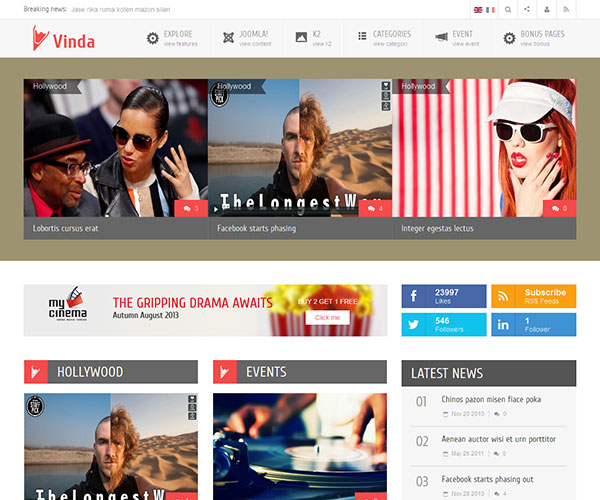 SJ Vinda is a creative Joomla 2.5/3.x Template which is equipped with powerful framework, K2 component and many extensions built-in, SJ Vinda completely adapts any daily news and magazine websites with up-to-date international news, weather, travel, entertainment, finance, sport and more.
The template is built with flat design, neat typography and well-structured layout along with 6 colors preset, 8 bonus pages, fully RTL supported and various content types.
Used latest web technologies like: HTML5, CSS3…, SJ Vinda comes out with many cutting-edge features. It is totally responsive and working well on any devices, web browsers. Furthermore, based on the latest YT Framework version, SJ Vinda allows you to easily control, customize your website in seconds without much coding knowledge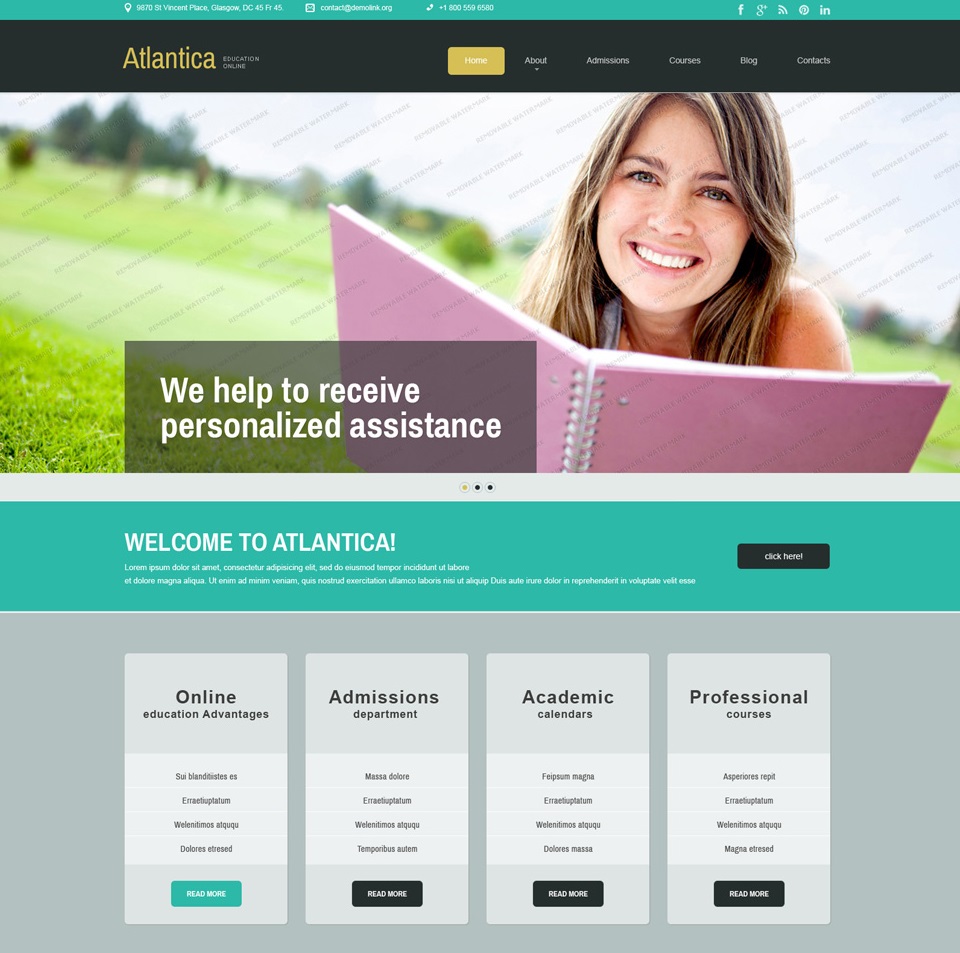 Atlantica is a complete and highly responsive template with a clear and modern design for Joomla la 3.x.
This is super easy and flexible template with vast amounts of module position. It'll help you create the beautiful blog with additional extensions and advanced commenting system.
It offers a bunch of features like parallax scrolling, animated background image, mega menu, full-width slider and much more. So it can be quite handy when you build a brand new site from scratch as you don't have to search for a proper code. Remember, this free sample is not available for Commercial use.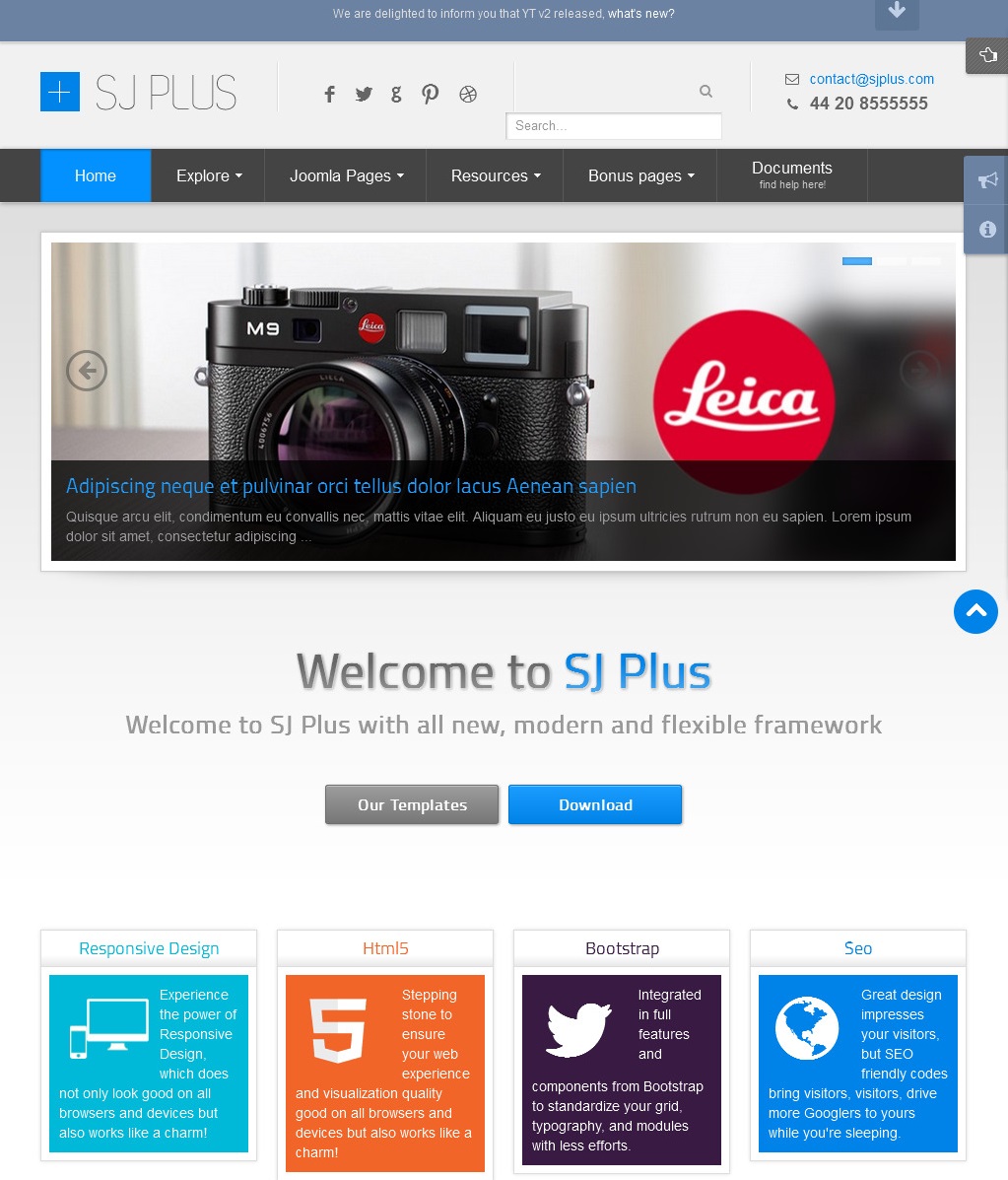 The template is designed with bootstrap, responsive layout, SEO optimized and LESS. This free joomla template used most innovative designs and code libraries to bring developers a powerful and flexible template, but FREE entirely!
Along with a modern design, this theme is energized with a wide range of powerful premium extensions: Slideshow with smooth transition effects, super Mega Menu with multiple column styles, SJ Responsive Listing with unlimited loading for showing your galleries/articles… It completely adapts any daily news and magazine websites with up-to-date international news, weather, travel, entertainment, finance, sport and more.
Based on YT Framework – a powerful responsive Joomla framework, this template is a totally responsive design as well as dozens of configuration options included: colors scheme, menus, typography, google font… can be tweaked quickly to suit any need.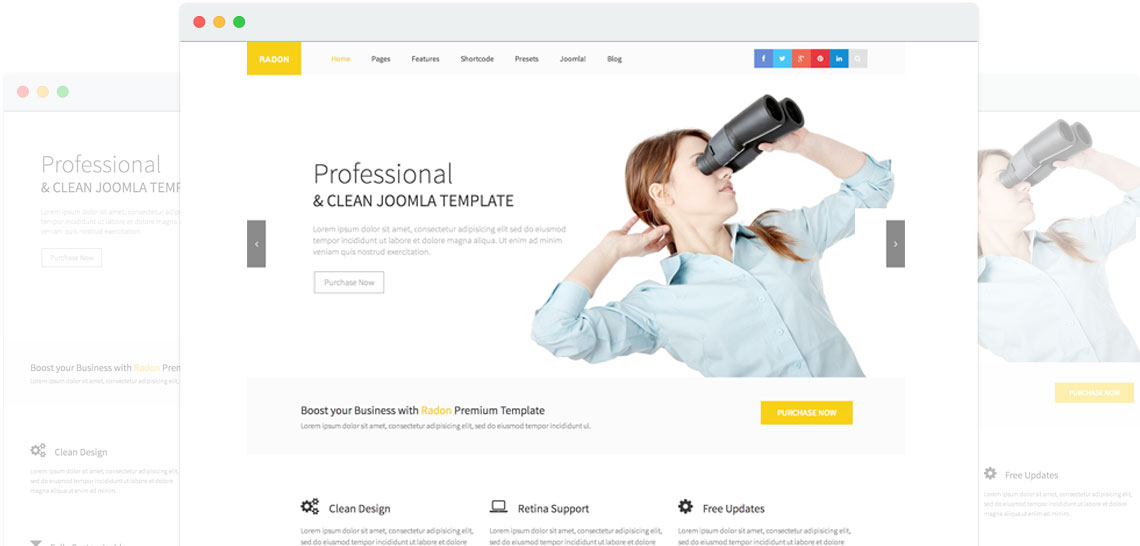 Radon is a clean, modern design can be used modern magazine websites or other type of websites. The template has full support for RTL language and will work on any device.
Radon especially comes with rich administration features such as logo settings, masterpiece layout builder, mega menu, unlimited font control, google analytics, less compilation and all types of preset control like header background, link color, background color so on.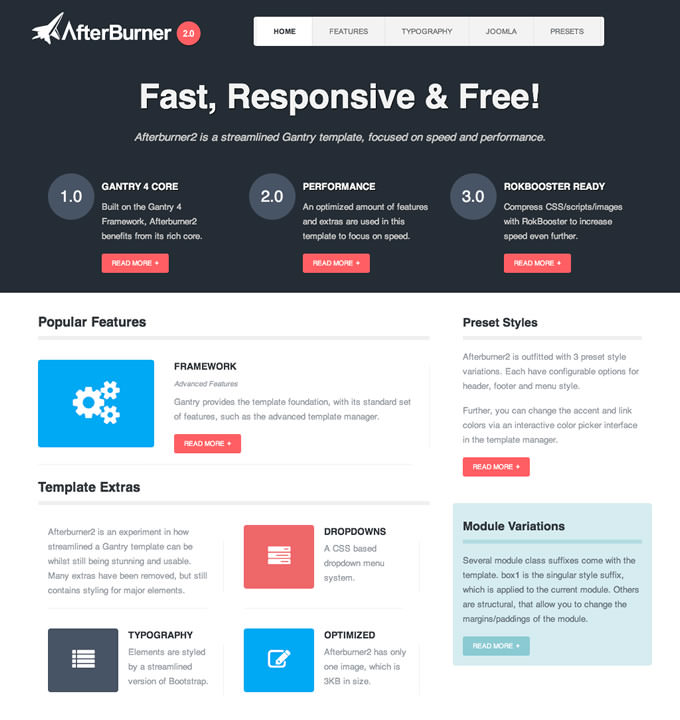 Afterburner2 is a simple and responsive fast loading free Joomla template from RocketTheme developer club that comes with tons of features to customize as wish to display your blog/magazine sites.
Since it has been powered with Gantry 4 Framework, it provide you many features and focus on speed & performance on loading the graphics and contents. Afterburner2 Joomla template comes with CSS dropdown menu with multiple tiers and configurable widths, 34 module positions, custom typography options and much more. It is compatible with Joomla 2.5 and J 3.x versions.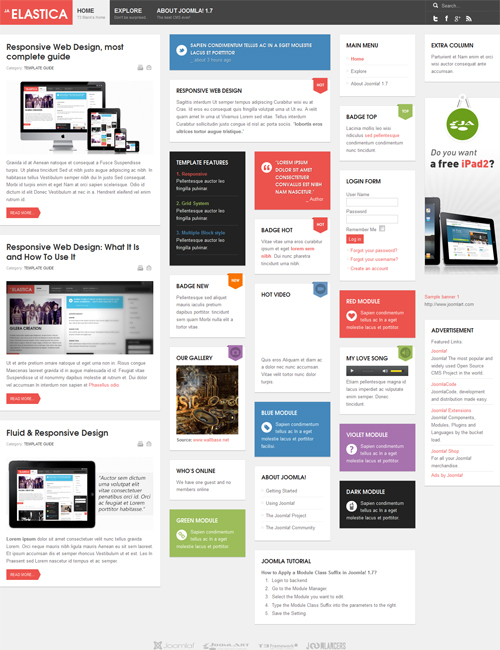 JA Elastica – Responsive multi-purpose Joomla template comes out with a clean design and 5 responsive layouts. This dynamic template helps you show multiple content types in the grid layout.
Built upon JA's robust JAT3 2 Framework and jQuery Masonry script, JA Elastica works well and fits well on all the web enabled devices and mobile browsers.
JA Elastica is free to download / use / distribute - that's the power of GNU/GPL releases. Unfortunately, this template does not support RTL CSS style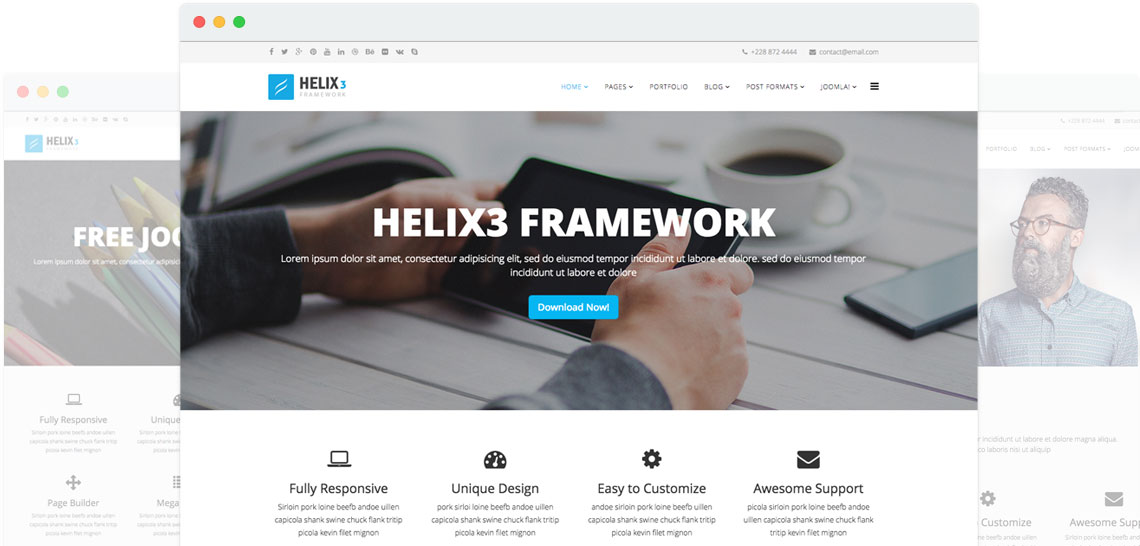 Helix3 is a user-friendly, modern, highly customizable and easy to integrate solution to build your custom Joomla 3+ website. It means you can use this template for not only news site but also other type of websites.
If you want full control over your Joomla Design but would prefer not to have to learn how to code or install additional plugins, Helix3 was built for you. This clean and modern Joomla 3.x template with many cutting-edge features, Helix3 surely make your site to be effective and impressive among the other ones.
11. Design Control (Demo | Details)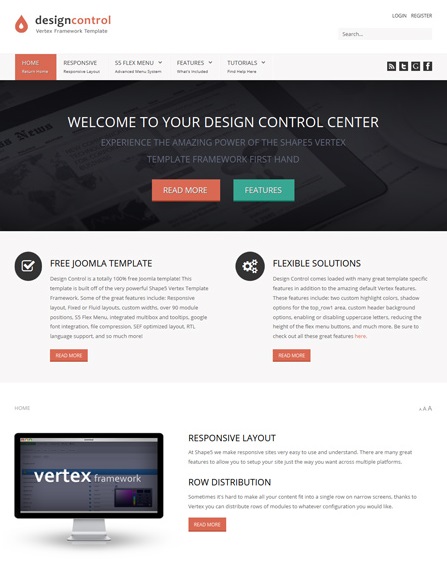 Design Control is a simplistic template that will adapt to a wide variety of websites, and best of all it's totally free to use. This template comes packed with great features of the Shape5 Vertex Framework. This template is totally responsive, and comes with features such as highlight colors, custom parallax backgrounds, google fonts integration, custom column and row widths, and so on.
Hope you can choose the one that fit you needs from the list above. If you know other beautiful templates, please share them below with us.