However, if you are a beginner with Joomla or just looking for a high-quality free template, it's not easy to find out a really good one. Thus, we gathered 20 best FREE Joomla Templates in 2014 from popular Joomla providers with large numbers of users for you here. Most of these templates are newly developed with the latest techniques, design trends, like HTML5, CSS3, fully responsive, SEO-friendly and contains many useful features which are needed for any kind of website. They are totally available for personal or commercial use, so you can bookmark this post and visit back whenever you want to use one of them for your projects.

SJ Vinda is a beautiful, modern style and responsive entertainment Joomla! template for both Joomla 2.5 and Joomla 3.x.
This template is powered by K2 component and built fully responsive with flat design, neat typography and well-structured layout. It comes with 6 preset color styles, 8 bonus pages, various content types supported and a lots of advanced features for you to freely tweak to perfectly suit your needs. This template is so easy to use and flexible, it will make your experience of creating a website much smoother than ever before.

SJ Plus is a sophisticated and clean Joomla which is designed with bootstrap, responsive layout, SEO optimized and LESS. This free joomla template used most innovative designs and code libraries to bring developers a powerful and flexible template, but FREE entirely! With many extra pages, support from in-house modules and 3rd party Joomla extensions in the community, this template is all you need to build a high quality personal or company websites based on Joomla!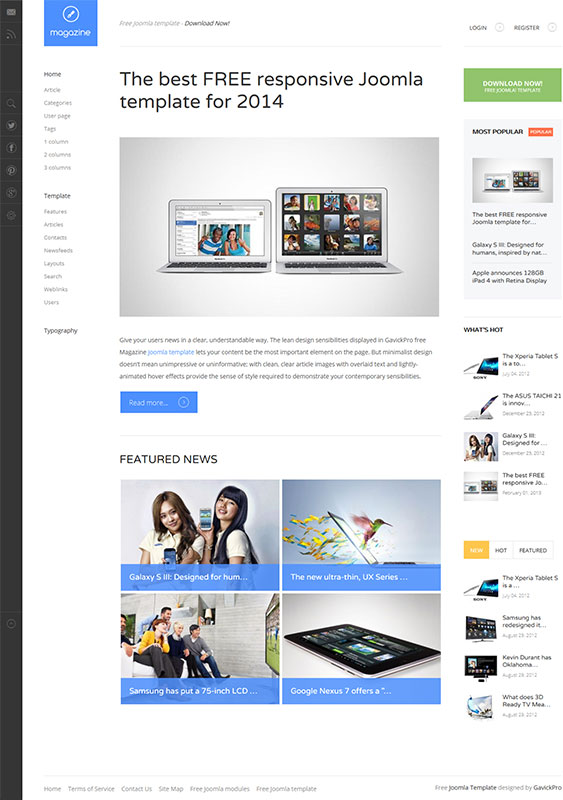 This is a modern blog template with features that make it great for casual bloggers or professional news-portal writers. This template has extensive sidebar modules which show off your popular, new or featured items in tabs and can be configured to display texts, images, article preview... with just a click. It's also integrated social share function on your pages to aid your musings to become viral hits.

SJ News combining clear modern design and powerful functionality will ideally suit for news, magazine or blog website. This template has a fully responsive layout that match to all screen solutions. It has 5 color styles, more than 10 module variations, Mega Menu built-in, support Google fonts and RTL / LTR language. The template is built in the powerful YT Framework, so it's fast, so flexible and easy to use and modify any aspect of the template.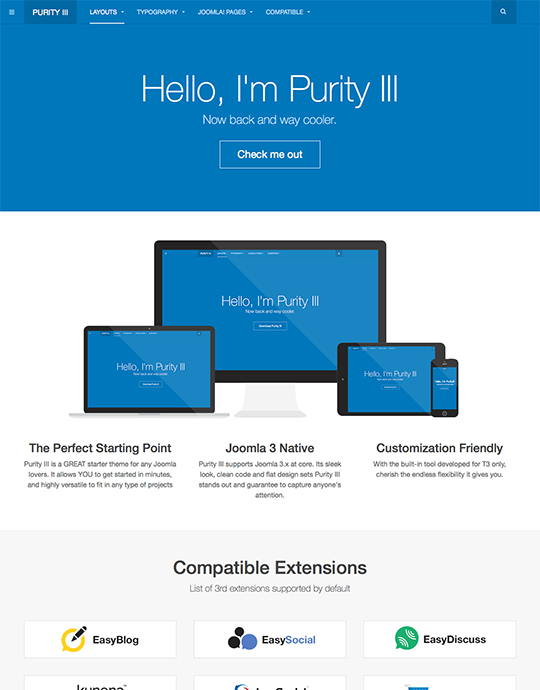 Purity III is a one of the best responsive Joomla template that you won't get enough of for almost everything: from a simple to complex Joomla projects, personal blog to professional business portfolio site, or just about any Joomla projects you have in mind. Built on the robust T3 Framework, Purity III is fully responsive, supports Bootstrap 3 at core, easily customize with ThemeMagic or Layout Configuration.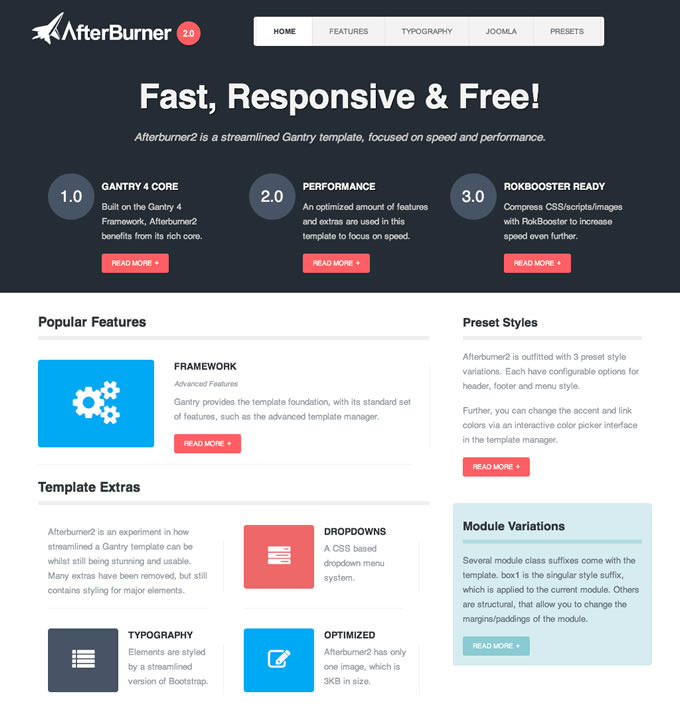 Afterburner2 is an experiment in how streamlined a Gantry Template can be, whilst still being visually enticing and usable. Although many extras have been removed, styling for major elements, such as the Joomla core, is still abundant.
The template has a simple, CSS based dropdown menu system, module variations, multiple preset styles, configurable responsive modes, and advanced typography styling, whilst still maintain a speed-centric and performance edge.
7. YT Framework - Web Platform Joomla Template (Demo | Download)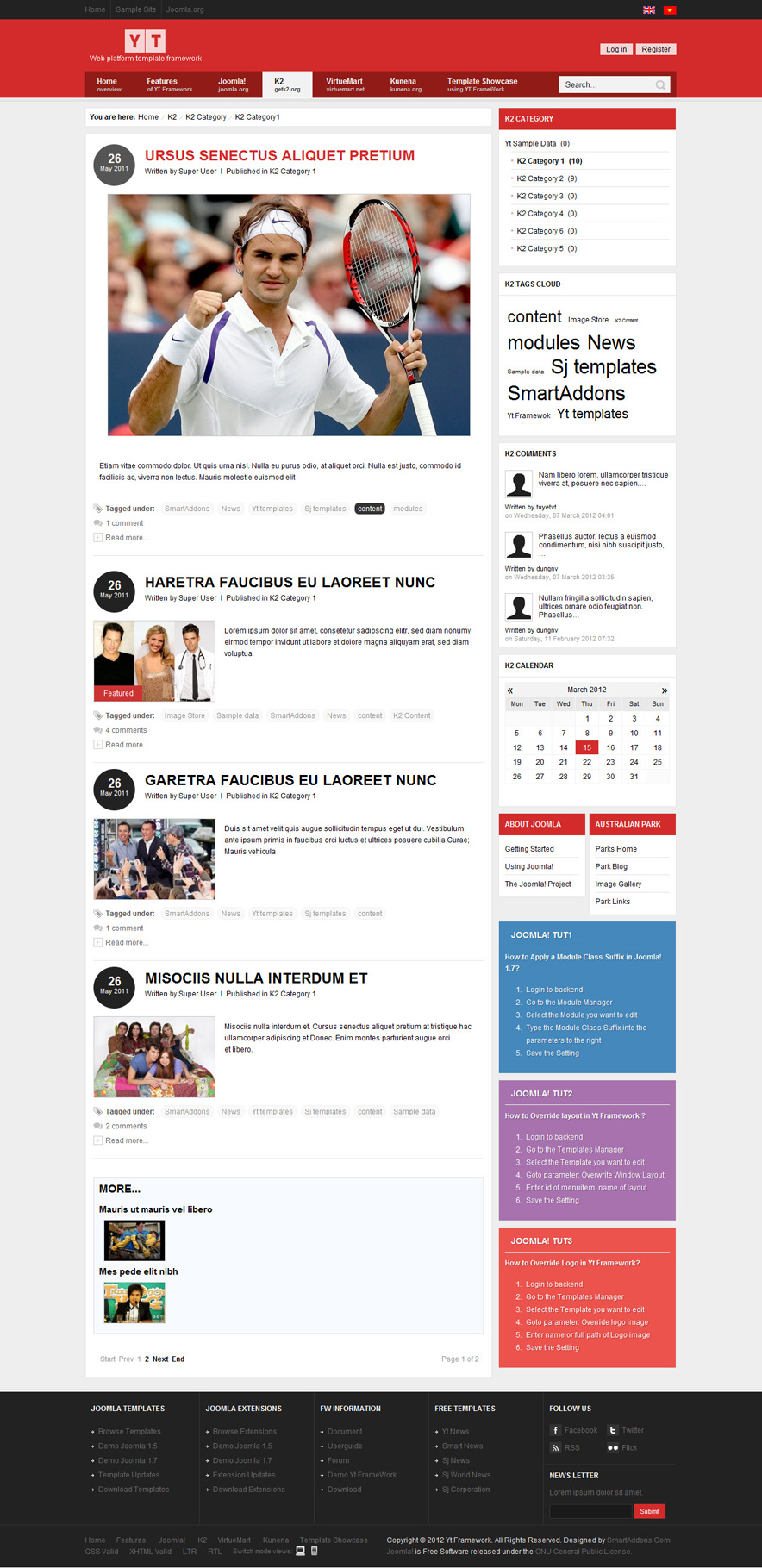 With the idea of creating a useful tool for those who are interested in building their own website templates from beginners to advanced users, SmartAddons team has brought to Joomla's users a powerful web Platform Joomla Template named YT Framework. It's just a simple and clean HTML/CSS skeleton, yet it contains a great strength with tons of features. It's so easy, super flexible and multipurpose for you to design and customize any kind of creative and business use.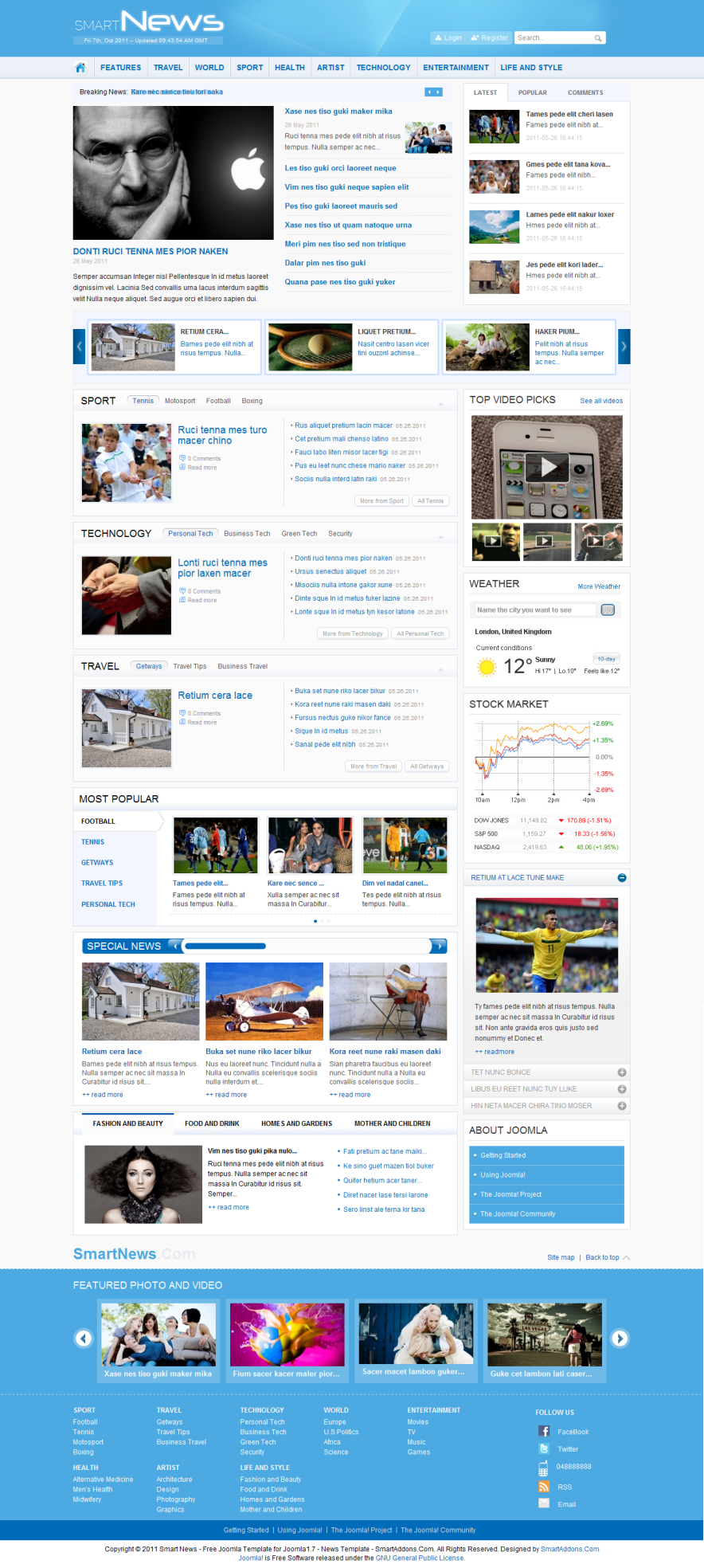 Smart News is a neat, clear and fresh Joomla template that was built with responsive design in mind.
Along with fully responsive layout, the template is equipped with many powerful extensions, multiple layout options, advanced admin panel. This template suits for both beginners and advanced developers as well. With many options provided, it's so easy to customize the appearance of template and develop a professional site with minimal effort.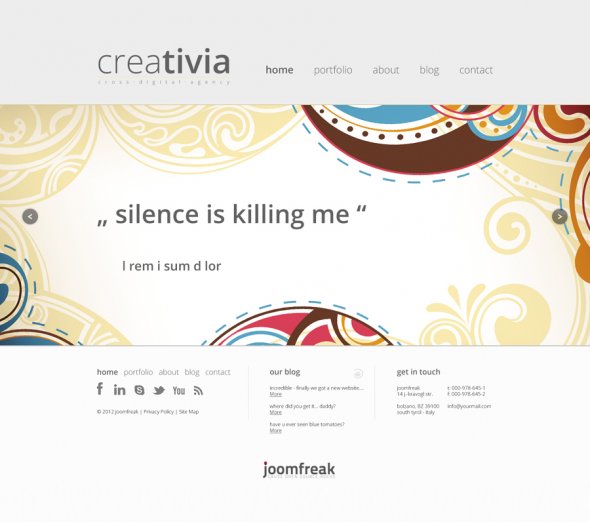 JF Creativia is a fine art well crafted for joomla 2.5 & 3.0. This template is perfectly suitable for anyone who is an artist, photographer, designer, developer or anything in between. The template is very flexible in nature and put forward infinite possibilities of making custom modifications. Its major features are several styling options, flexible admin panel, elegant designs, smooth functioning and lots more.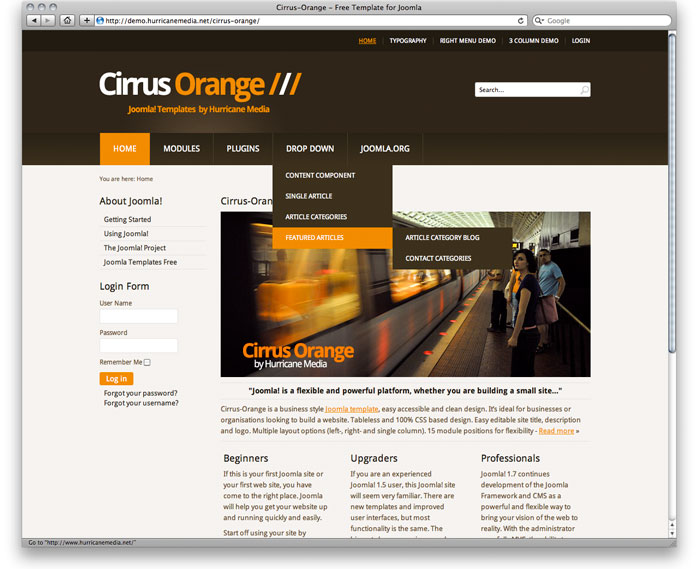 Cirrus-Orange is a business style Joomla template easy accessible and clean design. This template works well and fits any screen sizes, and the minimalist design makes it look great. Cirrus-Orange will be the best choice for businesses or organizations looking to build a website.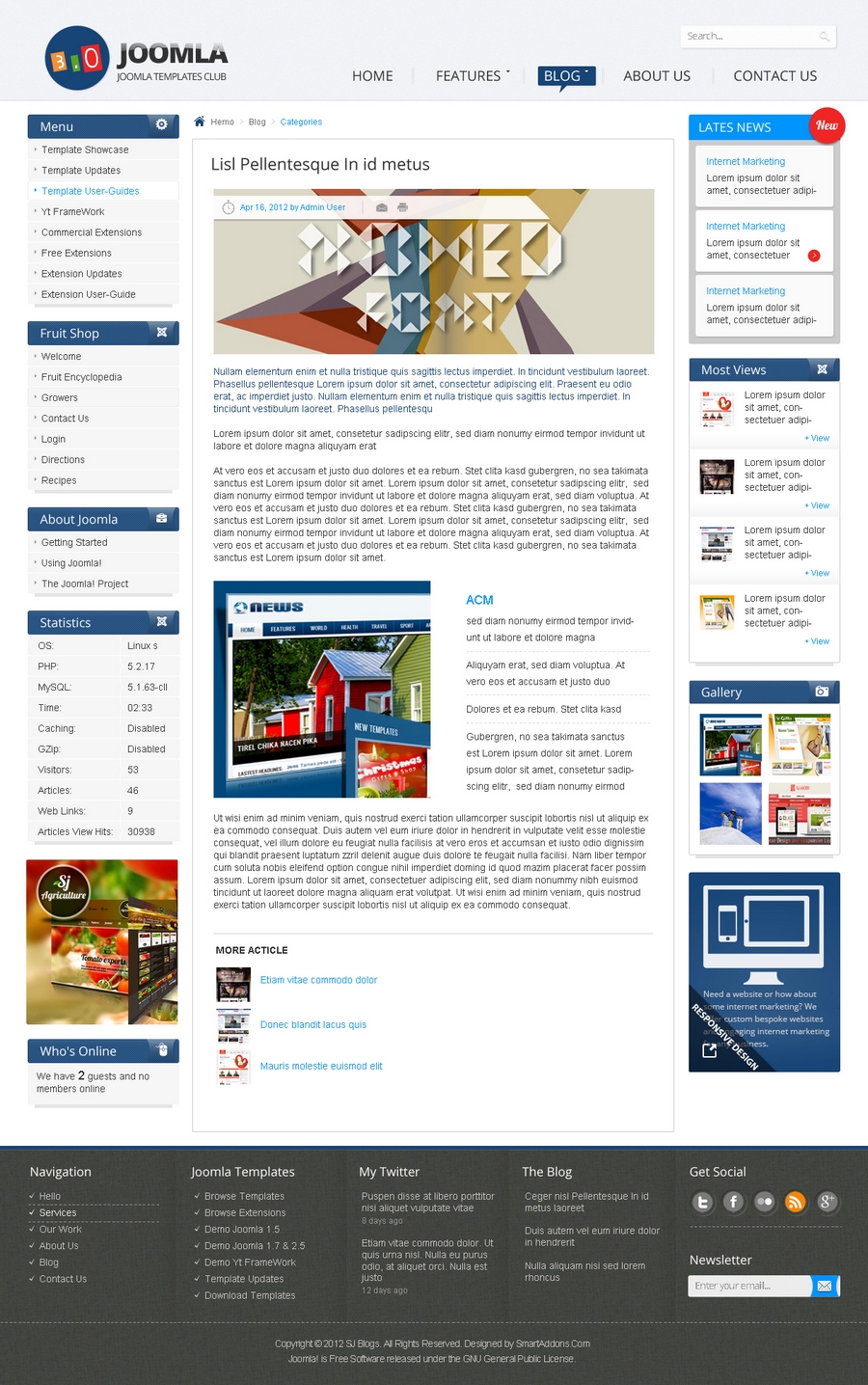 SJ Joomla3 is made for those who are interested in building their website on Joomla 3 platform.
It's a simple and clean yet beautifully presented responsive Joomla template that will adapt to a wide variety of websites. SJ Joomla3 comes in 5 color styles, multiple layouts, stunning typography pages, many extensions integrated and contains a powerful admin panel to deeply customize all aspects of template.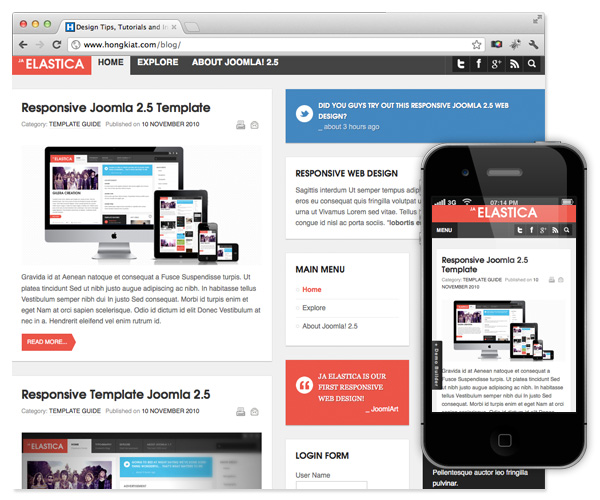 Elastica is a beautiful and well presented responsive template, and it can fit to all screen sizes, including extra widescreen. Elastica is built on JAT3 2 Framework and jQuery Masonry script.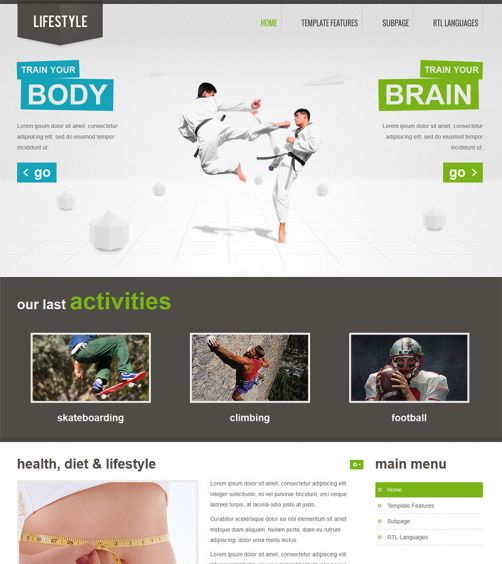 It's FREE responsive and bootstrap-based template for Joomla 3.0 The template is based on EF3 - the useful and functional framework that provides many powerful settings to configure at the template manager. The template layout adapts to all mobile devices and screen resolutions. The layout supports default Bootstrap grid system of 12 columns. It means that you can display max. 12 modules in one row at one template position.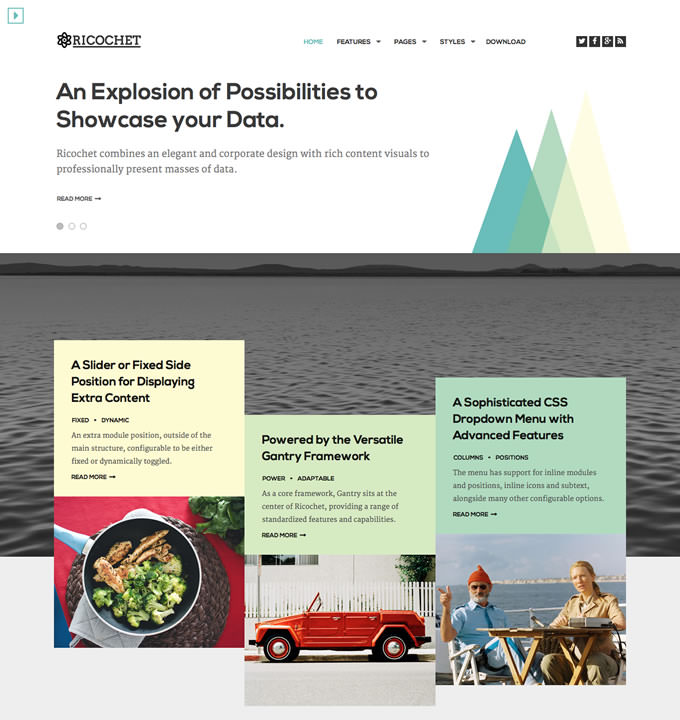 Ricochet is a professionally designed template, constituted by a corporate appearance which combines an overall conservative and soft visual frame, with subtle but effective colors and typography, to provide character and definition.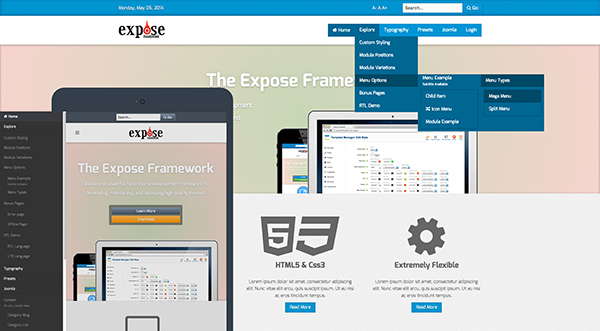 Base template is the solid theme based on Expose - a fast and slick theme framework. It takes full advantage of all the latest Expose features like semantic xHTML markup, a nice and clean administration UI, Xpert Mega Menu and much more. Base template is an optimized and streamlined theme and serves as blueprint to build your own custom themes. It offers 4 different theme styles to get you started right away.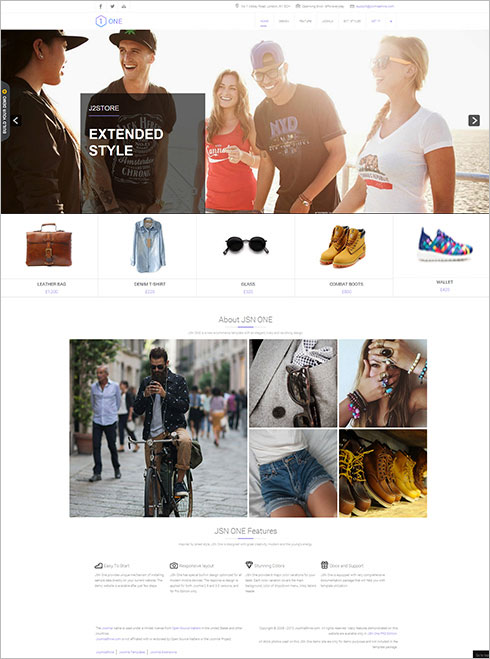 JSN One – an eCommerce template with an impressive, modern and vivid design. Inspired by street style, JSN One is designed with great creativity, modernity and youthful energy. If you are interested in a powerful and magnificent shopping-cart extension, JSN One would be a wise choice with J2Store Extended Style.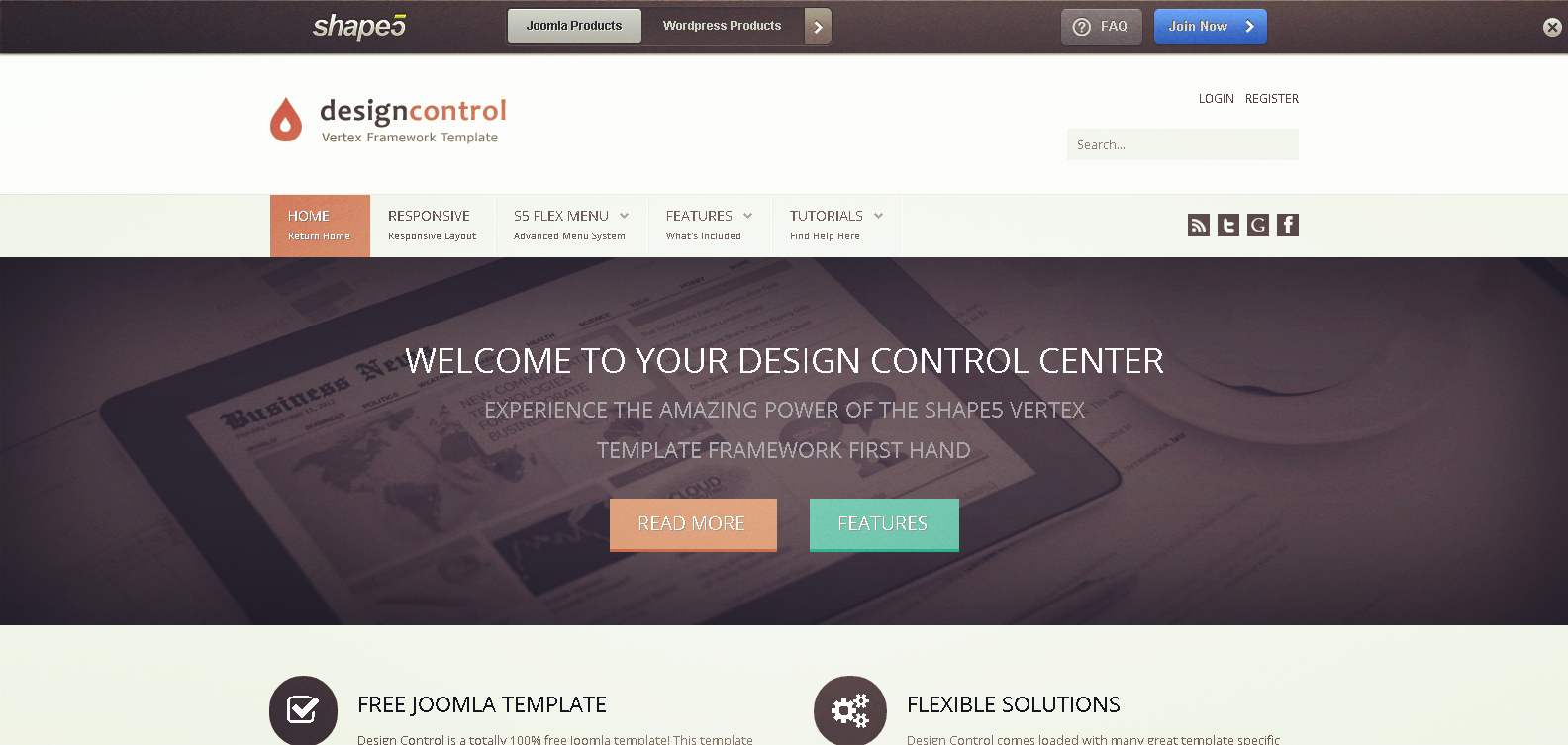 Design Control is a simplistic template that will adapt to many types of websites, and best of all it's totally free to use! This template is totally responsive, and comes with features such as highlight colors, custom parallax backgrounds, google fonts integration, custom column and row widths, and so much more!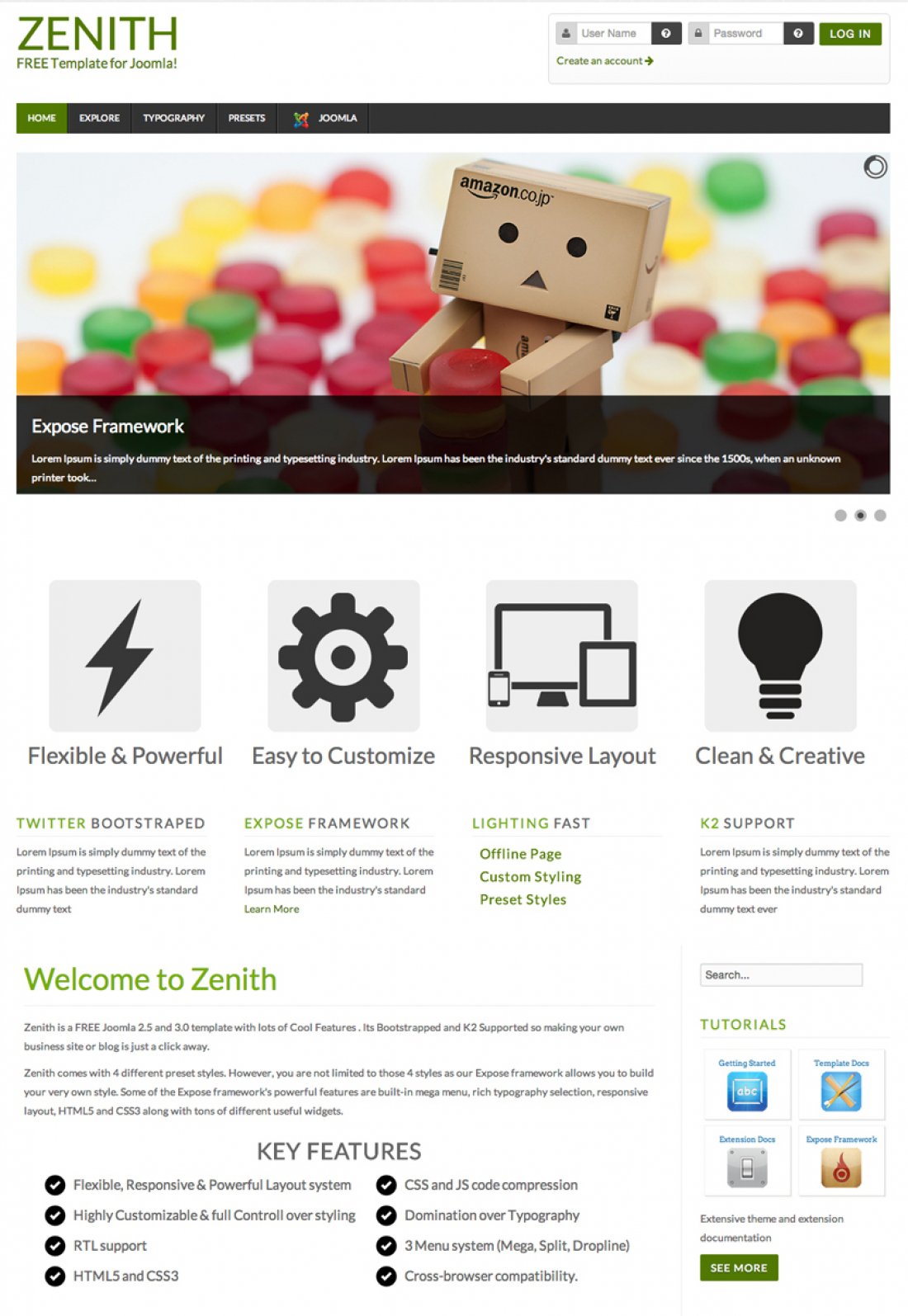 Zenith is a FREE Joomla 2.5 and 3.0 template with lots of cool features . It is Bootstrapped and K2 Supported so making your own business site or blog is just a click away. Zenith comes with 4 different preset styles and allows you to build your very own style. Some of its powerful features are built-in mega menu, rich typography selection, responsive layout, HTML5 and CSS3 along with tons of different useful widgets.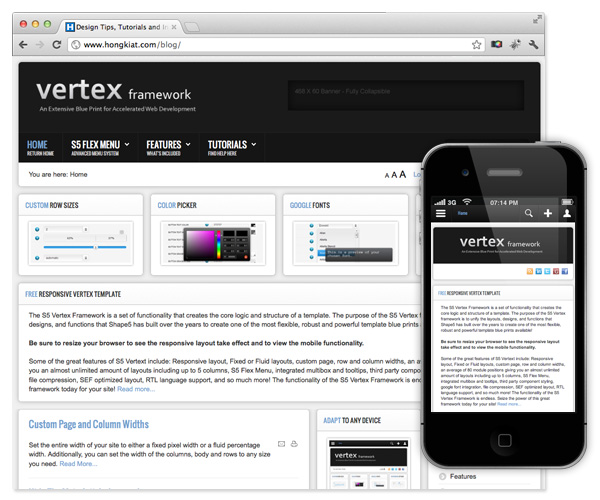 Vertex Joomla Template is a 100% free GPL licensed template, now with Responsive Layout. It's purpose is to show off the powerful features of the Shape5 Vertex template framework. In this template, you can get all the powerful Vertex features for free such as the S5 Flex Menu, 94 module positions, mobile device version, hide the component area on any page, custom row and column widths, RTL language support, and so much more!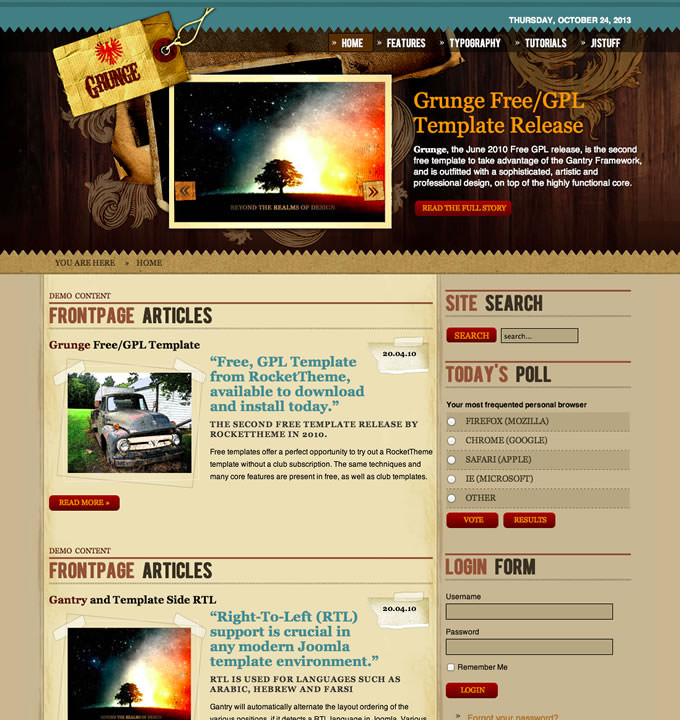 Grunge is the free template to take advantage of the Gantry Framework, and is outfitted with a sophisticated, artistic and professional design, in conjunction with a powerful, flexible and feature rich core framework. Grunge has rich visuals throughout.
Thanks for reading!