These templates are well-designed with the latest techniques, highly responsive layout, clear code, SEO-friendly, supported Joomla 2.5 or 3.x and included tons of powerful features. All these templates have good reviews from a large number of users. They are multipurpose templates and can be used for building online store, blogs, entertainment sites, portfolio sites, news sites and more.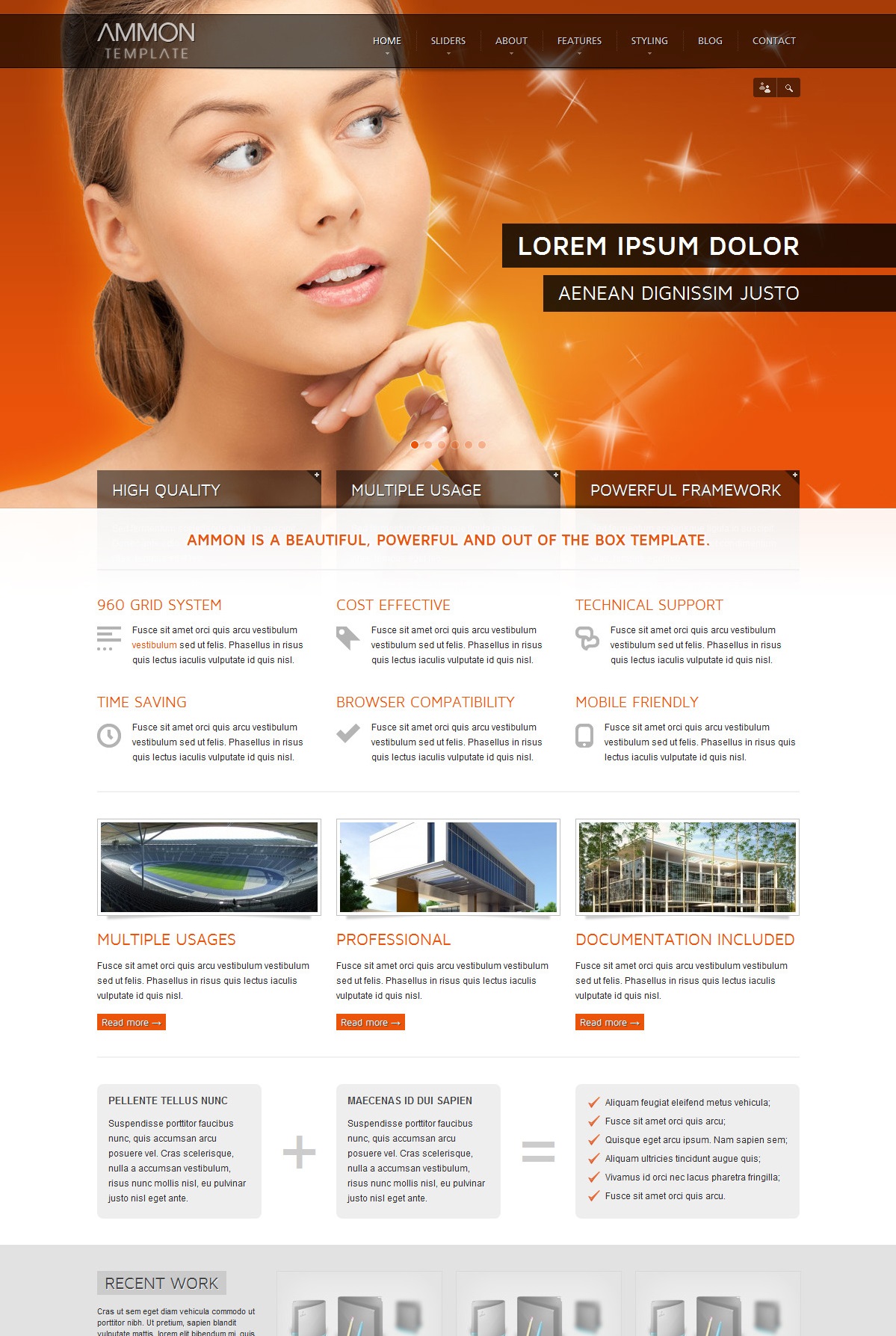 Ammon is an creative for Joomla 3.3, based on the powerful Bootstrap Responsive Framwork. It has a beautiful design with many built-in styles. This template covers most of anybody's needs and can be used for many kinds of website. Some its features: responsive layout, social media supported, 12 custom sliders, 17 custom modules, 3 portfolio layouts, and shortcodes system included.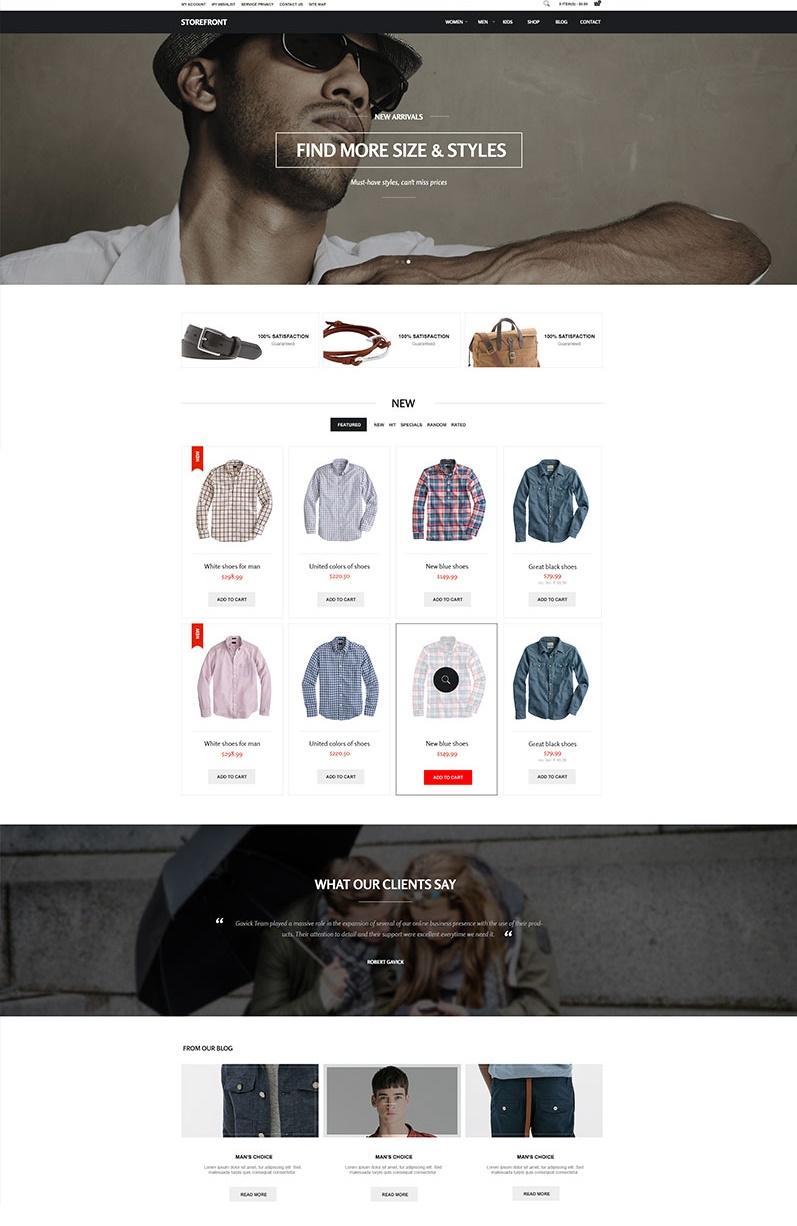 StoreFont is a shopping Joomla Template which offers a sublime responsive store experience across the full range of devices.
StoreFont also supports VirtueMart and Hikashop. Every feature is built for speed and flexibility to maximize sales and get more audience attention. Template is cleanly designed to keep everything clear for your visitors.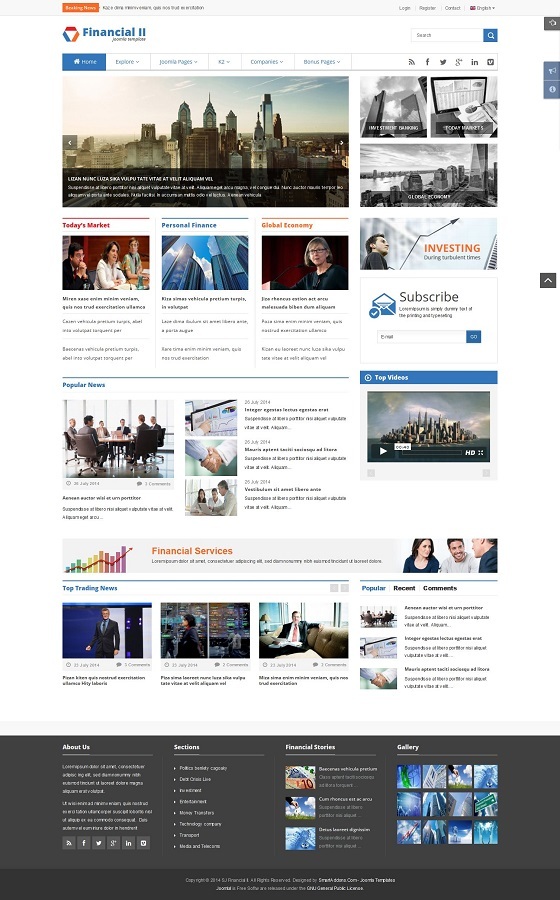 With flat design style, SJ Financial II quickly conveys the information as well as helps your website load faster. Specially, the template is integrated with K2 – a powerful content management component, and quipped with many functional extensions and multipurpose bonus page. SJ Financial II should be suitable for a wide range of usage: financial news, stock exchange, news/magazine or business/corporate websites and many more.
The template comes out with 4 color styles: Blue (default), Radian, Green and Red. You can preview how they look as well as change the layouts, menus and reset instantly by using dynamic cpanel through a standart web browser. The homepage slideshow will attractively show your hight linght news with image, title and short description over nice effect.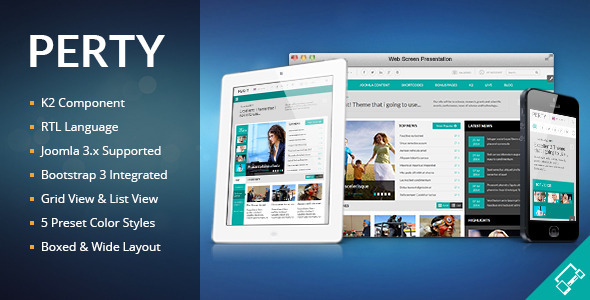 SJ Perty is an exquisite Joomla template for news/magazine websites. By use of the powerful slideshow, news sites will be attractively presented with image, title, date and comment counter. With SJ Perty, you can build an interesting website upon nice hover effects on each items.
Used latest web technologies like: HTML5, CSS3…, SJ Perty comes out with many cutting-edge features. It is totally responsive and working well on any devices, web browsers. Furthermore, based on the latest YT Framework version, SJ Perty allows you to easily control, customize your website in seconds without much coding knowledge
Equipped with K2 component and many content related extensions, SJ Perty completely adapts any daily news and magazine websites with up-to-date international news, weather, travel, entertainment, finance, sport and more.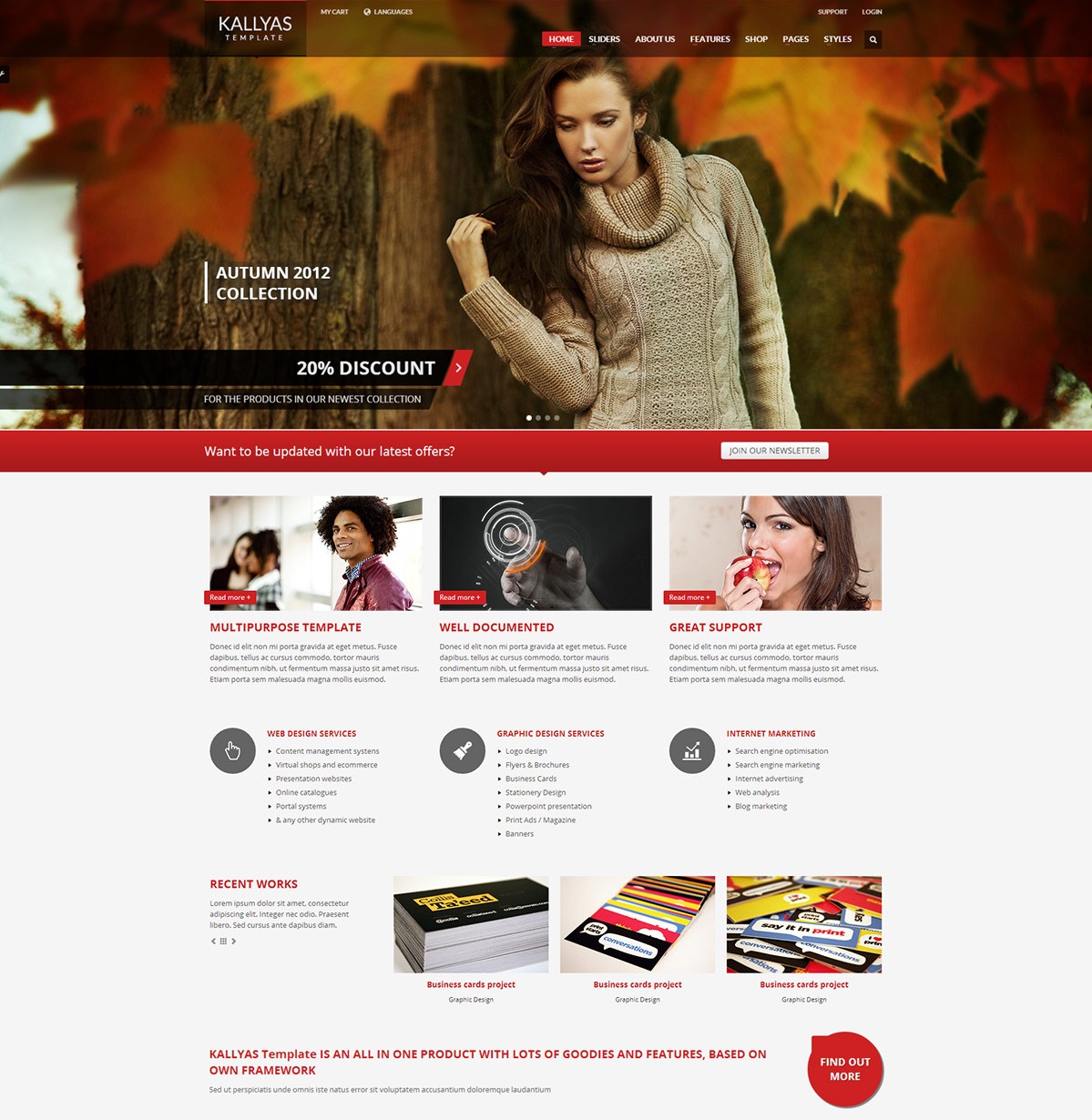 Kallyas is one of the most best-selling items on Themeforest Market. This is a complete and highly responsive template with a clear and modern design. This is super flexible and include tons of predifined styles and advanced features. Besides, this template has integrated with 3rd party extensions, such as Virtuemart, mailchimp...Kallyas is a multi-purpose template and it can be used in a cariety of domians.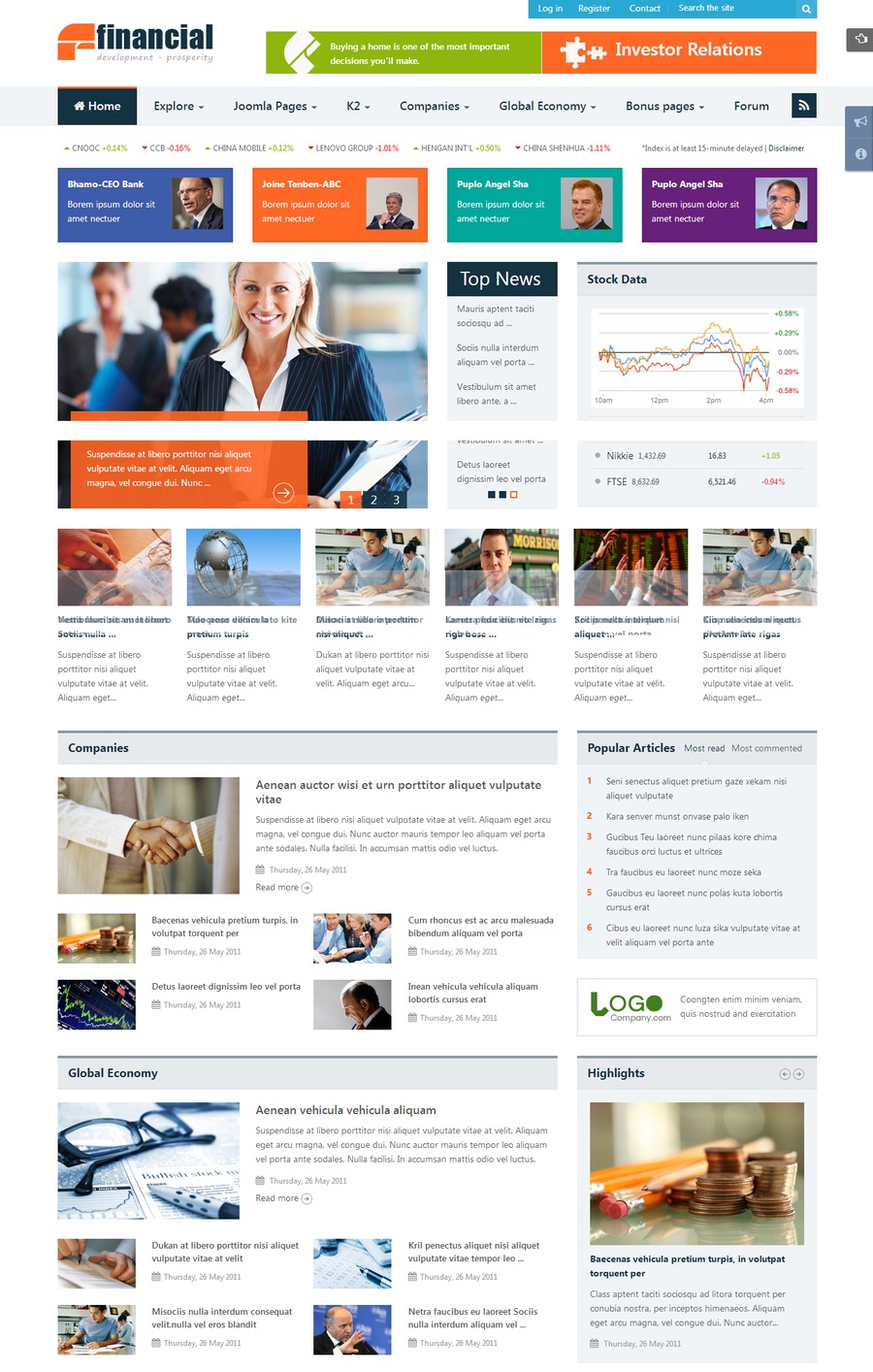 Financial is released with integration of many powerful components to offer comprehensive solution for large portals. Being a responsive joomla template with financial context, Financial would be suitable for a wide range of finance related sites such as financial news, stock exchange, forex forums…
With many in-house modules on homepage such as SJ Video Box or SJ Gallery Pro, any blocks can be utilized to show valuable content. Custom pages such as about us, gallery portfolio, video or sitemap… make Financial highly customized. Beside default Content component, this template offers you K2 for specific need.
For developers, by using improved YT Framework, many options including but not limited to: colors, menus, typography, short-codes can be configured quickly to suit any customization.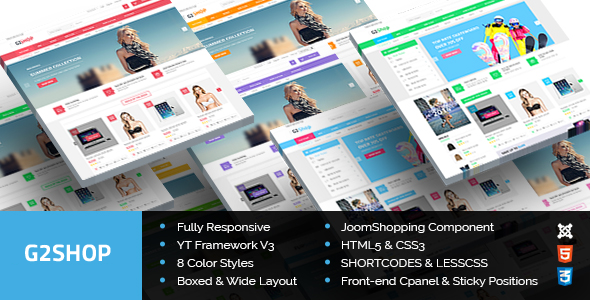 G2Shop – Responsive multi-purpose Joomla template, is integrated with one of the most powerful eCommerce components – JoomShopping. The template is ideal for a variety of products from hi-tech to fashion stores or any kind of online shops.
G2Shop comes out with a clean light coloured design that sophisticatedly affords in 8 different color styles: Orange, Blue, Grass, Grapefruit, Green, Lavender, Pink and Yellow. The dynamic homepage slideshow attractively represent your highlight product, news, promotions… upon nice effect.
Featured by YT Framework v3, G2Shop allows you to easily manage and custom your website without much coding knowledge. Besides, G2Shop is totally responsive and optimized for all devices and web browsers. Along with JoomShopping component, G2Shop is also equipped with many powerful extensions and the latest web design standards. Building an online shop is now just in few minutes with G2Shop.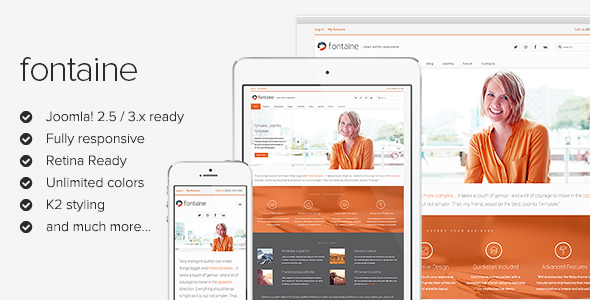 Fontaine is a professional Business Joomla! template with a clean layout and elegant look for a corporate sites. Fontaine comes packed with dozens widgets and an intuitive admin option panel.
Fontaine has been built on Warp Framework and UIKit, which gives the theme an immeasurable weight of flexibility and agility, fast loading – using built in compression of files, data URIs and gzip minification.
9. SJ Sport Store (Demo | Details)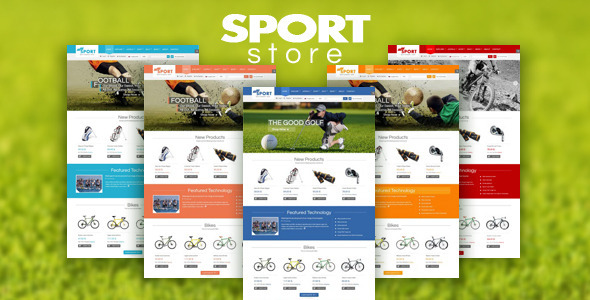 SJ Sport Store – A responsive multipurpose template for Joomla!, integrating JoomShopping as e-commerce platform.
Get creative ideas from the strength, dynamic and freshness of sports, SJ Sport store is built with flat design, harmonious color combinations, clear layout, so it's really suitable for sports store such as sporty equipment, sports accessories, sportswear… Beside that, this is a multi-purpose theme, you also can easy to customize for any product range.
Along with a modern design, this theme is energized with eCommerce functions of JoomShopping and a wide range of powerful premium extensions: Slideshow with smooth transition effects, super Mega Menu with multiple columns styles, SJ Responsive Listing with unlimited loader for showing products… Based on YT Framework – a powerful responsive Joomla framework, this template is a totally responsive design as well as dozens of configuration options included: colors scheme, menus, typography, google font… can be tweaked quickly to suit any need.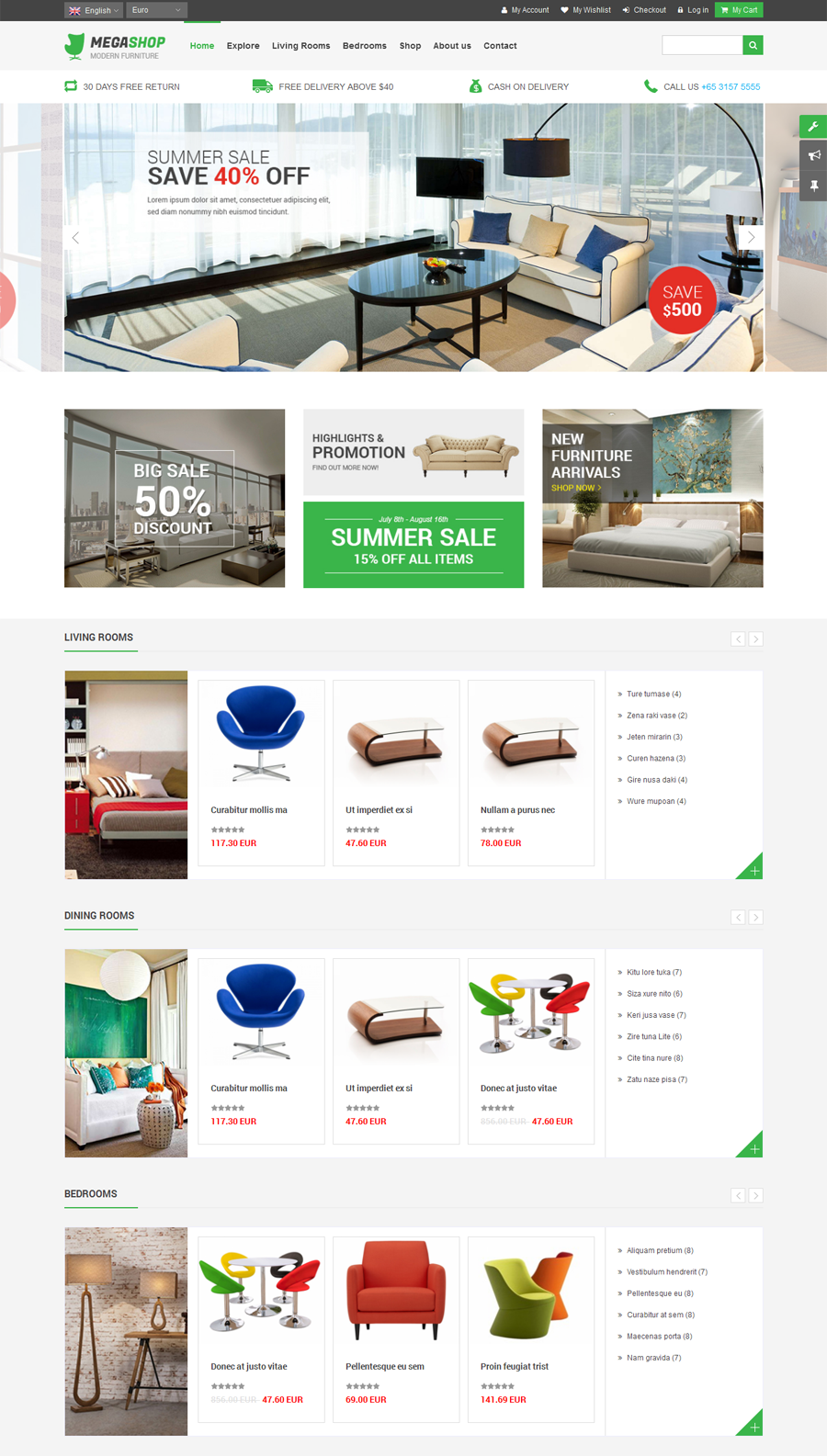 SJ MegaShop is a responsive multi-purpose Joomla template that is promoted by JoomShopping component. It has everything you need for building any online store with wide range of products types, especially furniture store. SJ MegaShop template comes out with eye-catching design interface, clear layout and unlimited color scheme. It is extremely flexible for you to change any parameters like: color, background, layout, menu, font, language...in order to meet your own ideas.
Moreover, SJ MegaShop provides lots of functional extensions, such as: Mega Menu with multi-columns, attractive homepage slider with many smooth effects, multi-language, multi-currency, brands slider, contact ajax, Twitter slider, product hover effect, image popup view and many more.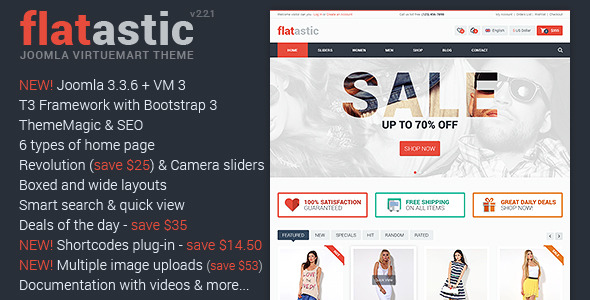 This is another powerful VirtureMart theme which best suits for any eCommerce website. Them has an attractive design and responsive layout.
Along with that, theme also includes many features: SEO Tools, Mega Menu, 3 style sliders, multi-language and currency, Ajax drop-down shopping cart, price filter, product image zoom and lightbox...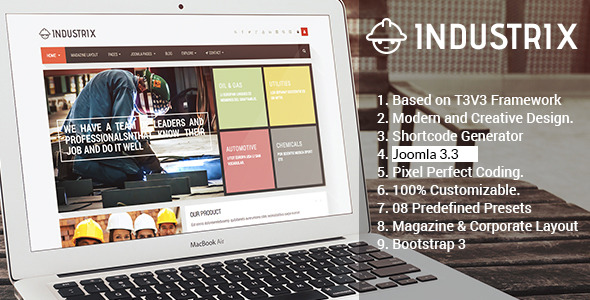 Industrix is html5, css3 powered responsive multipurpose corporate joomla template which will be a great solution for your industry, corporate, business and portfolio sites.
The template has a quality design and tons of features included. Some key features: Shortcode System, advanced Theme options Panels, FontAwesome Icons support, Less to Css auto-compilation, Mega Menu generation, dynamic pricing table...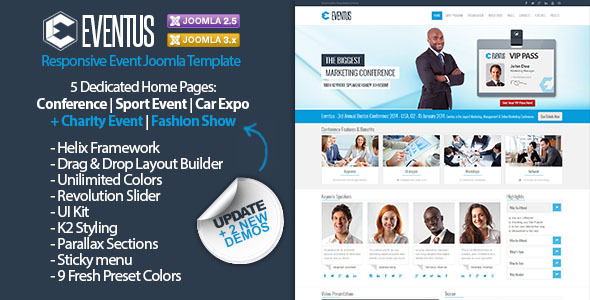 Eventus is a clean and modern event oriented Joomla 2.5.X and Joomla 3.X Template. Eventus comes with 5 dedicated home pages: conference, car expo, winter sport event, charity event and fashion show. The template is perfect also for any type of event or business site.
Based on Helix 2 Framework, the templates gives many options for customizing with the layout builder and unlimited colors option. Also you'll find UI Kit inside, Roksprocket styling, Revolution Slider and many more.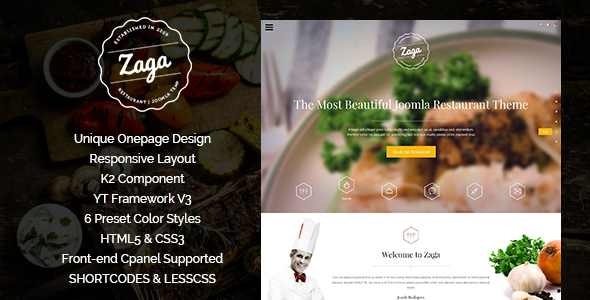 Zaga is an impressive Joomla template with onepage design that perfectively represent your website as delicous as your food and drink. The template comes out with a dynamic homepage slideshow upon an extraordinary background video without being heavy to load. This clean template will reflect your restaurant through a vertical scrolling single-page which allows you to show the focussing information such as: About me, Special dishes, Menus, Testimonials, Blog, Contact… In addition, it is convenient for you to choose showing the left-hand-side menu or not just by only one click.
Moreover, Zaga is powered with YT Framework v3 – our latest Joomla framework, K2 component and a wide range of functional extensions for the best website performance. Vistors will be attracted by the well-structured layout, the smooth navigation as well as the nice effects at first sight. Specially, YT Framework v3 is directly integrated in the template package. Therefore, you won't need to install the single framework package for using.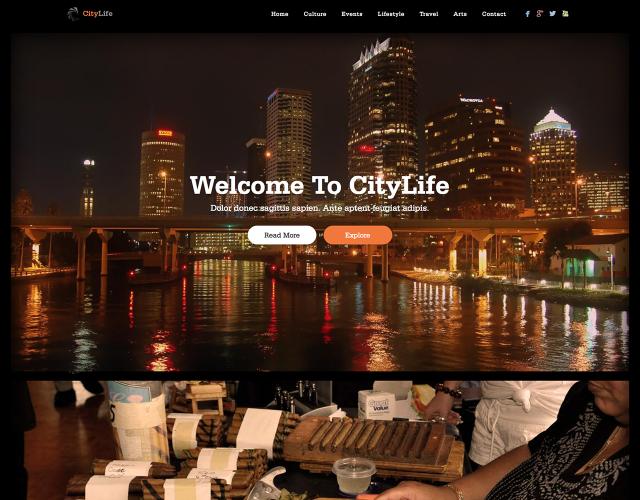 CityLife is a stylish Joomla template powered by JavaScript and CSS3 for smooth Animations and Effects. Enhanced with menu-based anchor points and parallax effects, the single page design has never looked fresher.
Responsive in nature, CityLife scales beautifully on multiple devices and screen sizes. It features 70+ module positions, 60+ module style variations, 6 preset styles, rich typography options, CSS3 progressive enhancements, Bootstrapped and Responsive Design.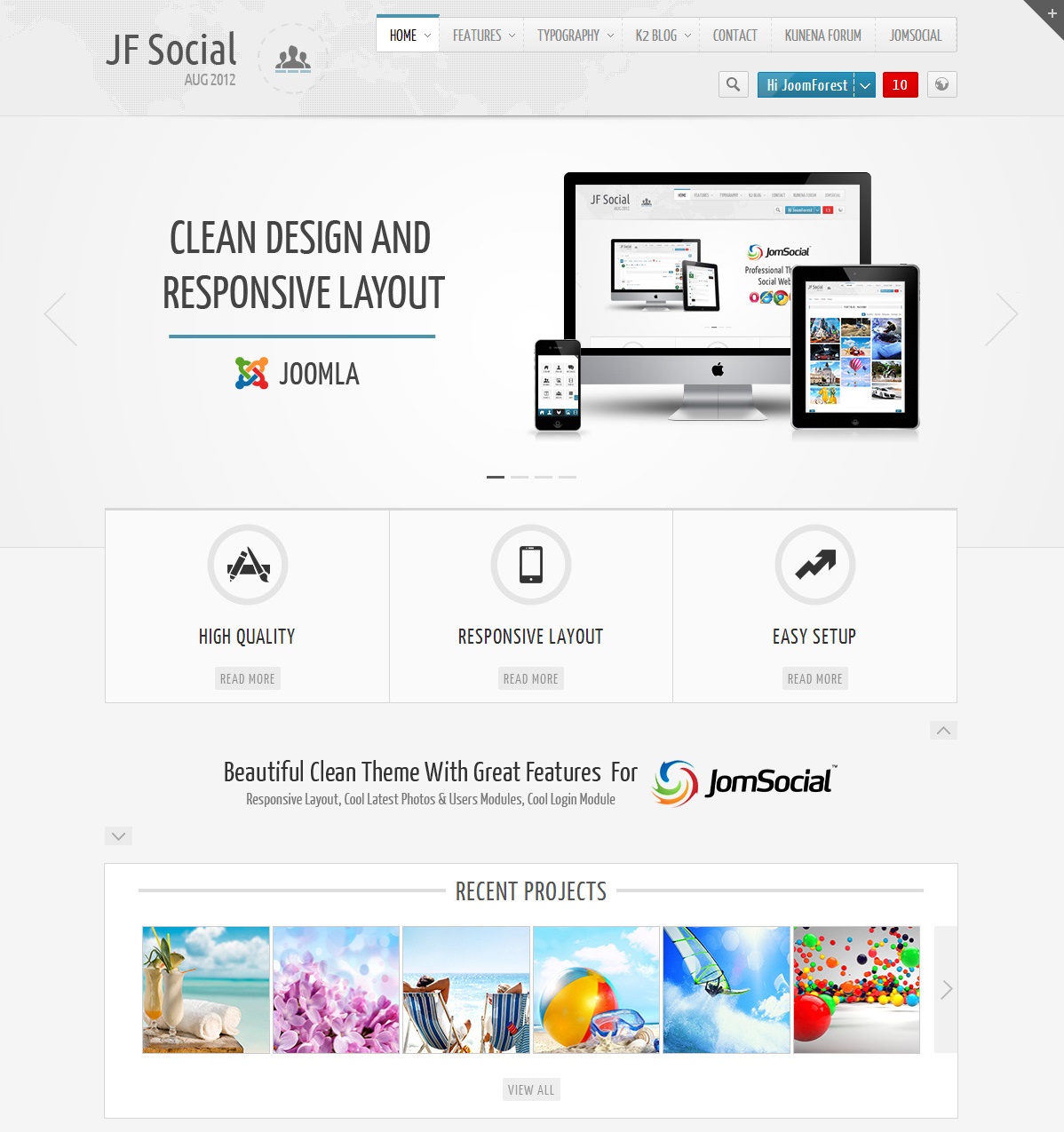 JF Social is a Professional Responsive Joomla, JomSocial and Kunena Template with lots of features. The template is based on Grantry Framework 4 and has 10 predifined color scheme. It is well suited for any kind of website, specially for Social/Community/Forum, Blog, Corporate, Business, Portfolio . . . and much, much more!
17. FutureProspects (Demo | Details)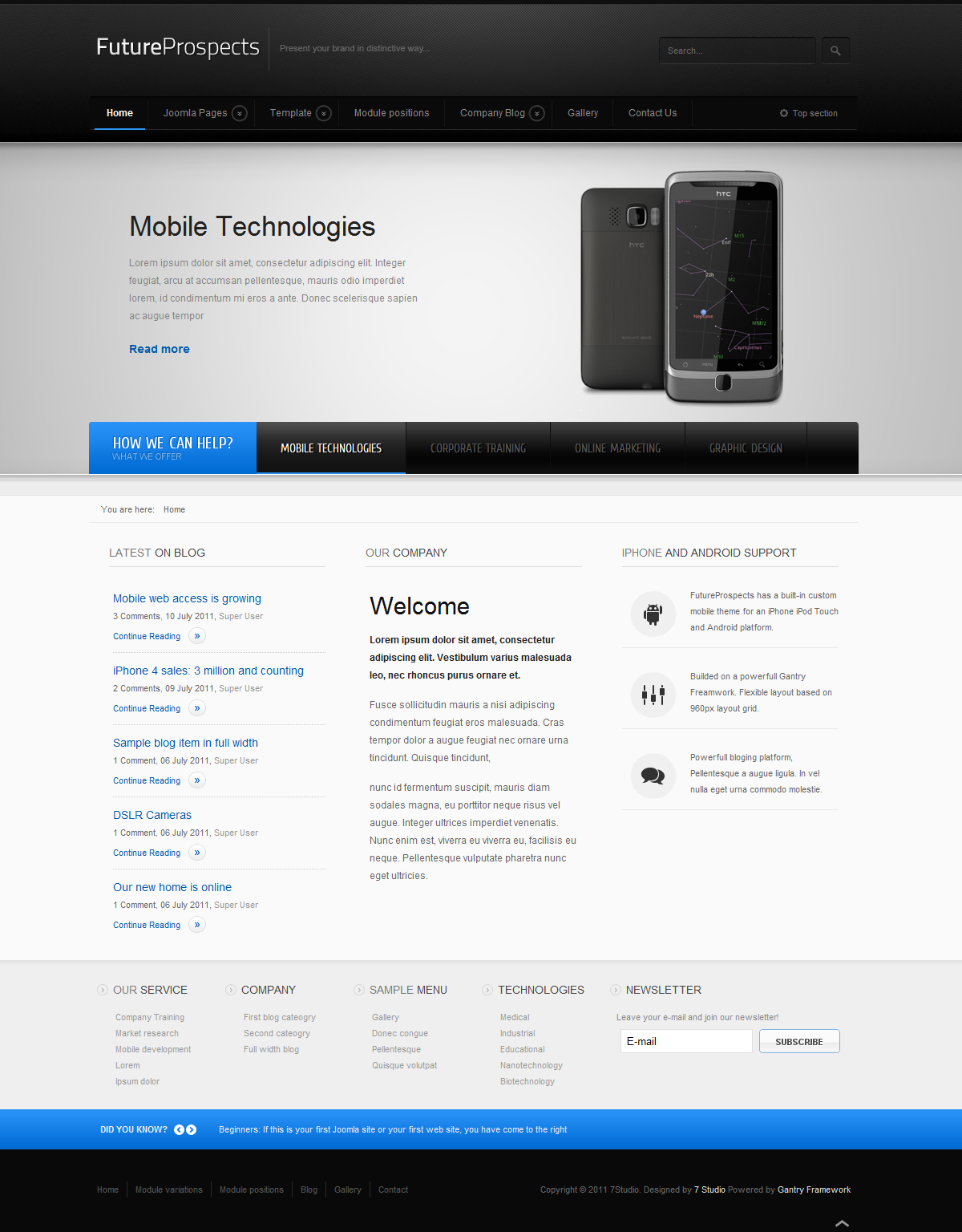 FutureProspects is a clear. stylish template designed for Joomla. This template is created for business website, but you can use it for other kinds of projects.
Some key features: Quickstart package included, 8 coor variations, 10 flexible module positions, some custom pages...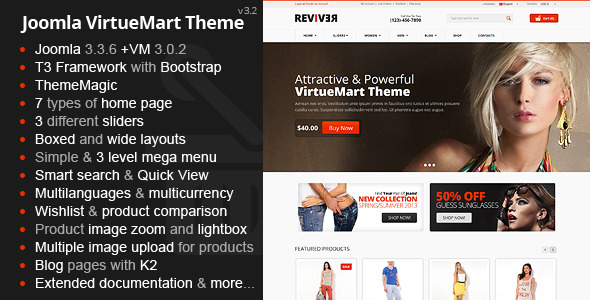 Reviver is a premium responsive multipurpose VirtueMart Theme. This template has a clear design with 7 types of home pages and 2 layout styles. It perfectly fits for any e-commerce webite with a lots of features like ThemeMagic setting panel and SEO tools, mega menu and smart search, Flex and Camera sliders, multi-languages and multi currency, wishlist and product comparison, ajax drop-down shopping cart and price filter, list and grid view for category pages, product image zoom and lightbox, Facebook and Twitter plugins, extended documentation and much more…
Besides, The team behind this theme gets good point with excellent support.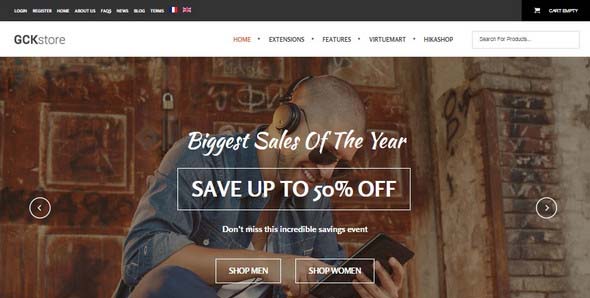 GCK Store is a powerful eCommerece Joomla template developed around the popular components Virtuemart and Hikashop.
The homepage of the template offers many features that allow for a great online shopping experience. Also, this template is so flexible with lots of features: 100 collapsible core template positions, 11 custom module suffixes, 2 custom highlight colors, 2 custom highlight fonts, parallax background options, floating menu options, S5 Flex Menu integrated...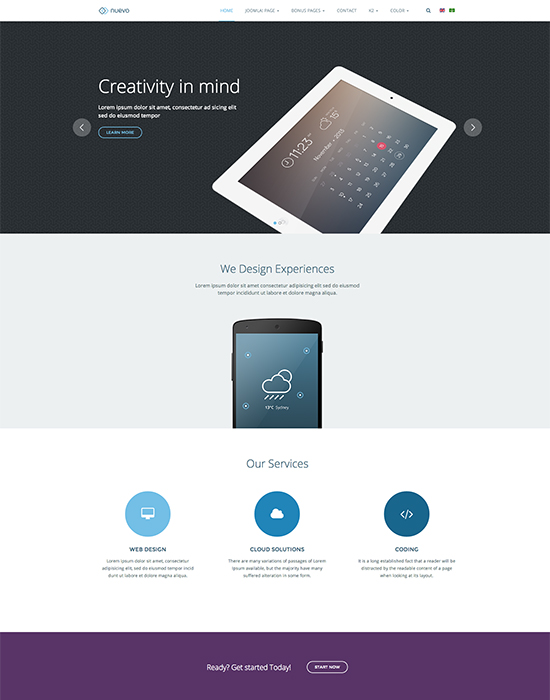 JA Nuevo is modern design template with lot of whitespace and simplicity. It helps enhance the performance of a landing page, improve readability and make a bold first impression.
JA Nuevo is flexible with robust tools, you don't have to be CSS ninja, or PHP geek to do the customization. Make use of ThemeMagic to tweak the CSS properties, transform the layout with Layout Configurator, or simply build your own Megamenu.
21. John Portfolio (Demo | Details)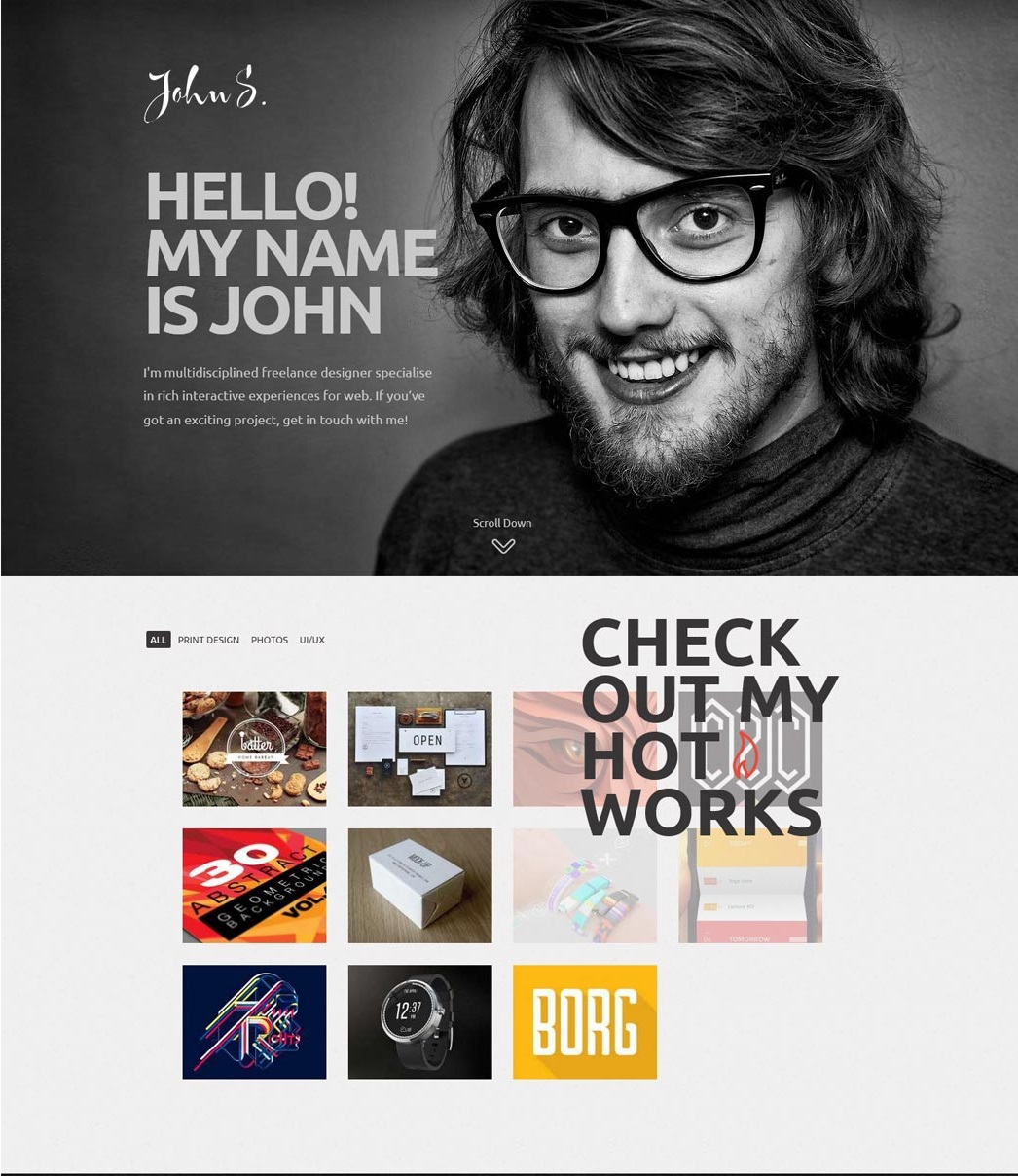 This template will be a great choice if you are looking for a template which showcase your works or your business to te world. Theme has a creative design, three heading styles, stunning animated showcases and effective ways to display your projects.
The template also includes additional pages and typography to save your time and suit with other website purposes.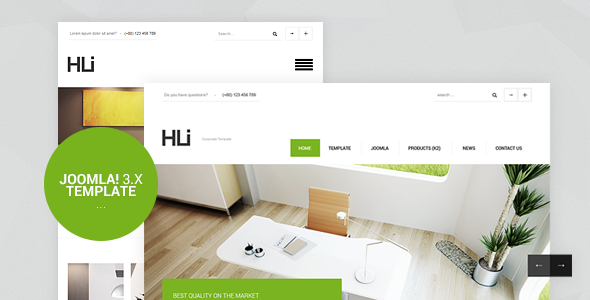 HLI is a corporate template for Joomla! 3.2+. Template is built on tep of Bootstrap Framework and it utilizes new features in Joomla 3.x series. This is a fully responsive template and you can turn this function off if needed. Theme is built with HTML5 and CSS3 with clear design and many features included.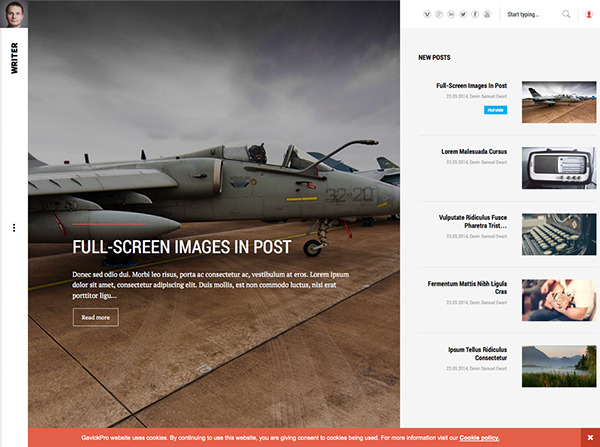 This is a beautiful template combined style and functionality with news and publishing template for writers, journalists or bloggers. This template has multiple layout options and professional design puts the focus on content for an intutive, unique and visually-appealling website experience.
Writer delivers with 4 different frontpage layouts that highligh articles in different ways. The template includes K2 component support, so userd will have a full control over where and how their articles are represented.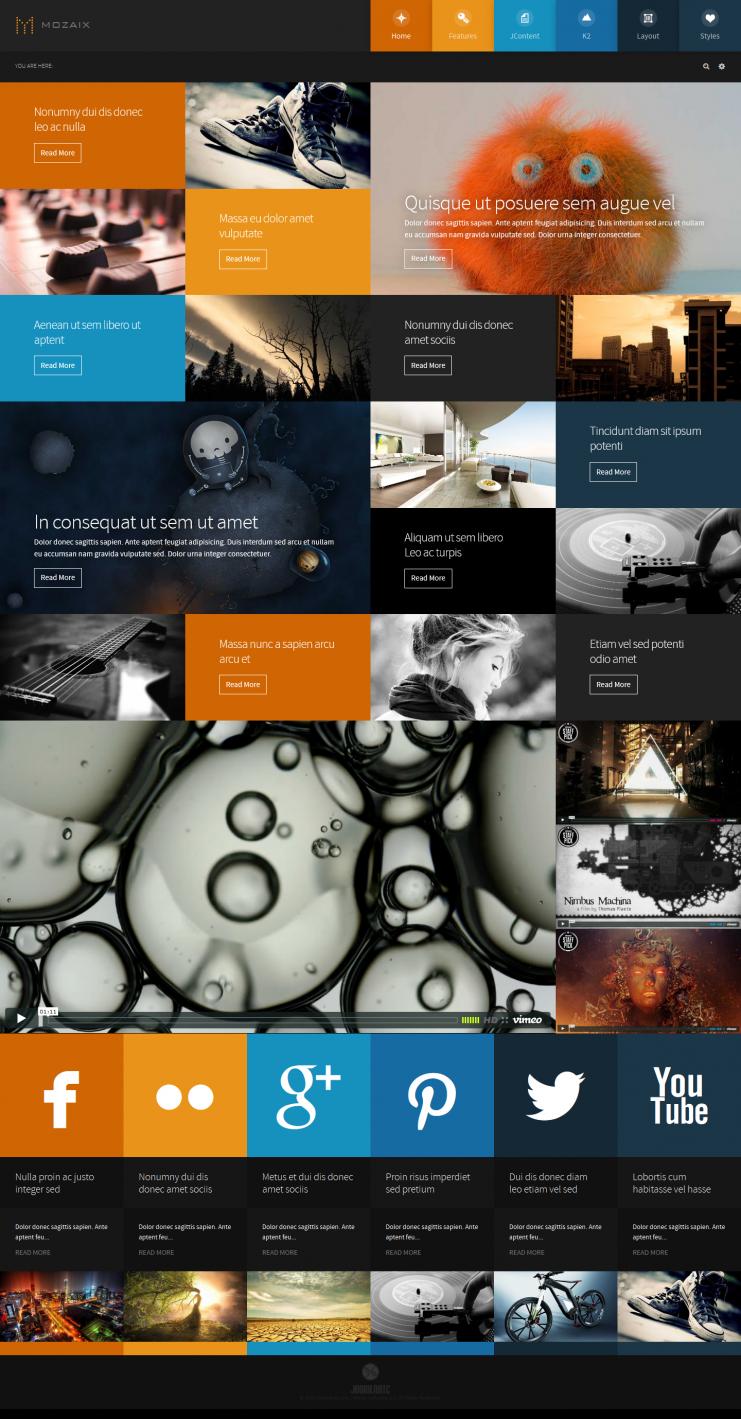 Mozaix is a sleek cutting edge design for Online Magazines. This template is designed with the latest in flat and colorful design styles, Mozaix takes advantage of the latest in CSS3 animations and effects. It's suitable for Online Magazines, Entertainment News, Blogs, Photography Sites, Online Portfolio's, Video Sites, E-Commerce Shops or any websites.
Mozaix was built with the JoomlaXTC Framework which offers deep customization options and gives you total control over your site's look & feel.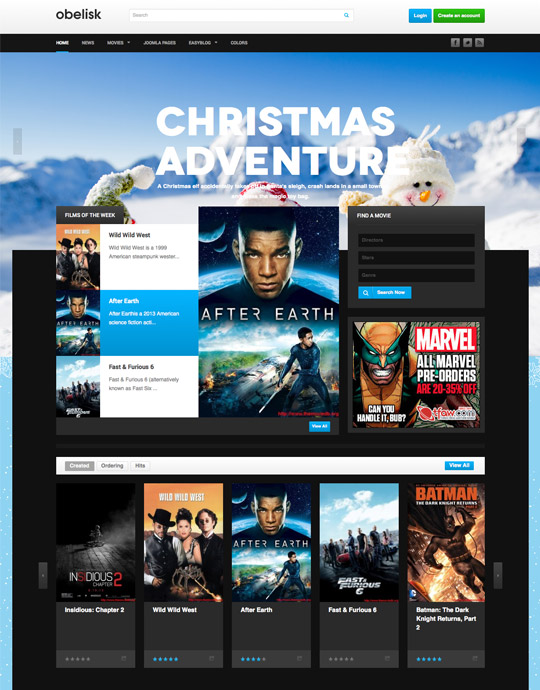 JA Obelisk is an entertainment, media and movies theme. It is built on the latest version of T3 Framework, supports EasyBlog component and styles for K2 component.
JA Obelisk will spice up your Joomla site with the holiday season spirit. The full width background slideshow will surely bring any detail to the attention. In case anyone feel lost, they now all can count on the search bar up top. You can certainly sort things out in seconds. Comes in 5 color scheme and 8 bonus pages, JA Obelisk is all you need to get everything set up for this occasion.