In this article, we will focus on the solutions to optimize Joomla 3.x website. However, they can be used for other CMS based websites.

At first, you should check your website load speed by using the following tools:
You can search for more available tools if you want.
Note: I recommend you to make a backup of your website before changing any section in case of unexpected errors.
Tips to speed-up, optimize Joomla 3.x page load time
1. Use necessary extensions
Be aware of choosing extensions. Clear all unnecessary extensions which slow down your site speed. With used extensions, updating regularly for the latest versions is very effective for website loading speed because the new versions have better improvement than the previous ones.
2. Let Joomla Caching
By using Cache, the sever does not need to fetch all the information requested from its database (content, plugins, modules, template files...) again and again everytime one of your pages is loaded.
Remember to use this tip when your site is ready to go live.
Turn on Joomla Caching: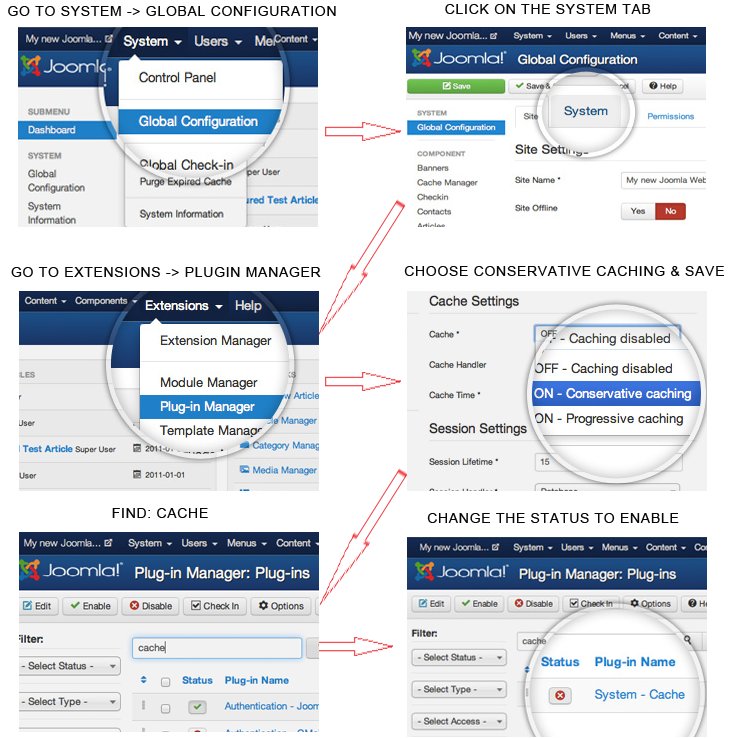 3. Turn on Gzip Compression
An amazing Joomla function is Gzip compression. It allows your pages (include css and html) are compressed in a zip file. This package is sent to your computer and uncompressed by the browser (all browsers supported, except old IE versions). It sounds complicated but will make your website load faster.
Turn on Gzip Compression: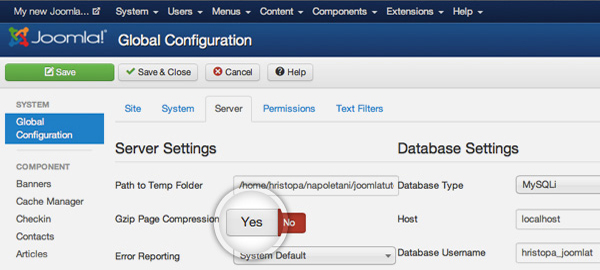 4. Optimize images size
This tip is very simple and easy to carry out. When adding images to your web pages,you should take in mind:
Do not use large img. The bigger image is, the more time it takes to load.
Optimize your photos. Use tools such as Photoshop or Fireworks to reduce images' size without changing the quality much.
Do no place too many images to a single page. Loading image is slower than loading text. So, be carefully.
5. Work with JavaScript and CSS
Some people will wonder how JavaScript and CSS affect the website load time. The answer is they often stop the page to load while they are executing.
How to solve this issue?
Compress JS and CMS files.
Use one large CMS file and one large JS file (by merging multiple files into one)
Use *defer* or *async* attribute in the script.
6. Use optimized templates
There are a huge number of Joomla templates that can help to speed-up load time effectively. In the desire of serving the best products to the customers, SmartAddons's Joomla templates are incessantly improved. SmartAddons provide a wide range of Joomla template which support compressing CSS/JS and merging files (mentioned in tip no 5).
Look at our Customer Site Showcase to determine how our template can do. And Join our club to get the best offers!
7. Care about mobile optimization
Go along with portable tendency, web design for mobile devices has become essential requirement. If your website loads fast on PC, it should perform well on mobile devices too. With responsive Joomla templates, the problem is solved quickly.
8. Choose good webhost
Last but not least, good web host can improve significantly your webpage load time. Free web hosts may screw up all your efforts. Checking the reviews, forum before making the decision.
After finishing all these tips, check your website speed again. You can feel "dizzy" from your webpage load speed.