Forum Support for Generals & Technical Questions
We're starting the move away from our support ticket system to our new support forums. There are few reasons why and some notes when using our forum to get support.
Why we move to forum support?
Using a forum will help you quickly search for topics, see interesting topics and learn new things. Also, your issues may be solved faster because you can find a post with the same problems like you without submitting a ticket and waiting for our support team.
How to use forum and get support
There are some things you should know before any submit any post:
Always search forum first to get the answers
If you don't find the right answers for your issues >> Login into our forum >> Create new Topic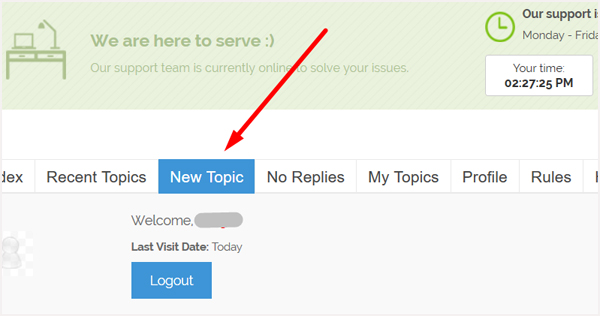 Submit your question into the right forum category/box. All tickets are posted into the wrong category maybe not answered.
For Example:
If you need support on SJ Urline - Responsive Travel Joomla Template, choose the category of SJ Urline to submit your post.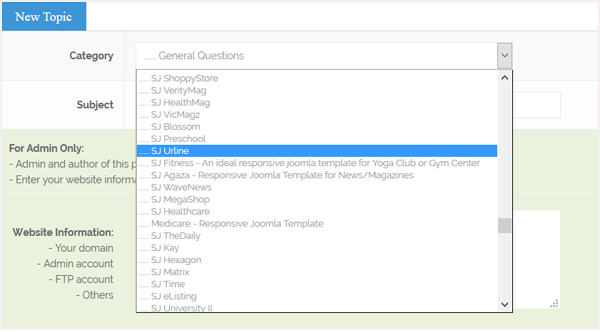 Subject: Give us a ticket title, be specific and not too general
Confidential Box: (Only Admin and user who submitted post can see information in this box)
Send us your confidential information (Your Domain, Admin Account, FTP Account & Others), so we can check faster.
Tell us about your issue in detail with the screenshots. Make sure your system requirements good enough as required.
Our support team tries hard to answer all support requests as soon as possible
within 24 hours
or next business day. If you haven't received the answer to your questions, don't send a duplicate request. We'll get to you soon as we can, sending multiple requests slow things down.
Live Chat for Pre-Sale & Technical Support
Our Live Chat is available from 8 am - 5 pm Monday to Friday (UTC + 7).
You can chat with us if you have Pre-Sale questions or need help for technical issues.  Keep in mind that, we may not be available to chat with you right away if our operators are busy chatting with other users. In this case, you can send us a message, then we'll quickly get to you.
Contact Us for Business Partnerships & Custom Work Request
If you have questions or requests related to partnerships or want to hire us to do custom work for you, please contact us.
Thanks for reading!