Sj Remoz comes with modern design and well-structured layout. Besides, the free Joomla template uses VirtueMart 3 component to manage the products. It will adapt for a small business as well as a big one. Moreover, Sj Remoz also supports Right-to-Left layout. You can use this VirtueMart template to build a worldwide online store.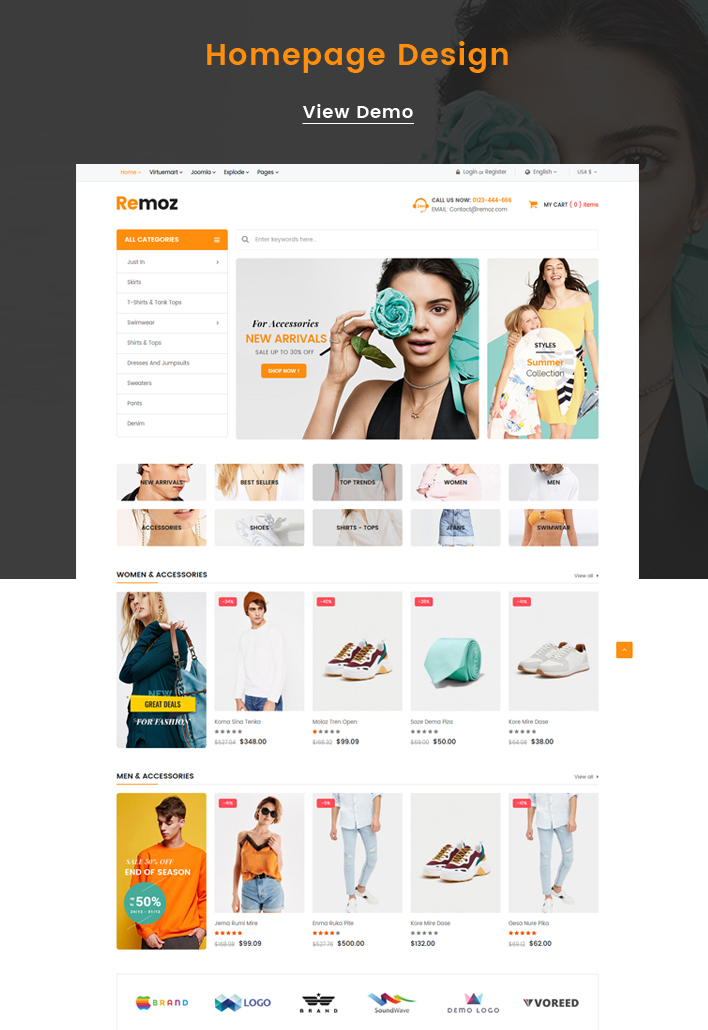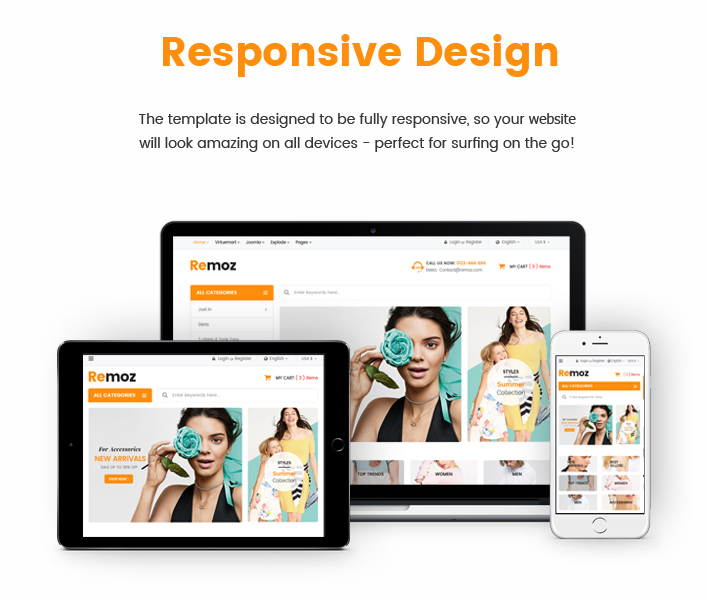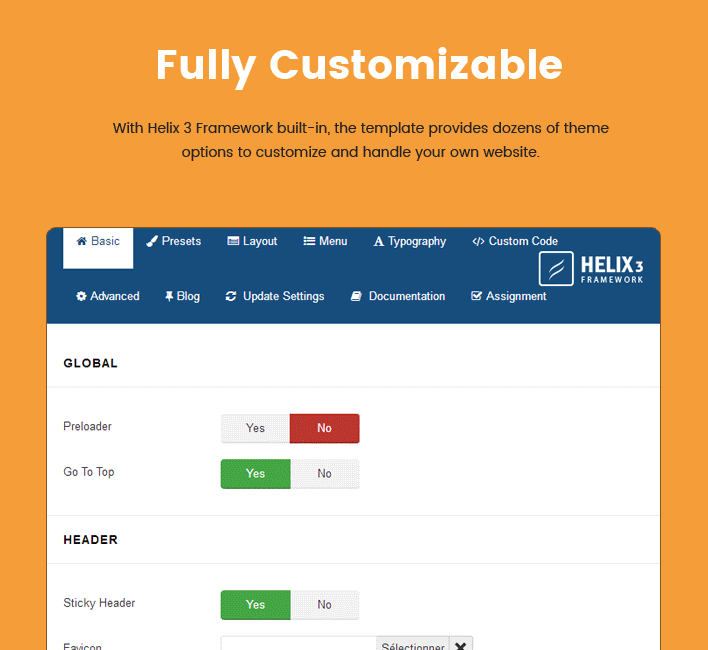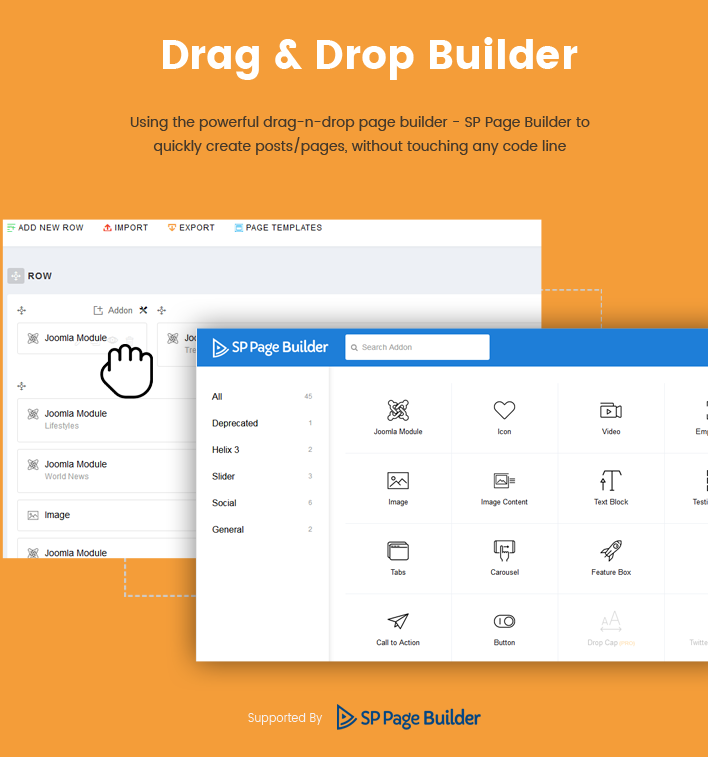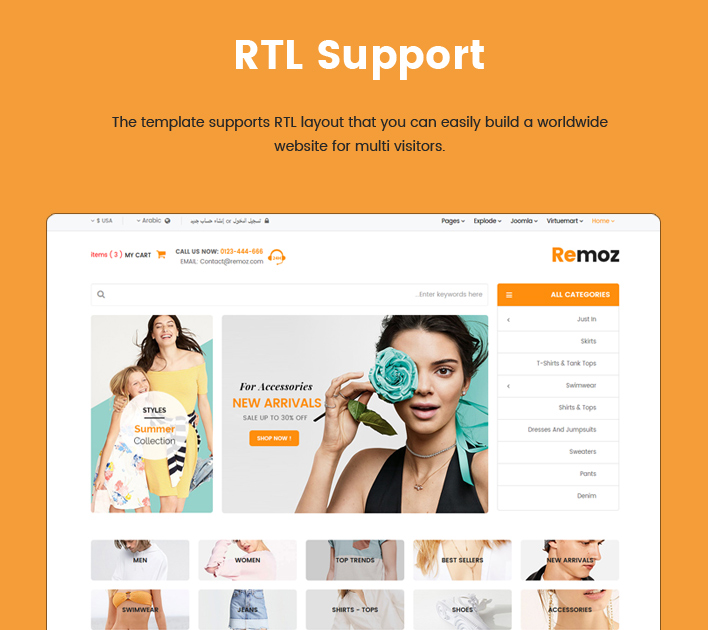 WHAT ARE INCLUDED IN DOWNLOAD PACKAGES?
SJ Remoz Template Package
Use this package to install to your current site
Free QuickStart Installation Package
This package includes template, modules, plugins, components and sample data. By using this package, you will have a complete site look like demo site.
Free Extension Packages
Modules and plugins which we used for the demo.
CHANGELOG
VERSION 4.0.0: Released on 25 August, 2021
- Updated to Joomla 4.1.4
- Updated to VirtueMart 4.0.2
VERSION 3.10.1: Released on 25 August, 2021
- Updated to Joomla 3.10.1
VERSION 3.9.28: Released on 26 July, 2021
- Updated to Joomla 3.9.28
VERSION 3.9.26: Released on 29 April, 2021
- Updated to Joomla 3.9.26
VERSION 3.9.25: Released on 12 March, 2021
- Updated to Joomla 3.9.25
VERSION 3.9.24: Released on 21 January, 2021
- Updated to Joomla 3.9.24
VERSION 3.9.23: Released on 07 December, 2020
- Updated to Joomla 3.9.23
VERSION 3.9.22: Released on 21 November, 2020
- Updated to Joomla 3.9.22
VERSION 3.9.20: Released on 29 July, 2020
- Updated to Joomla 3.9.20
VERSION 3.9.19: Released on 17 June, 2020
- Updated to Joomla 3.9.19
VERSION 3.9.16: Released on 11 April, 2020
- Updated to Joomla 3.9.16
- Compatible with PHP 7.4
VERSION 1.0.0:
Released on Sep 14, 2019
- Initial release