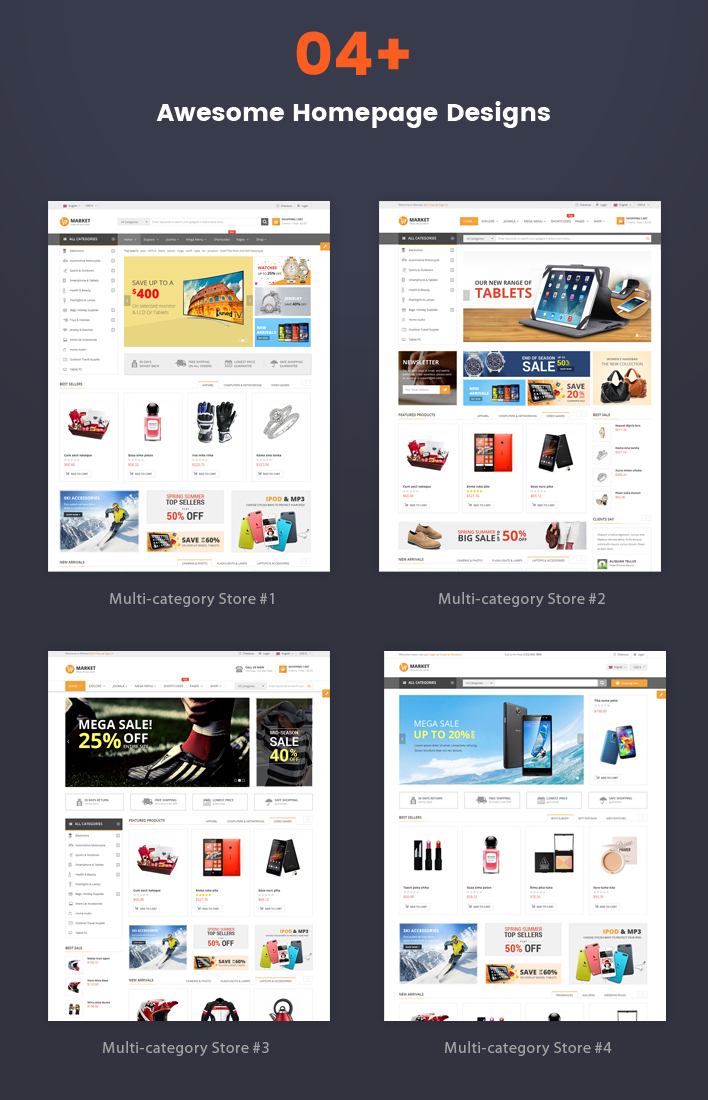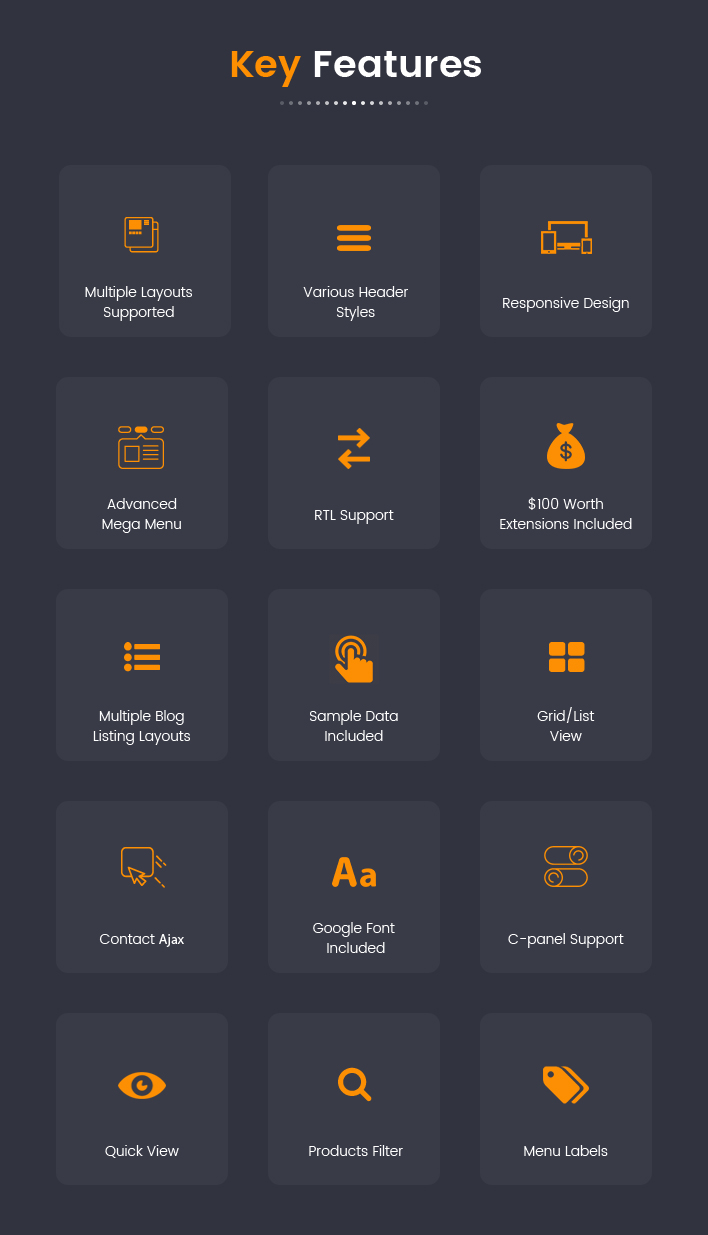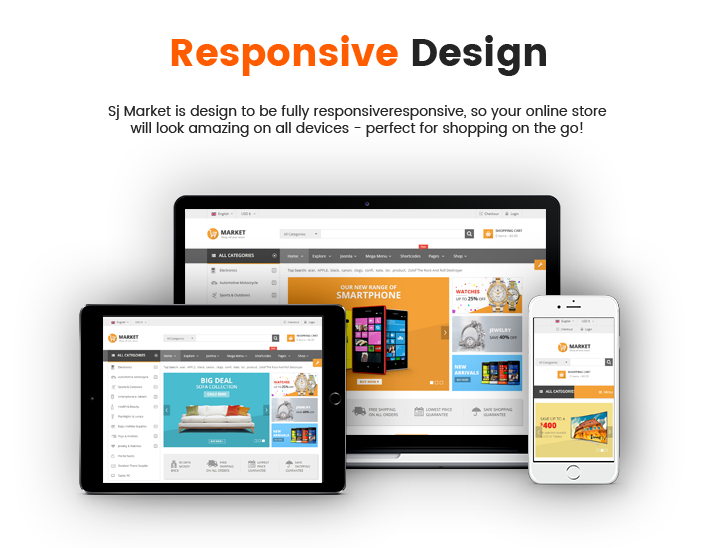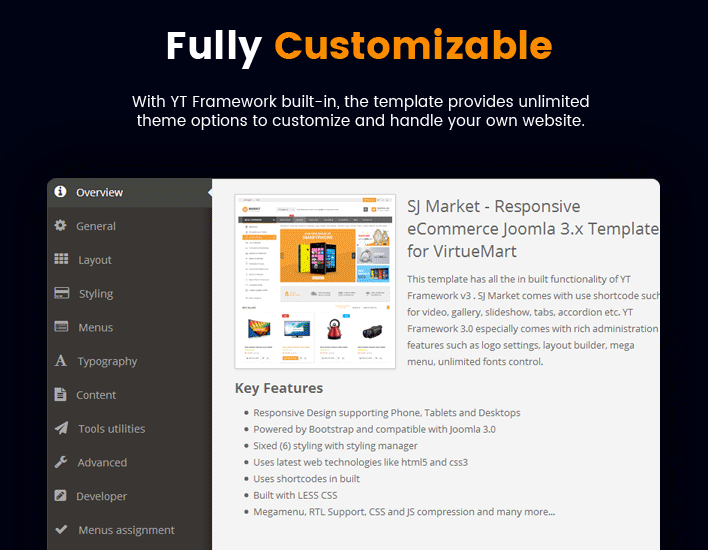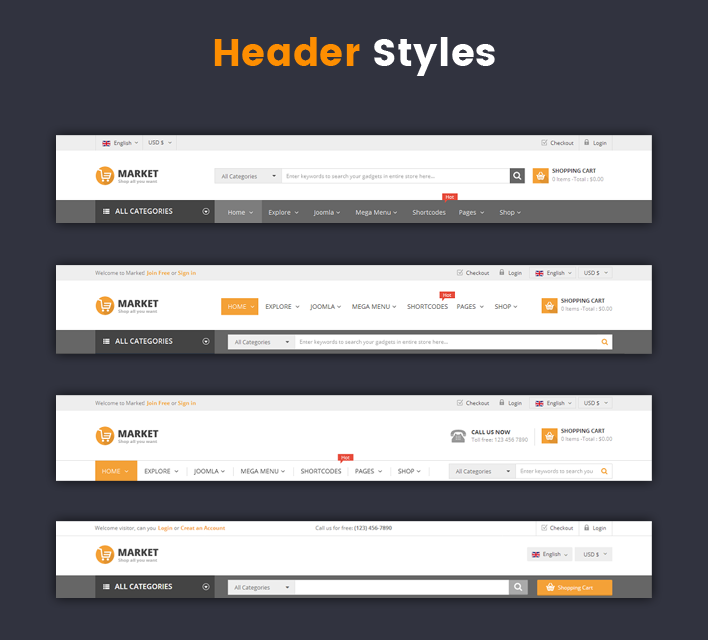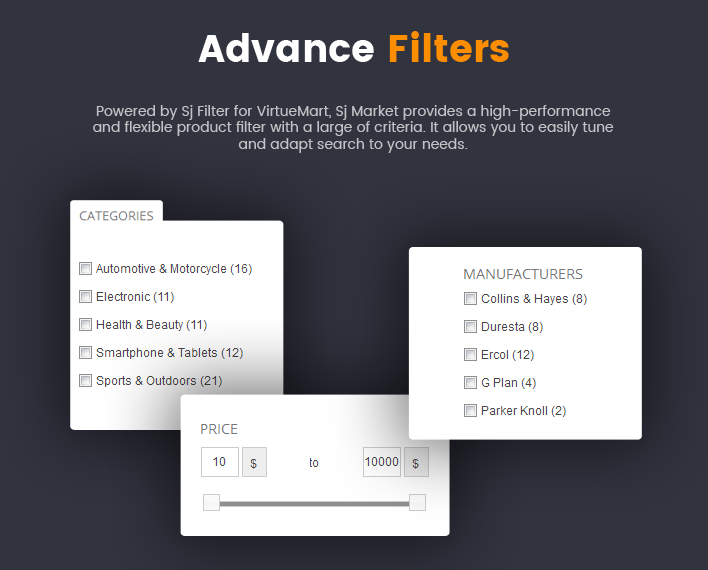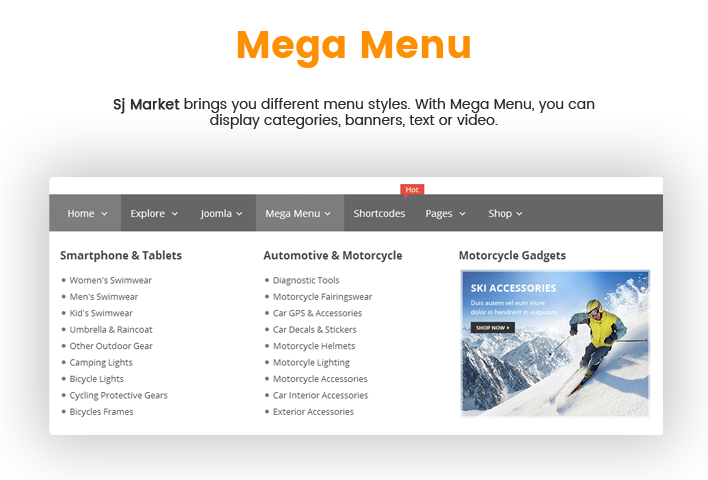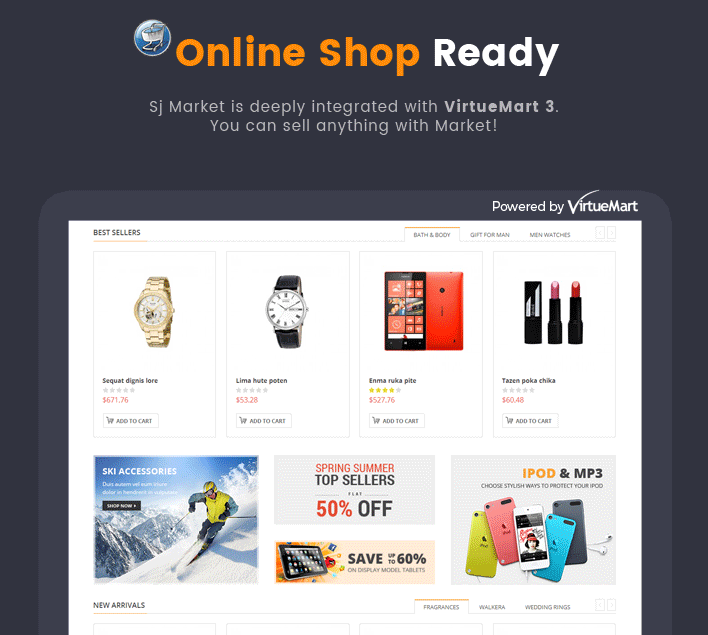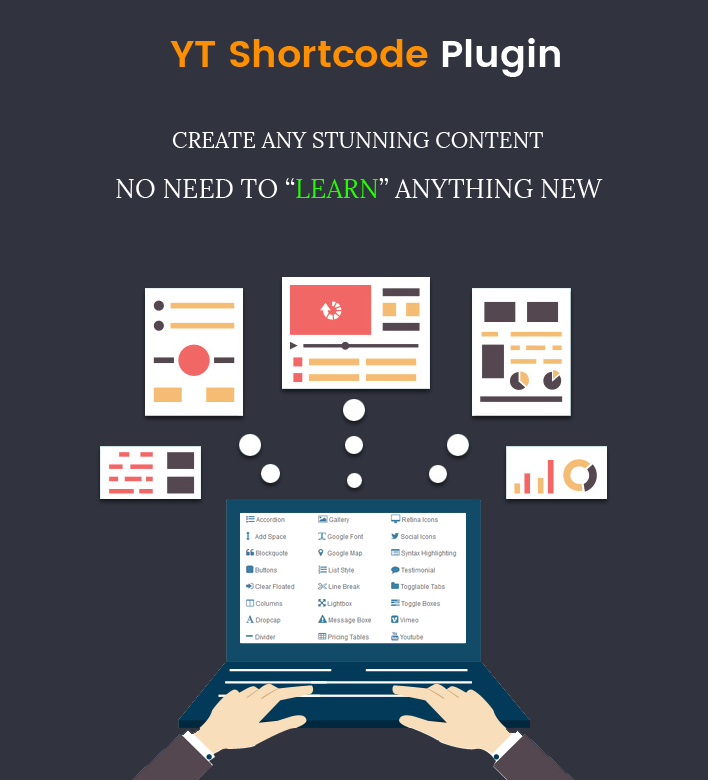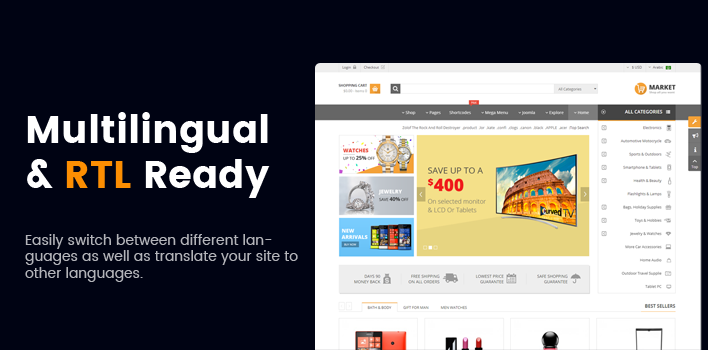 SJ Market supports 4 different homepage layouts which are easy to switch. Besides, the fashion Joomla template also support 4 layout styles: Wide, Boxed, Framed and Rounded layouts in which, you can easily customize the background image and change settings.
In addition, the technology Joomla template is built based on YT Framework v3 making it fully customizable and having a wide range of awesome features: responsive layout, RTL supported, lots of useful shortcode, Bootstrap 3, many awesome Google fonts, powerful Mega menu, HTML 5, convenient Front-end Cpanel, 5 color styles supported and many other. Moreover, with the powerful VirtueMart 4, SJ Market VirtueMart template brings you a new experience of online store managing and customizing.
Let's discover this awesome template more HERE!
| | |
| --- | --- |
| # | Main Features |
| 1. | Compatible with IE9+, Firefox 2+, Flock 0.7+, Netscape, Safari, Opera 9.5 and Chrome |
| 2. | Support RTL / LTR language |
| 3. | Support Boxed, Wide, Framed and Rounded Layouts |
| 4. | Support responsive layout |
| 5. | Support Front-end Cpanel for changing Theme, Layout and Reset instantly |
| 6. | Support 5 Preset Color Styles: Blue, Tangerine,Green, Yellow and Emerald |
| 7. | Support various Font Family as well as Google Fonts |
| 8. | Support many styles for RESPONSIVE Menu: Mega Menu and Moo Menu |
| 9. | Allow to set JavaScript for Menus, set start/end level and Keep on top |
| 10. | Allow to set site title, logo and slogan |
| 11. | Support many extensions |
| 12. | Typography and various module variations |
| 13. | Use Lazy Load for handling large images |
| 14. | HTML5 Validation |
| 15. | Support SHORTCODES |
| 16. | Support LESSCSS |
| 17. | 100% table-less design, based on CSS3 |
| 18. | Optimize CSS/JS/HTML/Merge File |
| 19. | Allow to show OR hide Main Content, with options for showing image types |
WHAT ARE INCLUDED?
SJ Market Template Package
Use this package to install on your current site
QuickStart Installation Package
This package includes template, modules, plugins and sample data.
Extension Packages
Modules and plugins used for the demo.
Full Documentation
Detailed documentation to configure template
CHANGELOG
VERSION 4.1.5: Released on 25 July, 2022
- Updated to Joomla 4.1.5
- Updated to Virtuemart 4.0.6
VERSION 3.10.2: Released on 20 September, 2021
- Updated to Joomla 3.10.2
VERSION 3.9.28: Released on 23 July, 2021
- Updated to Joomla 3.9.28
VERSION 3.9.26: Released on 23 April, 2021
- Updated to Joomla 3.9.26
VERSION 3.9.25: Released on 17 March, 2021
- Updated to Joomla 3.9.25
VERSION 3.9.24: Released on 18 January, 2021
- Updated to Joomla 3.9.24
VERSION 3.9.23: Released on 04 December, 2020
- Updated to Joomla 3.9.23
VERSION 3.9.22: Released on 21 November, 2020
- Updated to Joomla 3.9.22
VERSION 3.9.20: Released on 27 July, 2020
- Updated to Joomla 3.9.20
VERSION 3.9.19: Released on 09 June, 2020
- Updated to Joomla 3.9.19
VERSION 3.9.16: Released on 28 March, 2020
- Updated to Joomla 3.9.16
- Compatible with PHP 7.4
VERSION 3.9.6: Released on 22 June, 2019
- Update template for Joomla 3.9.6
VERSION 3.9.0: Released on 21 Nov, 2018
- Update template for Joomla 3.9
VERSION 1.2.3: Released on 24 May, 2017
- Updated to Joomla 3.7.0
VERSION 1.2.2 - Released on 13-Jan-2017
+ Updated to Joomla 3.6.5
+ Updated to VirtueMart 3.0.18
VERSION 1.2.1 - Released on 08-Sep-2016
+ Fixed bug in SJ Related News module
+ Fixed bug: popup display placeholder image
VERSION 1.2.0 - Released on 02-Aug-2016
+ Upgraded to Joomla 3.6.0
VERSION 1.0.1-UPDATED - Released on 31-Dec-2015
+ Fixed bug on iPhone: product detail incorrect displaying
+ Fixed bug on homepage 3 on iPhone
VERSION 1.0.1 - Released on 12-Nov-2015
+ Upgraded to Joomla 3.4.5
+ Upgraded to VirtueMart 3.0.10
VERSION 1.0.0 - UPDATED: Released on 04 August, 2015

+ Updated new Google API code
VERSION 1.0.0: Released on 20 May, 2015
- Responsive Layout
- Compatible with Joomla! 3.4
- Support VirtueMart 3.0.8