Policy Update: Get FREE Quickstart Installation Service When Buying this Item.
View More!

SJ Asolar - This is a super clean and elegant responsive Joomla Template that has been released for Joomla 3.x.
Designed with responsive layout and 6 amazing preset color styles for various contexts, this would be a powerful template to show many types of movie related websites without any limitations. The viewers will be impressed by the flat design, neat typography, smooth navigation and 2 layout styles: Boxed and Wide. This responsive business Joomla template should be utilized for cinema, movie promotion, theatre site … you can also style personal site as the way you want, of course.

With many in-house extensions that we have created for this template such as: SJ K2 Carousel to show your hottest news in the beautiful way, SJ Social Media Counter...We're sure that you will have a Dynamic World Of Movies website to get highest your visitor's attention.
In addition to the beautiful skin, so this entertainment Joomla template is a totally flexible design as well as dozens of configuration options included: colors scheme, menus, typography, google font... can be tweaked quickly to suit any need.
Now let's take a SJ Asolar tour to feel more!
| | |
| --- | --- |
| # | Main Features |
| 1. | Compatible with IE8+, Firefox 2+, Flock 0.7+, Netscape, Safari, Opera 9.5 and Chrome |
| 2. | Support RTL / LTR language |
| 3. | Allow to set site title, logo and slogan |
| 4. | Support responsive layout |
| 5. | Support Front-end Cpanel for changing Theme, Layout, Menu, Typography and Reset instantly |
| 6. | Support 6 Preset Color Styles: Orange (default) , Blue, Red, Green, Yellow and Cyan |
| 7. | Support various Font Family as well as Google Fonts |
| 8. | Support many styles for RESPONSIVE Menu: Moo, CSS, Dropline and Mega Menu |
| 9. | Allow to set JavaScript for Menus, set start/end level and Keep on top |
| 10. | Allow to show OR hide Main Content, with options for showing image types |
| 11. | Support many extensions: SJ Contact Ajax, SJ Gallery Pro, SJ K2 Carousel, SJ K2 Extra Slider, SJ Mega K2 News, SJ Responsive Listing for K2, SJ Module Tabs, SJ Social Media Counter |
| 12. | Typography and various module variations |
| 13. | Use Lazy Load for handling large images |
| 14. | HTML5 Validation |
| 15. | Support SHORTCODES |
| 16. | Support LESSCSS |
| 17. | 100% table-less design, based on CSS3 |
| 18. | Optimize CSS/JS/HTML/Merge File |
POWERED BY YT FRAMEWORK v2
Operating on the YT Framework v2 - a powerful responsive Joomla framework, this K2 template is a totally responsive design as well as many configuration options included: colors scheme, menus, typography, google font... All these features can be tweaked quickly to meet modern standards of web technologies. Specially, this is compatible with Auto Updater component of Joomla! to update framework any time to latest version from our repository.

BUILT WITH BOOTSTRAP, HTML5 and CSS3
SJ Asolar is developed by Bootstrap CSS3, HTML5, LESS. It makes this responsive Joomla theme is extremely flexible to customize. With Bootstrap, this template offers mobile users with user friendly and fantastic layouts that resize to fit any screen resolutions.

BOXED AND WIDE LAYOUT
Coming with 2 layouts of Homepage: Boxed and Wide. With boxed layout, all colors, backgrounds and patterns are changeable to fit your idea.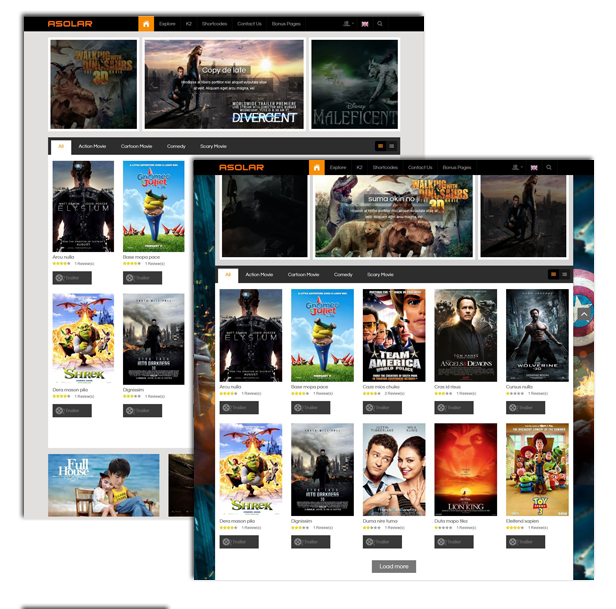 UNLIMITED COLORS & 6 COLOR PRESETS
There are 6 Preset Color Styles: Orange (default), Blue, Red, Green, Yellow and Cyan to you choose. Besides, this business Joomla template gives you the full control in customizing color schemes in back-end. You can also totally change your color for all parameters: body, header, spotlight, footer... by using c-Panel.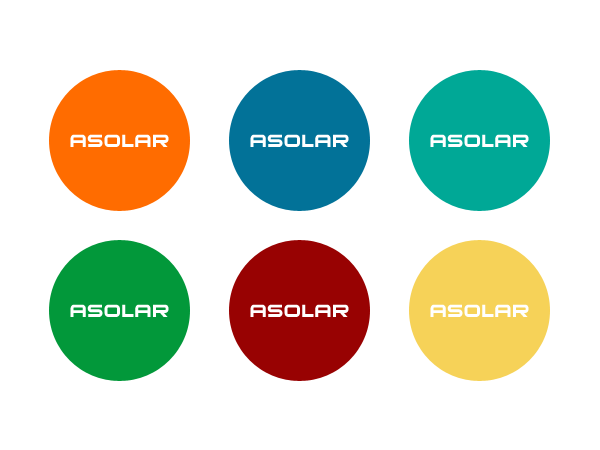 FULLY RESPONSIVE
The Joomla template is designed to be fully responsive layout that adapts perfectly for any screen resolutions like desktop, iPhone, iPad and other Smartphone devices.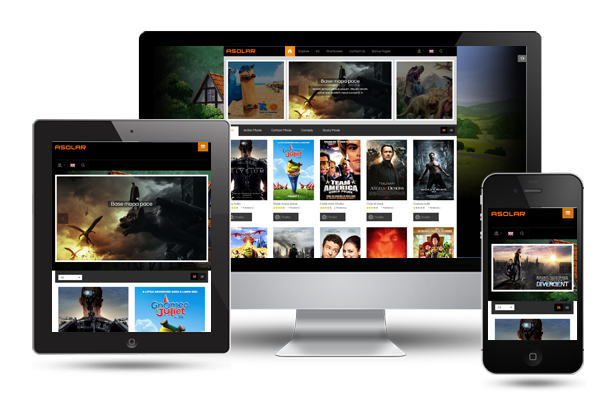 MENU TYPES
SJ Asolar supports 3 types of menu: Super Mega Menu or Simple with Css Menu, Split Menu and Dropline Menu. With our Mega menu, you can add a multi-category, multi-article with description, price, image, video, effects... or even modules.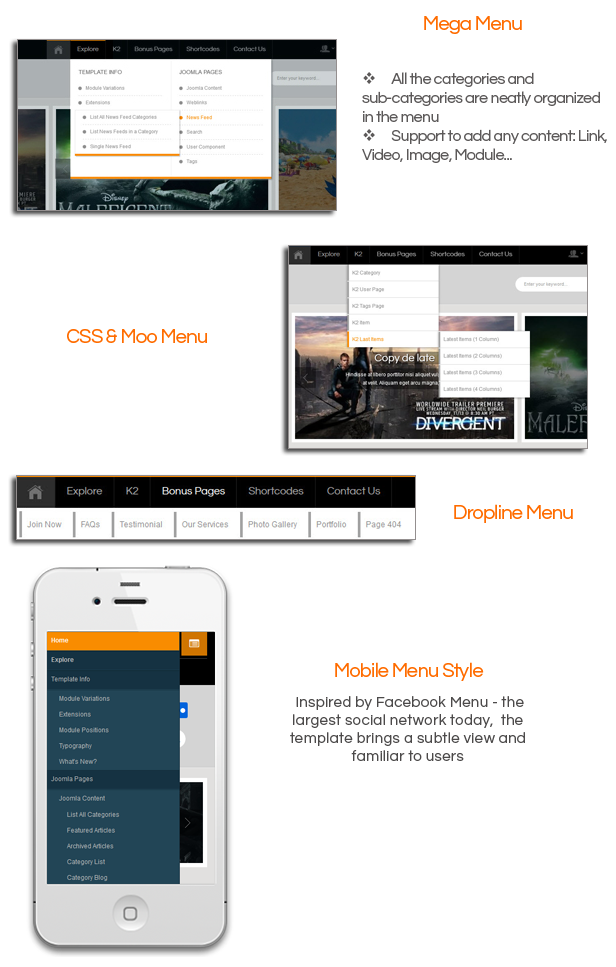 STUNNING CAROUSEL SLIDER
By using Powerful Carousel Slider, your featured items will be shown more beautiful with the necessary information like images, titles, brief descriptions and nice effects.

The Carousel Slider is included with some highlight features:
Fully responsive, automatically scaled to appropriate for screen types of different devices.
Many options can be configured in back-end, you can totally control your own module
Allows to show image item, introduction and link of the item, even introduction video by using HTML tags
GRID & LISTING VIEW
This template supports 2 types of layout. You can change view easily by the Grid and List button.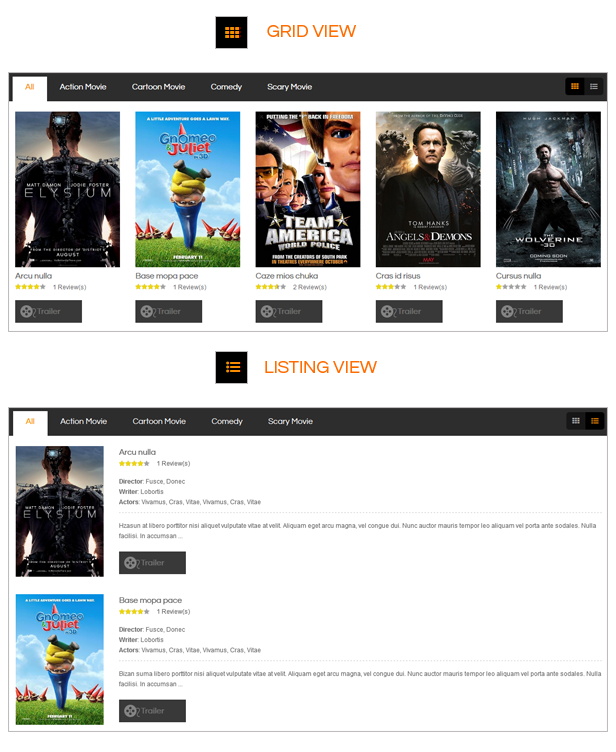 DISPLAY MORE PRODUCTS
At this Homepage, SJ Asolar used SJ Responsive Listing for K2 to display all products in category according to tabs. You can quickly and easily show your items more attractive on the homepage. Just click "Load more" button, the list of more products will be loaded in short time.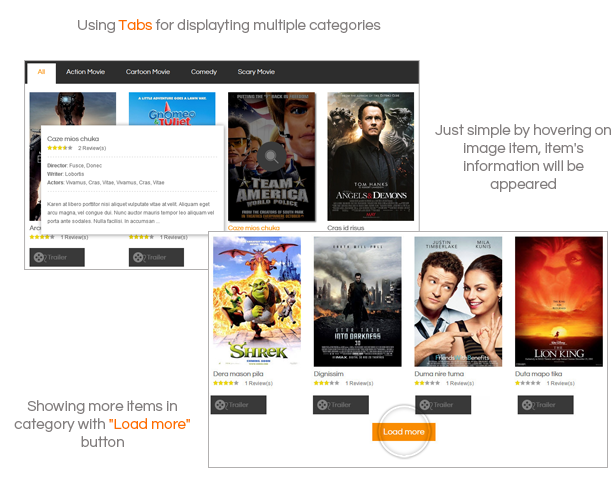 K2 COMPONENT INTEGRATED
SJ Asolar is equipped with the best content extension - K2. This extension used by millions Joomla users around the world, become easier than ever to build a nice blog right on your website.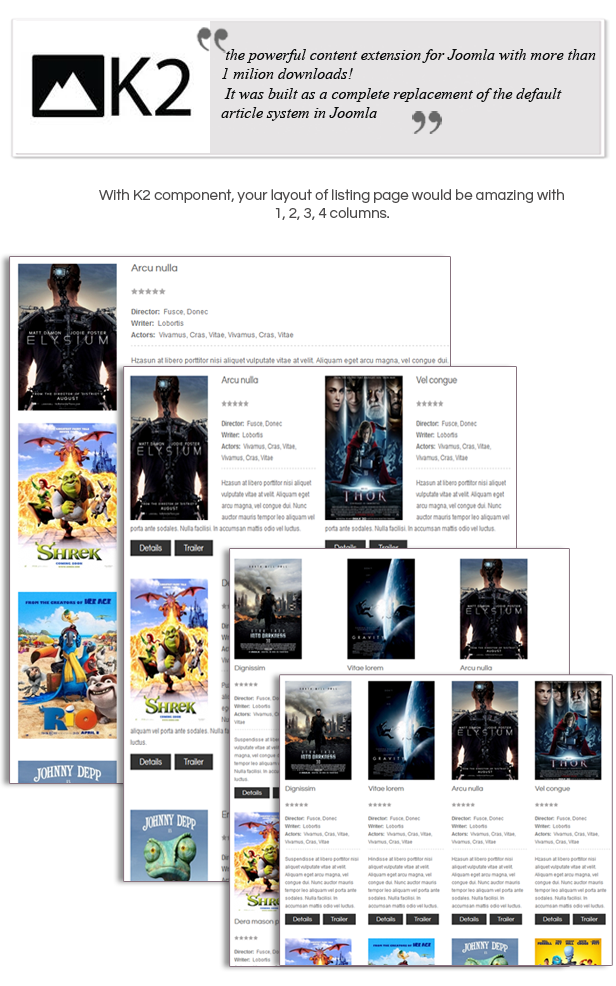 DETAIL PAGE WITH FULL UTILITIES
With K2 Component you can freely to manage article and category with so many functions that are integrated.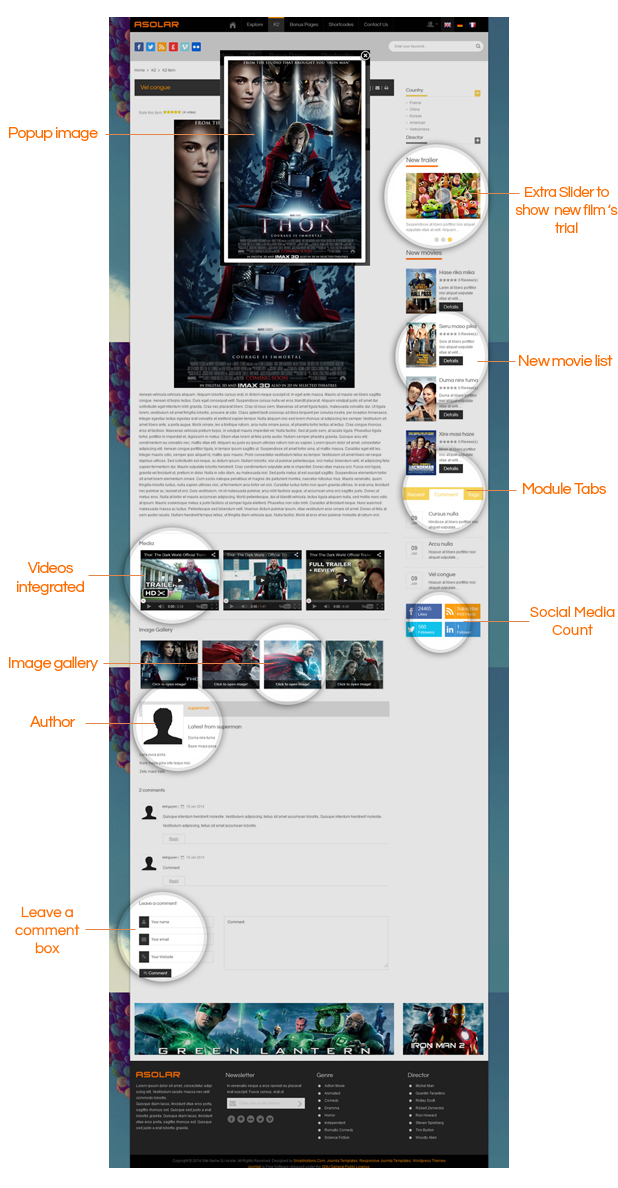 MULTILINGUAL READY
Easily switch between different languages. Overseas customer can view your site with their language just by one click.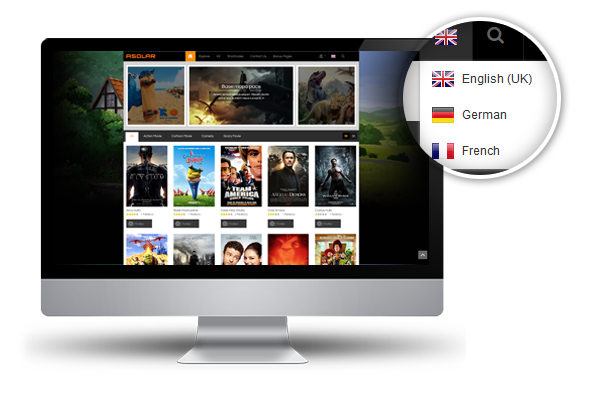 BONUS PAGES
Get these awesome 7 bonus pages: Our Service, Portfolio, Join now, FAQs, Testimonial, Photo Gallery, Page 404. All ready for you to build the responsive Joomla site for your store.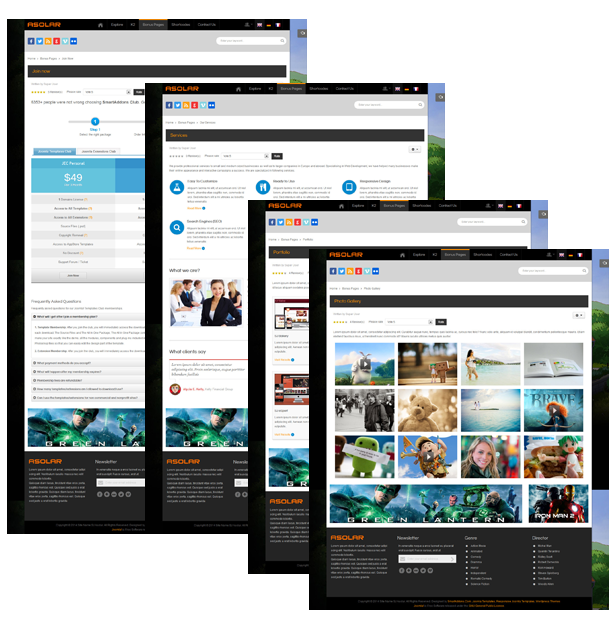 LOST OF AMAZING SHORTCODES
Easily create attractive page with various short-codes such as Accordion, Vimeo, Slideshow, Pricing table, Google Maps... are available to set up easily interesting and complicated content layout without having any coding knowledge.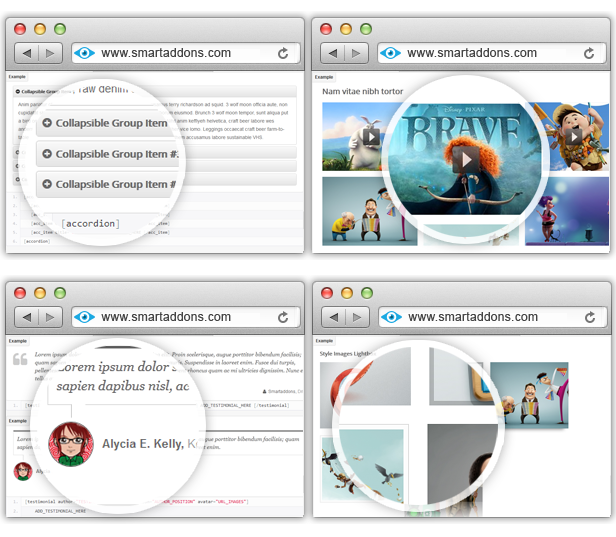 RTL LANGUAGE SUPPORTED
This unique feature of SJ Asolar that is supported RTL (Right to Left) Language such as Arabic, Persian...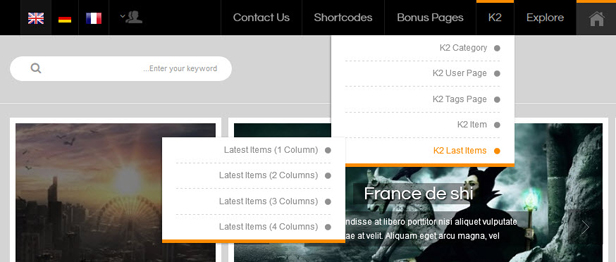 SOCIAL ICONS INTEGRATED
Social networks offer ability to closely connect all your customers wherever they are. So, SJ Asolar gives a convenient way to engage your customers' attraction by integrating with social network (Facebook, Twitter, Pinterest, G+, Youtube...) and quick promotion ads.

WHAT ARE INCLUDED IN DOWNLOADABLE PACKAGES??
SJ Asolar Template Package
Use this package to install to your current site
QuickStart Installation Package
This package includes template, modules and sample data. By using this package, you will have a complete site look like demo site.
Extension Packages
Modules and plugins which we used for the demo.
CHANGELOG
VERSION 3.10.2: Released on 24 September, 2021
- Updated to Joomla 3.10.2
VERSION 3.9.28: Released on 21 July, 2021
- Updated to Joomla 3.9.28
VERSION 3.9.26: Released on 22 April, 2021
- Updated to Joomla 3.9.26
VERSION 3.9.25: Released on 12 March, 2021
- Updated to Joomla 3.9.25
VERSION 3.9.24: Released on 15 January, 2021
- Updated to Joomla 3.9.24
VERSION 3.9.23: Released on 02 December, 2020
- Updated to Joomla 3.9.23
VERSION 3.9.22: Released on 16 November, 2020
- Updated to Joomla 3.9.22
VERSION 3.9.20: Released on 29 July, 2020
- Updated to Joomla 3.9.20
VERSION 3.9.19: Released on 17 June, 2020
- Updated to Joomla 3.9.19
VERSION 3.9.16: Released on 07 April, 2020
- Updated to Joomla 3.9.16
- Compatible with PHP 7.4
VERSION 3.9.6: Released on 05 July, 2019
- Update template for Joomla 3.9.6
VERSION 3.9.0: Released on 22 Nov, 2018
- Update template for Joomla 3.9
VERSION 1.4.0: Released on 26 May, 2017
- Updated to Joomla 3.7.2
VERSION 1.3.0 - Released on 14-April-2016
+ Upgraded to Joomla 3.5.0
VERSION 1.2.0 - UPDATED: Released on 04 August, 2015

+ Updated new Google API code

VERSION 1.2.0 - Released on 29-June-2015
+ Upgraded to Joomla 3.4.1
VERSION 1.1.0
- Released on 16-May-2014
+ Upgraded to Joomla version 3.3
+ Updated newsletter module
+ Updated K2 Component
# Fixed bug of js after removing Mootool
# Fixed bug: Notice SJ K2 Responsive Listing module
# Fixed bug: video on K2 category was not displaying
# Fixed CSS social bottom on newsletter
- Removed Mootool
VERSION 1.0.3
- Released on 18-Apr-2014

+ Updated positions in TemplateDetail.xml file


VERSION 1.0.2
- Released on 7-Apr-2014

+ Updated new appearance of Homepage and Category page


VERSION 1.0.1
- Released on 17-Mar-2014

+ Upgraded to Joomla v3.2.3

+ Upgraded to Shortcode v1.2.1

# Fixed error when selecting RTL language

# Fixed error when displaying on
smart devices


VERSION 1.0.0
- Released on 20-Jan-2014
+ Support responsive layout
+ Compatible with Joomla 3.x
Tagged under:
Get access to our Joomla Templates for as low as $49
Join Now