With 5 themes as can be seen in Demo of this module, you can pick up the suitable one to show on your website frontpage. Products come along with Navigation are shown in different but clear layouts. Each product has its own features include Title, Description, Price, Votes, Add to Cart button and etc. In addition, you can use mouseclick into navigation button to see referring items with small preview image, title and brief description located in Navigation area.
Moreover, SJ Slideshow II allows to get images from Product Image, Description or External folder with ease of controlling image's width, height and background. You can easily add suitable categories, choose slideshow effect type, display/hide Price, Votes, Add to Cart/Add to Wishlist button and etc in Admin panel (see Screenshots). All in this one module is meant to satisfy all customers' expectation of product showcase.
Let's see what makes this module different!
| | |
| --- | --- |
| # | Main Features |
| 1. | Support for all HikaShop's edition (Free, Business, Essential) |
| 2. | Fully compatible with IE8+, Firefox 2+, Flock 0.7+, Netscape, Safari, Opera 9.5 and Chrome |
| 3. | Allow to choose which source to be shown, and to sort by any order |
| 4. | Support 5 main themes with different navigation layouts |
| 5. | Allow to set opened links in: New Window/Same Window/Popup |
| 6. | Allow to show or hide Title, Description, Prices, Per Unit, Votes, Add to Cart button, Add to wishlist button, Readmore link of each product |
| 7. | Support Multi-Module on the same page |
| 8. | Allow to show or hide Navigation buttons |
| 9. | Allow to set Max items visible, Navigation width, Title, Description and Image of Product in Navigation (for Theme 1, 2,3,4) |
| 10. | Allow to get images from Product Image, Description and External Folder |
| 11. | Allow to change width, height, background, resize mode of Big and Small images from External folder |
| 12. | Allow to change max length of title/description of products |
| 13. | Support Multi-Language |
| 14. | Support Auto play, Stop when hover mode and many slideshow effects |
| 15. | Support caching to make your website load faster |
| 16. | Support SEO, pre- and post- text with each instance |
5 THEMES WITH FRESH AND CLEAR LAYOUT
At first sight, you will realize that there're 2 main kinds of layout available. In spite of 5 themes displayed, there are some similarities in group of theme 1, 2, 3 and 4 which is different from theme 5. Let's take a look at below pictures to make a comparison.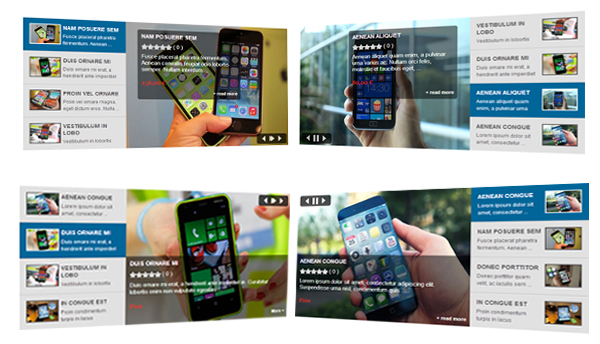 Theme 1, 2, 3, 4
In this theme group, the Navigation and product when being clicked are separated in 2 columns. But what makes these themes special is Navigation area inlcudes not only small preview image, but also Title and Description of items. With many nice effects you can find in Admin panel, this module is ideal for any types of website.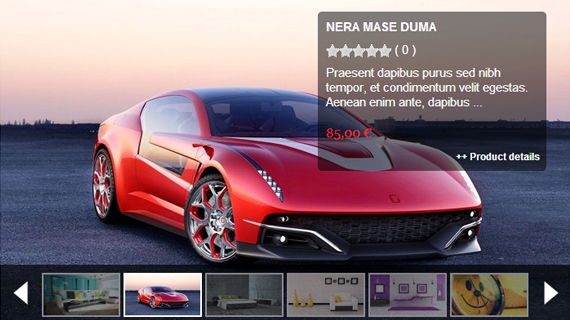 Theme 5
Designed within a single area includes large preview image, title, ratings, description, price and read more link of product when being clicked and placed upon Navigation bar, theme 5 actually makes itself attractive when being used on your website. Small preview images of referring items in Navigation bar with Direction button and many nice effects will make the overall module runs smoothly.
Many features are waiting for you to discover. Now, let's click
View Demo
button to see its best performance!
Change Log
VERSION 1.0.0 - Released on 10-June-2014
+ Compatible with Joomla 2.5.x and Joomla 3.x