Avoiding these mistakes will greatly improve your business and the experience of your customers. Below are some of the most common mistakes that eCommerce sites make, as well as advice on how to avoid or fix them.
Mistake #1: Not Having a Good-looking Website Design
The website design is one of the most fundamental aspects of building a successful online store. You don't need to have a beautiful design with uncounted features that you never even use. You must consider what your customers will find appealing even though it may not match your tastes. It means that you are building a website for your customers, not yours.
In fact, a good online store should be clear, easy to use, attractive and meet the needs of your users. Every piece of content, menu, pages, etc. should be created with the audience in mind. If you can't design a good eCommerce design by yourself, let popular Template providers bring you professional websites. You can go SmartAddons's eCommerce templates store and use filters to find exactly the design that fits your need. All templates here are designed with the user in mind, ensure that your site can hold the audience's attention. After that, try to implement A/B tests with your audiences and make next steps to build a complete online store.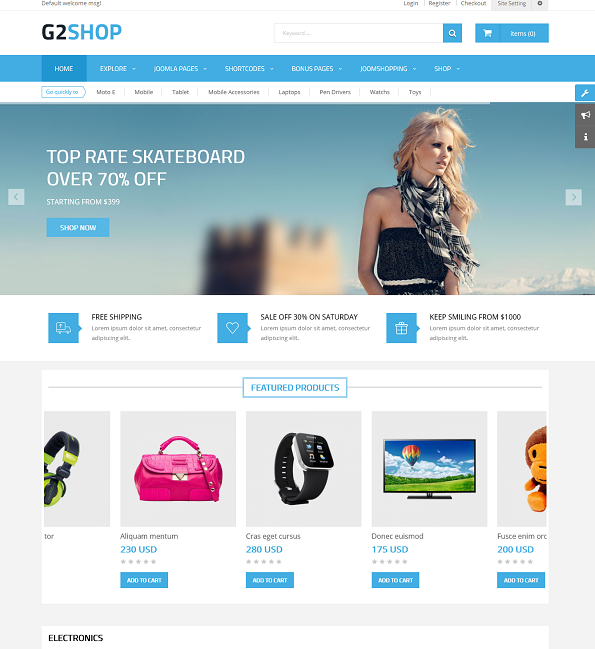 SJ G2Shop - Professional eCommerce Joomla Template

Mistake #2: Not Optimizing Your Site in Mobile
In fact, shopping via tablets, smartphones is growing stronger day by day. If your site isn't mobile friendly, you are missing out on revenue generating opportunities for you business and even risk losing customers permanently to your competitors. No longer a trend, mobile site now is critical for success of your site.
Make sure your website is optimized in most widely used devices to match your visitor's needs and behaviors in the context of how they will most likely be browsing your site. If you don't have the designing or coding experience needed to create a mobile site yourself, the easy way to start is to choose a responsive template which is configured to adapt to any devices and can help improve your customers mobile experience.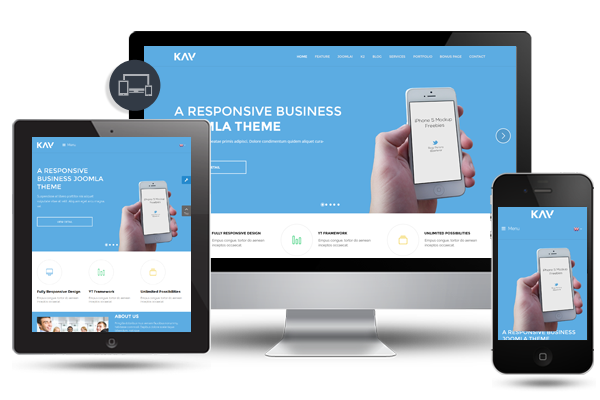 Responsive Templates make your websites more mobile friendly
Mistake #3: Not Optimizing Your Website For Conversions
You can have a million visitors going to your website, but if you can't convert them into customers, what's the point? Even if you're doing everything else correctly and you're driving traffic to your website, it doesn't make sense unless your site is optimized for conversions. Here are a few mistakes that can prevent customers from making a purchase on your online store.
Your website is too slow: Statistics show that customers are much more likely to leave your site if the loading time exceeds 4 seconds. You can use Google PageSpeed Insights to check how your existing site is performed, then list of issues should be fixed.
Your website has no clear call-to-actions: Every page on your site should have a clear goal. Calls-to-action are phrases commonly found in headlines, links, and buttons that are used to provoke an action from your website visitors. If you want your visitors to do something, then use calls-to-action on your site. This will result in more conversions.
Your website is hard to use: Is your website easy to navigate? Do your potential customers find immediately what they are looking for? Just make everything simple and easy to use, so visitors can easily use your site even when it's the first time they go to your site.
Mistake #4: Not Optimizing For Search
Most people tend to make use of searching information related to products they want to buy via search tools like Google, Yahoo, Bing... before making a purchase decision. It's also the way you can earn more customers through search engines. And if you don't optimize your site for search engines, you are losing your customers to your competitors who have the site is appeared in the search results.
You must know what your customers are seeking? Then target at least a few keywords for your site that you feel best describe what your business is and customers are using to search for products. Try some keyword suggestion tools like Google Keyword Planners to get more ideas for identifying target keywords for your site.

Keyword Planner helps you find keyword ideas
However, it's not easy to get good rank in search engines if you don't have a good SEO Plans with many things to do for long term, not a short time. Check out some helpful tips HERE that you can implement to bring your site to high ranking in search engines.
Besides, helping visitors with search options in the website is the great way to make it easier to find what they need as well as stay in your site for a long time.
Mistake #5: Minimal Payment Options and Complicated Checkout Process
If you limit payment options on your site with credit card/visa or Paypal only, person who don't have these payment methods would never be able to buy a product in your website. So, allowing other payment options like debit card will increase the number of users visiting your website and improve your sales too.
Moreover, a checkout page with tons of steps to buy a product will annoy your customers and even make them angry to leave your site without any purchases. So, just keep your checkout page simple as much as possible.
Mistake #6: Lack of Security and Safety
Security and safety of website are quite important, especially for an online store selling products. A website lacks of security is a serious concern, and it will lose its reputation among customers and all your valuable efforts for setting up the website will be disappeared . Thus, make sure you add necessary plugins to make your website completely secure and safe, and help to load faster.
Mistake #7: Interaction Tools
People always have a lot of concerns and questions before making purchase decisions. Interaction tools such as a live chat, comment box... help your visitors get the assistance they need immediately. Therefore, it will be a big mistake if your site doesn't have any interaction tools.
All the mistakes discussed here are just some common ones you can make when starting building an eCommerce website. Take the advices under consideration before creating a new eCommerce project or when thinking over your current site. What mistakes do you see new shop owners making? Please share your thoughts in the comments below. You might just help someone avoid a big mistake. If you think this article is helpful, please share it with your friends.
Thanks for reading!