At first sight, you will be impressed by a simple but very useful mini cart integrated with SJ Ajax Tabs as an example helps to show products of multiple categories to be added to cart. Products with preview image, title, description, ratings, price, readmore link and add to cart button are displayed in different category tabs. When click Add to cart, product will be added automatically into Mini cart located upon it and total price is also calculated at the same time. You can hover on that cart to review what you have chosen to buy, then press Check out to finish shopping. In addition, you can be able to use mousewheel to scroll side by side or mouseclick into navigation button to see referring items with details.
Moreover, image field can be shown flexibly by the number of options allow to get images from Product Image, Description or External folder with ease of controlling image's width, height and background. You can easily modify Cart detail width, display or hide Product list, Product label, Go to cart/Checkout/Total price and etc. All in this one module is meant to satisfy all customers' expectation of product showcasing.
Let's take a look at detailed features below:
| | |
| --- | --- |
| # | Main Features |
| 1. | Support Responsive layout and all HikaShop edition (Free, Essential, Business) |
| 2. | Support all browsers (IE8+, FireFox, Chrome, Opera, Safari, ...) |
| 3. | Support Multi-Language; Support Multi-Module in the same page |
| 4. | Support to show/hide Product list, Product label, Product Attribute, Go to Cart, Check out, Total Price |
| 5. | Support to modify Cart Detail Width |
| 6. | Allow to get images from Product Image, Description and Extend Folder |
| 7. | Allow to change width, height, background, resize mode, format of images from Extend folder |
| 8. | Support opening link in: Same Window, New Window, Popup Window |
NO PRODUCT ADDED TO CART
First, when no product added to Cart, the status of it will be like this before you hover on:

After being hovered, it will show out as below: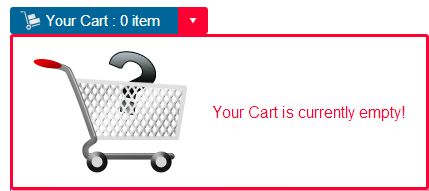 MORE ITEMS ADDED TO CART
After the first product added, the status of Cart changed:

When being hovered, you will see your selected product with preview image, item's name, quantity and price. If you don't want to buy it, you can click Delete icon to remove it from cart, or press checkout to complete.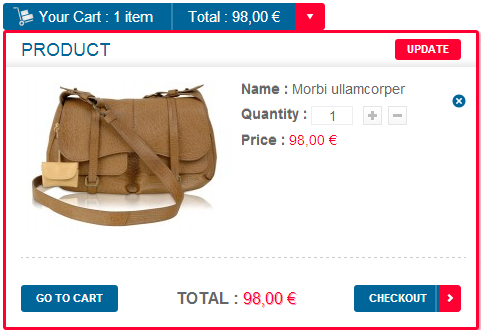 You can also add more than one product to cart and use mousewheel to scroll up and down to review your selected product.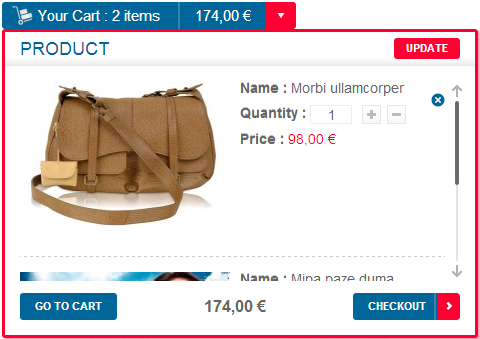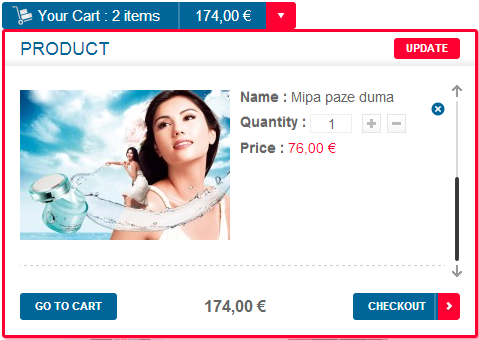 Now, click View Demo button to have the best look on this module!
CHANGELOG:
VERSION 1.2.1 - Updated on HikaShop 2- Released on 04-Jan-2018
+ Fix bug addtocart not working with minicart
+ Fix bug price not working with tax
+ Fig bug delete cart not working in minicart
+ Fix bug update cart not working in minicart
+ Fix bug minicart not working with https
VERSION 1.2.0 - Released on 07-Feb-2017
+ Support HikaShop 3.0
+ Removed Go To Cart function that is not supported in HikaShop 3
VERSION 1.0.0 - Released on 04-June-2014
+ Compatible with Joomla 2.5.x and Joomla 3.x
+ Support Responsive layout