Joomla framework is a blank web platform which contains bundle of features for building a Joomla website such as dynamic module positions, menu styles, color schema, responsive template framework and so on. Using a Joomla framework will save you a lots of time and effort when build a website template.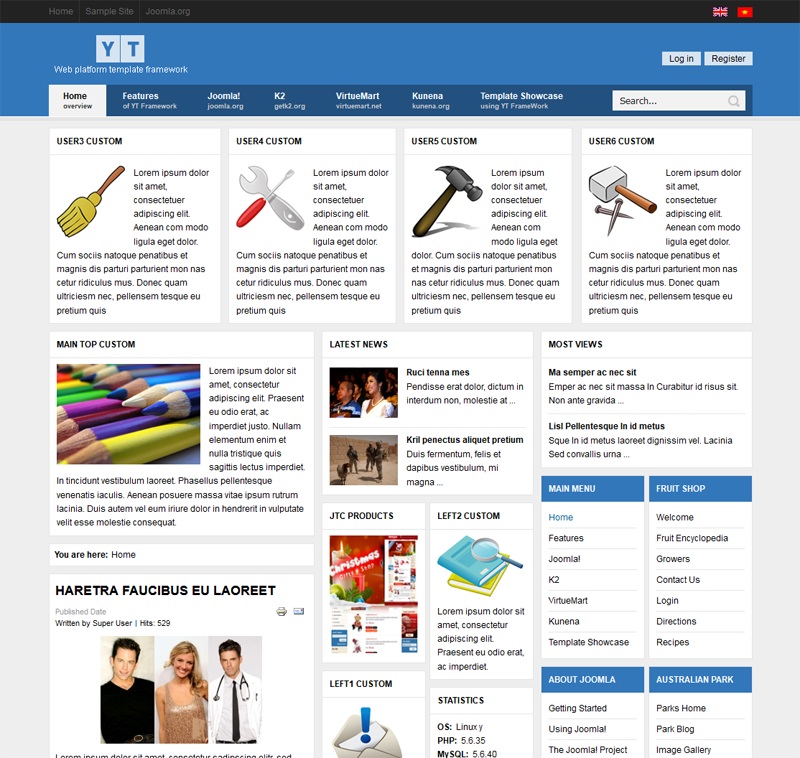 YT Framework - A powerful Joomla template Framework is carried out with the idea of creating a useful tool for those who are interested in building their own website templates from beginners to advanced.
YT FRAMEWORK ADVANTAGES:
It's totally FREE

YT Framework is totally free for download, you do not need to charge anything.

It's a simple and flexible

YT Framework will make it very simple for you to design and customize your own website. It contains no colors, no gradients, no borders. It's just a simple and clean HTML/CSS skeleton. Let your imagination fly and style what you want. Well, it's perfect to make your idea come into reality.

… also a high-quality framework!
Main Features
Multiple module positions
Multiple color themes
Mobile ready
RTL language support
Load modules as menu items
Multiple layout system
Page layout overrides
Resize image in listing joomla content
Color theme control
Font size, Font Family control
Layouts control
Direction control
Template widths control
Navigation control
Mega menu
Moo menu
CSS menu
Dropline menu...
2. Helix Ultimate Joomla Template Framework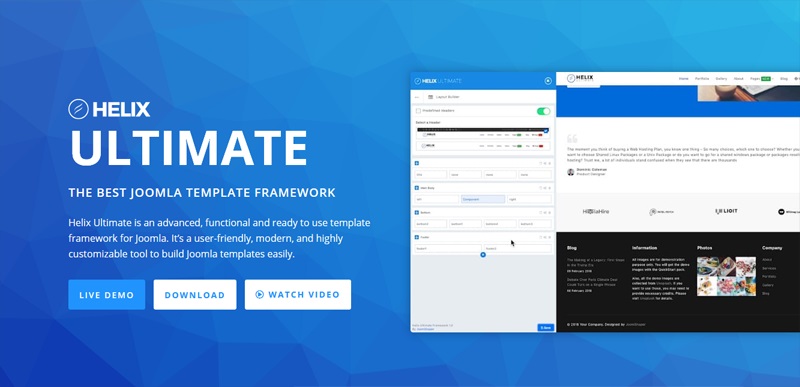 Helix Ultimate is an advanced, functional and ready to use template framework for Joomla. It's a user-friendly, modern, and highly customizable tool to build Joomla templates easily. This advanced Joomla template framework is packed with tons of awesome features including intuitive drag and drop functionality to create website templates with endless options.
Main Features
Brand New UX
Developed with Bootstrap 4
Mega Menu Builder
Functional Media Manager
Maintenance/Coming Soon Mode
Header Variations
SCSS Added
New Preset Style Options
SP Page Builder Supported
SVG Logo Option
Ajax Rating
Blog Options
Responsive Design...
3. Gantry 5 Joomla Framework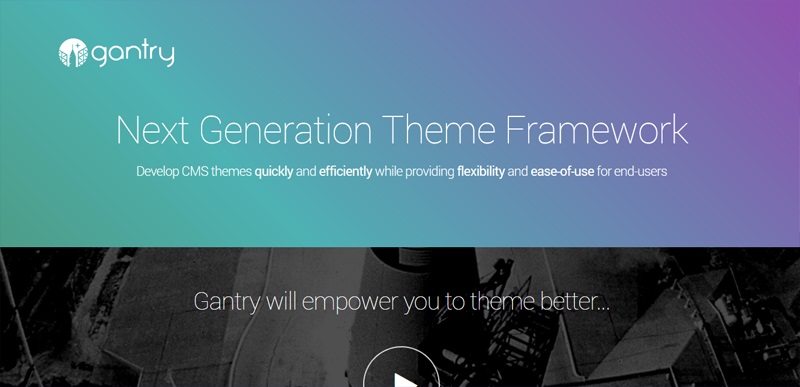 Gantry 5 is the latest generation of a powerful, flexible open source theming framework currently available for Joomla. Gantry 5 Joomla template framework is packed full of features created to empower the development of designs into fully functional layouts with the absolute minimum effort and fuss. It uses the Nucleus grid system, built from scratch using Flexbox and tied in to the Layout Manager to generate classes.
Main Features
Powerful and efficient layout manager
Fast and lightweight
Visual menu editor
Mega menu support
Ajax admin
Unlimited undo/redo
Twig based templating
SCSS/LESS support
Theme inheritance
Sophisticated built-in fields
Off-Canvas panel
YAML based configuration...
4. T4 Framework - Free Joomla Template Framework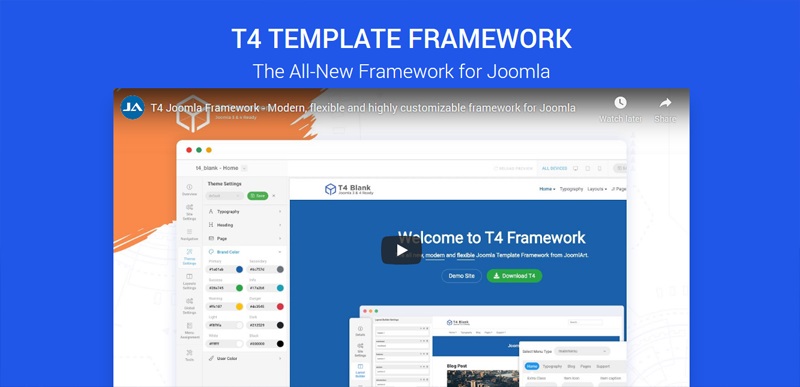 T4 Framework is a powerful and advanced responsive template framework for Joomla. It is a modern, flexible and highly customizable framework to build beautiful Joomla websites easier. T4 Joomla framework supports a bundle of advanced features like: Change position for any section, any column with just drag and drop; Easily configure display for rows, columns on specific responsive layout...
Main Features
New admin panel interface
New layout builder
New megamenu builder
Theme customization tool
Advanced site configuration options
CSS and JS optimization
Bootstrap 4 integation, developed with SASS
Custom code
Custom CSS
And more
5. Sun Framework - Popular Joomla Template Framework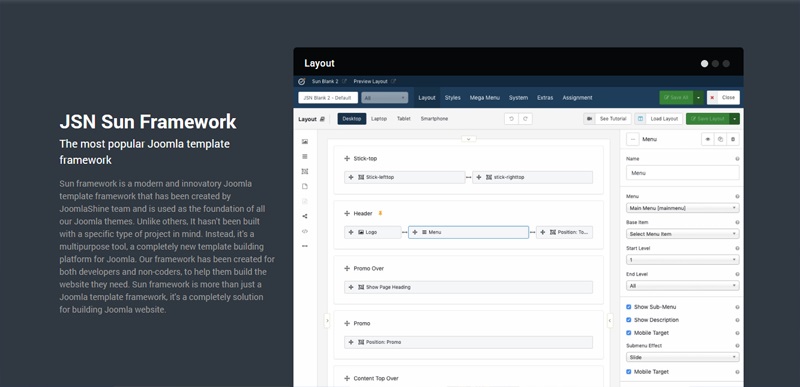 Sun framework is a modern and innovatory Joomla template framework that has been created by JoomlaShine. Sun Joomla Framework is a multipurpose tool, a completely new template building platform for Joomla. This Joomla template framework has been created for both developers and non-coders, to help them build the website they need. It's a completely solution for building Joomla website.
Main Features
Powerful layout builder
Rich Built-in elements
Responsive design
SEO optimization
High performance
GDPR compliance
Custom code
Social integration
Sample data
Developed with Bootstrap 3
Mega menu builder
Media manager
Wide and boxed layouts
Google fonts...
Based on your requirements and knowledge, you can choose the most suitable free Joomla template frameworks for your projects. Each framework will bring different experience in using and customizing. You can share your experience after using these Joomla template frameworks with us here.