YT Shortcode is one of the best-selling Joomla Shortcode plugin on Joomla Extensions Directory (JED). Theme is updated to version 3.x with dozens of new features and improvements and ready for Joomla 3.9 & Joomla 4 beta
YT Shortcode ver 3 comes with fresh and clean UI layout and 65+ shortcodes like: accordion, button, divider, gallery, pricing table, testimonials, Togglable tabs, map, slider… which are included tons of customization and extremely easy-to-use with no need to "learn" anything new thing to create stunning content. All you have to do is choose shortcodes you like from the library and do some tweaks.
Shortcode supports lots of popular components as: K2, Content, Easyblog, VirtureMart, Hikashop, Joomshopping... even Custom HTML module. You can quickly choose any shortcode for your content just by clicking the YT Shortcode button. With this plugin, adding secondary shortcode (shortcode in shortcode) is not the matter now. You can combine 2 or more shortcodes to get the best result.
This plugin is a Free, responsive slideshow extension that can be easily managed through Joomla component and modules. You can use it to create an unlimited number of groups and slides and present them anywhere on the website. Each slide can include a title, description and can be add links. You also can set a start/end publishing date. Created slides can be organized in unlimited number of slideshow categories and each category can have an unlimited number of slides.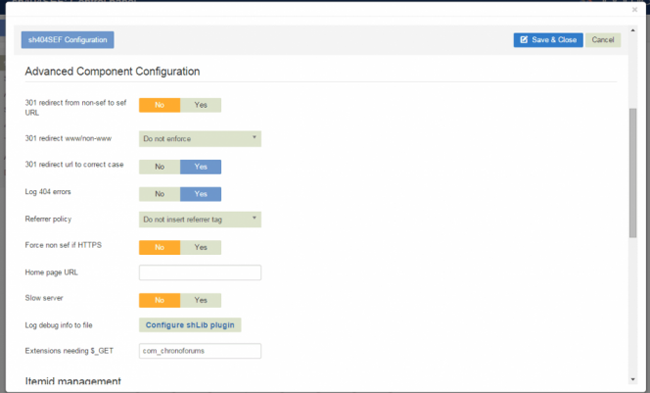 sh404SEF is the most popular and longest developed Joomla SEO extension. sh404SEF rewrites Joomla URL to user-friendly format and comes with a Title/Meta tag editor so that you can specify the title/descriptions for each of your pages.
This system is also a great solution for catching your 404 errors when you move your content within your content structure, such as moving content from using the Joomla Articles system to K2. Sh404sef detects any 404 errors on your site and records it in the database.
The SJ Mega Menu version 4 is the most powerful and easy-to-use Mega Menu Plugin with Drag & Drop layout that allows you to quickly build a professional Mega Menu. This plugin is updated for Joomla 3.9 and Joomla 4 that supports Horizontal & Vertical Mega Menu types with 8 pre-made layout styles. Sj Mega Menu is extremely flexible for customizing and maintaining. With Sj Mega Menu, you can use various styles for displaying menus. The drag & drop mega menu owns so many nice effects for many styles of menu. Besides, Sj Mega Menu supports a lot of features which are not only useful but also very easy to set up for your site.
SJ Slider for Content module uses to show articles on the front-page: articles on the front page, articles in some sections and categories. With responsive web design and a lot of options to control your module, you will be happy with this module.
SJ Newsletter Popup module allows visitors to sign up for receiving email about promotions, deals, special offers, product exclusives or any news from the website. With a popup window, it is very convenient for visitors to register. Furthermore, with a clear back-end interface and a detailed documentation, you're free to manage and customize the module as your ideas.
Keeping a backup of your Joomla site is the best way to ensure you can save your site in case anything goes south.
Akeeba Backup Core is the most popular backup component for the Joomla site. Its mission is simple: create a site backup that can be restored on any Joomla!-capable server, making it ideal not only for backups but also for site transfers or even deploying sites to your clients' servers.
Akeeba Backup creates a full backup of your site in a single archive. The archive contains all the files, a database snapshot and an installer similar in function to the standard Joomla! installer.
This search extension will dramatically change your conception of search modules. Professional design, real-time working and much more performance than you have ever seen on any website. Searching for an article or product was never so easy with this search module. Impress your visitors with the clean design and increase your site usability! The Live Search has 4 fully customizable themes within many predefined skins and settings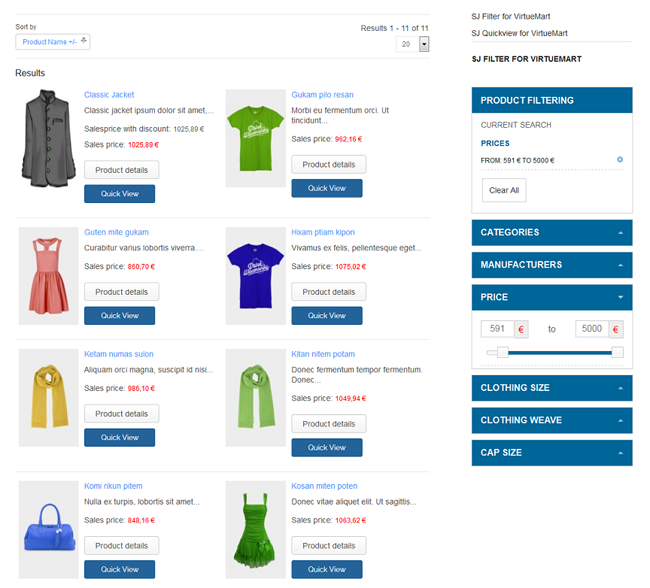 If you have an online Joomla store using Virtuemart, you should consider using this extension.
SJ Filter for Virtuemart displays products are filtered according to the chosen fields.
This module provides a wide range of filtering parameters according to categories, manufactures, product price or you can custom your own fields filters such as: color, size, material... Users can easily choose filter fields from drop-down lists. You can filter the products by one or several fields.
In the back-end panel, you can totally control any parameters and select the number of displayed products with/without product images, title, text, price, etc.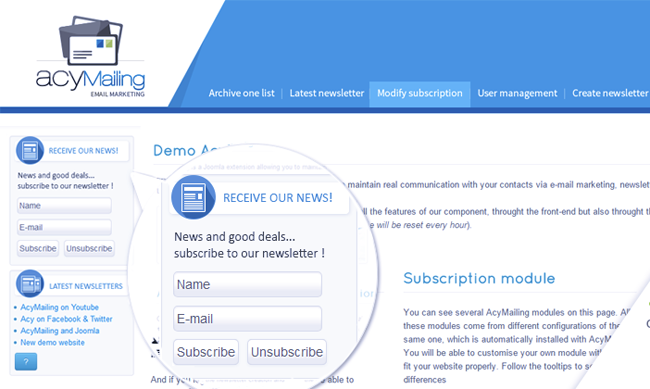 AcyMailing is a reliable Newsletter and email marketing extension for Joomla. It allows you to maintain real communication with your contacts via e-mail marketing, newsletters, follow-up autoresponders, marketing campaigns…
So if you want to have more visitors on your site, especially those who return, install this extension on your website.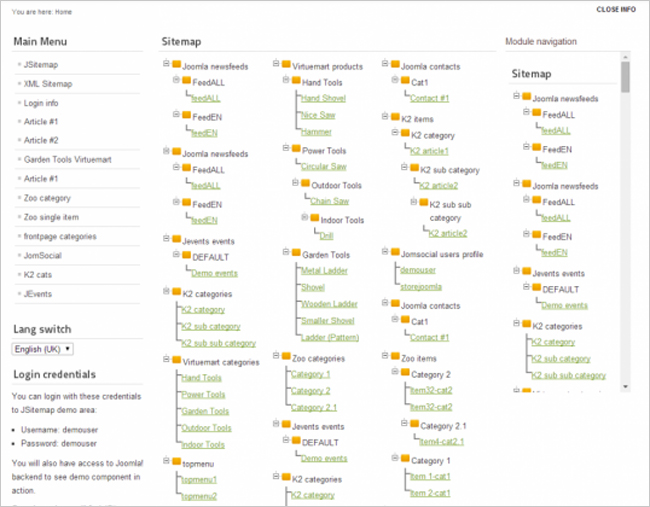 JSitemap is a sitemap generator extension and a complete SEO solution for Joomla. However, JSitemap Pro does even more than that.
The list of features is endless, you can also set JSitemap to ping Google every time your content is updated (using Ping-o-matic) which is a feature available in Wordpress as standard but not in Joomla.
Another recently added feature is the ability to use JSitemap Pro to add page title and metadata to all of your URLs meaning that it is now all fully featured SEO "must have" for any Joomla web developer.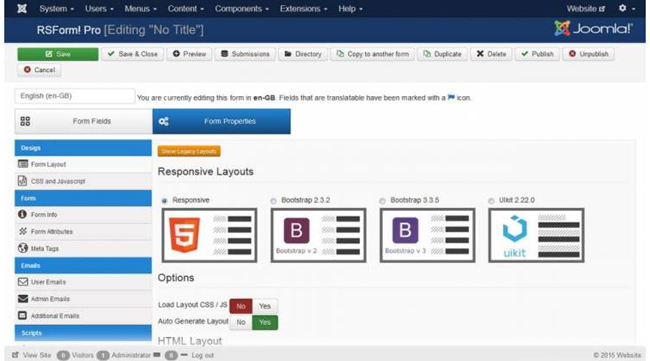 Creating HTML forms from scratch can be a pain and is almost impossible for a customer without some knowledge of HTML. RSForm! Pro makes form creation easy for customers but still has a huge array of features in order to keep any developer happy
Thanks for reading!