IMPORTANT NOTE FOR 3.0.0 SITES:

If you plan to update a site from 3.0.0 to 3.0.1, you need to install the
Joomla 3.0.0 Hot Patch
first.
DOWNLOAD
QUICK GUIDE FOR UPDATING FROM JOOMLA 3.0.0 to 3.0.1
1. Backup your site:
The update process is generally safe but it's always a good idea is you make a backup before updating. So please go ahead and make a backup of your site now.
2. Install the hotfix patch via Extension Manager
Log into your administrator, then go to
Extensions
>>
Extension Manager
, then:
Go to the Install From URL tab
Copy and Paste the URL of Hot Patch (is: http://joomlacode.org/gf/download/frsrelease/17575/76677/joomla_3-0-0_hotpatch.zip) to Install URL
Click on Install
3. Update to Joomla 3.0.1 via the Joomla! update component
After getting the success message, go to Component >> Joomla! Update
Click on Options
In the Update Server option, select Short Term Support, then Save & Close
And now, please check the result: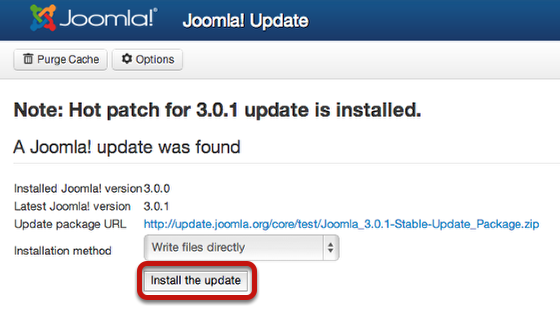 NOTES:
If you are not getting the "Note: Hot patch for 3.0.1 update is installed" message, then please repeat Step 2 or ask for some help from a trusted developer.
If you're not getting the "Joomla! update was found", click on Purge Cache button.
If you see both of the above, click on Install the Update.
If you use FTP, you might have to FTP the update package, which you can download at: http://joomlacode.org/gf/project/joomla/frs/?action=FrsReleaseBrowse&frs_package_id=6517
Thank you for reading!