1. VirtueMart

VirtueMart is one of the best eCommerce solution for the Joomla! Content Management System. It can be run as a Shopping Cart, or in Catalog mode. Built with the experience of more than 10 years VirtueMart provides you with a powerful and comprehensive eCommerce solution. We give you a flavour of the work we have done to provide you with one of the best open-source e-commerce solution around!
Price: Free
Shop Size: M to L
Highlight Features:
Easily customizable
Lots of options in the form of templates, add-ons, and, layouts
Dynamic calculator
Currency exchange rates are automatically updated
Guest checkout
Multi-lingual support
Integrated search engine optimization
Auto-features, including capturing taxes and discounts
Provides facility to utilize multiple payment gateways and shipping modes
Various payment options supported like, Paypal, Cash on Delivery, Credit Card, etc
Best Matched Templates:
2. JoomShopping

JoomShopping is a professional Joomla Shopping Cart extension with numerous functions for the successful sale of your products and services on the Internet. JoomShopping has received positive feedback from several hundred users and currently has over 450,000 downloads. JoomShopping well adapts your individual requirements and implements your e-commerce projects professionally.
Price: Free
Shop Size: S
Highlight Features:
Multiple Currencies
Multiple Payment Methods (Paypal, Nachnahme, Vorauskasse, Lastschrift, Sofortueberweisung). Ability to add new Payment Methods
Product Ratings & Testimonials
Multi languages
Manages an unlimited Number of  Products and Categories. Image for every Category.
Images, videos, demos can be used for each Product.
Different Attributes can be added to Product.
Order History (Customer can see all his orders)
Tax Management (for each Product can be different tax mode and for delivery too)
Delivery Management.
Order Confirmation Mail is sent to Shopper and Store Owner
Different templates for Categories, Products
Purchase without registering
Best Matched Templates:
3. Hikashop

HikaShop is a native E-Commerce extension for all versions of Joomla. It is built for simplicity and flexibility. HikaShop also has a wide range of marketing tools, but also powerful statistics displayable on your HikaShop dashboard to help you manage your store.
Price: Free - €99.90
Shop Size: S to M
Highlight Features:
Easy installation and maintenance
Perfect for Non-developers
Shops that don't need a large range of features.
Provides options to customers for writing reviews
Supports Really Simple Syndication (RSS) and other social media integrations
It supports most payment mechanisms including, Paypal, COD, and net banking
Supports wish list functionality, wherein, one customer can shares like likings with others
Best Matched Templates:
4. MijoShop

MijoShop is a powerful shopping cart component for Joomla that is designed feature rich and user friendly. It is a turn-key ready "out of the box" shopping cart and e-Commerce component for Joomla. It has an intuitive admin interface that allows you to have complete control over your store and detailed sales reports.
Price: $59 - $499
Shop Size: M to L
Highlight Features:
Joomla SEF URLs & SEO (Metadata) support, also with SEF components
All OpenCart modules can be used as Joomla modules
Joomla core and FaLang support for multi-language sites
Sitemap support, Xmap and internal sitemap
Integrated with Search and Smart Search components
Automatically integrated with Joomla templates, 0 conflicts
MijoShop will inherit styles from your website template right out of the box ensuring it always matches yours site
Migration tool for VirtueMart (1, 2, 3), HikaShop, JoomShopping, RokQuickCart, EShop, J2Store, redSHOP, Tienda, AceShop and JooCart
Integration with Akeeba Subscriptions as a payment system
JComments, Komento and JomComment integration
Integration with AcyMailing, JomSocial, Community Builder, Kunena and more (15+) Joomla components
One-click updates
Best Matched Templates:
5. EShop

EShop is a powerful & responsive Joomla Shopping Cart, eCommerce extension. It is built based on the standard Joomla! MVC structure with many great features, user friendly and easy to customize. You simply install, add products, enable built-in modules, payment plugins, shipping plugins and you are ready to start accepting orders.
Price: $39.99
Shop Size: M to L
Highlight Features:
Full Back-end Administrator
Multiple Themes
Multiple languages
Support 45+ Payment Gateways
Support 10+ Shipping Methods
Product Options / Attributes
Sales Report
SEF / SEO optimization
Unlimited Products
Export data to CSV files
Supports Watermark for photos
Supports Downloadable Products
Joomla Users integration
iDevAffiliate integration
Membership Pro Integration
6. J2Store

J2Store is a native Joomla shopping cart and e-Commerce extension. Create your online store and sell online fast and easy. It extends articles as products and lets you to turn articles into full fledged products. Build a beautiful online store using just the Joomla articles.
Price: Free - $99
Shop Size: M to L
Highlight Features:
Supports image additions of products
Use Joomla articles to build your catalogue
Simple to install
Easy to operate
It is very user-friendly
Supports integrated currency conversion
Import / export products from a CSV file.
One can sell both physical products and downloadable products through it
Offers various product options and variants
7. DJ-Catalog2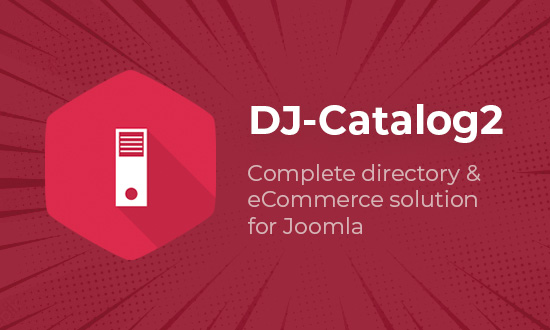 DJ-Catalog2 is powerful and easy to set up and use directory/catalog and eCommerce solution for any type of Joomla website. It provides modern & responsive output without the need for advanced configuration and many features needed for a successful directory or eCommerce web page.
The Joomla component integrates with the site's template and design. It also has multilingual and RTL support.
Price: $72
Shop Size: M to L
Highlight Features:
Easy and intuitive product card creation
VAT rates based on buyer country
Customer panel
Coupon codes
Product attachments
Guest users orders
Unlimited categories and subcategories
Product comparison
Different payment and shipment methods
Custom product labels
Automatic invoice issuing
Various Joomla templates support
GDPR compliance
VAT and VAT EU tax support
Did you find the most suitable Shopping Cart, eCommerce extension for your Joomla .3x store? Or are you using the other solutions that are not listed here? You can share with us your experience, we will have an exciting discussion.