Joomla Information, Tutorials, Tips, Discussion | Professional Joomla Templates and Extensions
If you are a Joomla lovers, you may have noticed the availability of Joomla! CMS 3.5 Beta 2 on January, 2016. The beta version already has all the planned new features for Joomla! 3.5. In case you want to explore the new features of the upcoming Joomla 3.5, you can get the beta 2 version Here.
We also downloaded the Joomla 3.5 beta and tested new features. Let's have a look to see new changes that you'll find in Joomla 3.5:
Lunar New Year is getting closer to us! And we are so excited to welcome this most popular and important traditional holiday (Tet Holiday) of the year in our country!
To celebrate this biggest holiday, SmartAddons offers all our valued customers 2 FREE exclusive gifts and a special coupon with 30% OFF any purchases. The promo will start on February 8th, 2016. A week only! So don't miss out this great chance.
Visual perception plays an important part in forming our impression, knowledge base and many other things. It's a well-known fact that pictures are processed much faster by our brain and stay in our memory for a longer period. Besides, the notion of visual aesthetics makes artists search for perfect color combinations, best element arrangements and trace the latest fashion trends as long as they live and are created.
It's time to celebrate! SmartAddons has just reached 6 years in the web development business. Although it has not been a long journey, but we have grown in both our successes and capabilities. Today, all of us here at SmartAddons would like to take this opportunity to send out a genuine THANK YOU to all of the loyal customers. We're aware we would not be where we are today, doing what we love without you.
To celebrate this remarkable milestone, we're excited to give you 50% OFF on all SmartAddons products and get a FREE Birthday Gift - "Joomla Template Installation Package" service ($25 Value) as well. This offer is valid only one day, so don't miss out!
Joomla 3.4.8 has been released few days ago. This is essentially a security release for the 3.x series of Joomla which fixes some bugs related to session management from Joomla 3.4.7. We strongly recommend that you update your sites immediately.
This release only contains the security fixes; no other changes have been made compared to the Joomla 3.4.6 release.
Christmas is coming! All of us at SmartAddons would like to take this opportunity to wish all our clients and your families a very Merry Christmas and a Happy New Year 2016. In order to celebrate this amazing festival, we have decided to launch the last promotion of the year which brings you a lot of benefits.
From 21st to 26th December 2015, enjoy 40% discount on any Joomla products, membership clubs, renewals and get a FREE Xmas Gift- "Joomla Template Installation Package" service ($25 Value) on this holiday. A week only, so don't miss out!
As Joomla 3.4.6 released to patch a critical vulnerability that affects all versions from 1.5 to 3.4, you need to update you Joomla website immediately. This article will show you how to check whether your site is affected or not.

Black Friday sale is on! Now you can save 35% OFF on any membership plans to get full access to 300+ premium Joomla templates and extensions with unlimited updates and support from our experts.
At SmartAddons, you're guaranteed to find best Joomla templates, modules and extensions to build any kind of websites.
The amazing offer ends on November 30th, so don't miss out!
Have you been waiting for this Halloween night to wear your witch costume?
The so called scary day is undoubtedly one of our most exciting moment with celebrations including costume parties and trick-or-treat. In this Halloween, if you go trick or treat to SmartAddons home, we will treat you a sweet deal with 40% OFF on any Joomla purchases and Membership Clubs.
The offer ends on October 31 (Halloween midnight), so don't miss out!
As Joomla has been 10 years old which marks a milestone in Joomla history, Joomla providers also have celebrated this special day with a lot of sweet deals, coupon code, discounts. This article includes a list of best Joomla deals we gathered that will help you easily find the best one without heavy searching! The list will be updated continuously.... So, keep track on this post and share to your friends.
Have you ever got in stuck when building content for your website? Some of us sometimes have great ideas for building creative content for our website, but we can't make they come to life with very little coding knowledge of HTML and CSS, don't we?
Hi guys!
Continuing with the template improvement work, this week we have successfully released new version for 3
Joomla templates
:
SJ Style, SJ Univer and SJ Financial II
. These templates have been updated in order to minimize bugs and reach their best performance. Details are specified below, please read through it and pick up your ones.
New way to make your event or announcement more attractive and noticeable with SJ Topbar - free Joomla module compatible with Joomla 3.x.
Hi guys!
As you know,
Joomla 3.3
is now available
for all users with powerful features promoted by the best developers. So, in order to keep updated about this stable and major upgraded Joomla version, we have also applied changes on a large number of Joomla templates which are the best 14 ones to make them totally compatible with Joomla 3.3.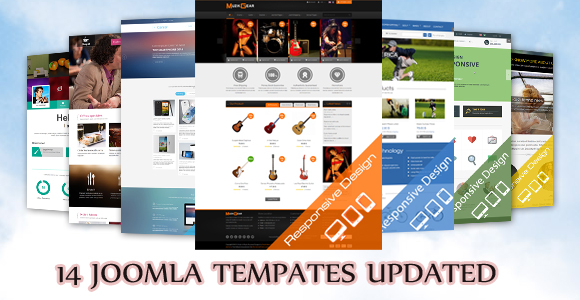 AdsManager is known as the leading classified ads component for Joomla with simple and effective features to manage advertising strategy. No matter what your project is Real Estate, Furniture, Technology, Cars, Eletronics and etc, this component is suitable for any needs of webmasters or developers, provides plenty of options, flexible view and extensions to help you build your websites.
Love all our templates?
Join our membership clubs starting at $49 only for access to all of our templates
Join Now
Join Affiliate Program
Earn money with SmartAddons!
Get paid immediately.
Up-to 30% of every sale
Join Affiliate Program
Joomla Extensions
Information
Copyright © 2009 - 2019 SmartAddons.com. All Rights Reserved.