Joomla! 3.6.2 fixes some issues found in the 3.6.1 release on Wednesday which is a security release for the 3.x series.
Technical requirements
Note: Please read the general update instructions before updating and remember to clear your browser's cache after upgrading.
Joomla 3.6 - What's New?
Next to the major Joomla 3 Release, Joomla 3.6 has been released this July with more than 400 enhancements, more ease in building websites, more powerful features and much better UX than previous version.
1. Improved Joomla! Updates
This update adds an option for reinstalling Joomla's core files at the click of a button, overwriting any modified file(s) and reverting them back to the default. So, you can update Joomla by uploading a new version of Joomla core files.
Go to Components > Joomla Update > Upload & Update to find this feature.

2. UX Enhancements
Joomla 3.6 includes time-saving features which gives you faster modules, better drop down facilities for tasks, better user management and more!
3. Create Categories from Inside Articles
In Joomla 3.6, you don't have to go to the Category Manager to add new categories. You can create categories from directly inside your articles.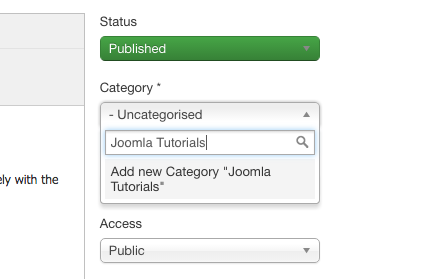 4. See What's in Your Menus with All Menu Items
The new option to show all items from all menus gives you a quick overview of what is displayed where on your website. If you have a large site, this will save you a lot of time. You're easy to spot duplicated links, missing menu items or just get an overview of every menu on your site.
In addition to features above, other highlights of Joomla! 3.6 include:
Delete all cache entries with one click
More extension details displayed in System info
Easier template development with deeper Jlayout integration
Improved user validation performance
New location of log file to prevent server problems with some hosting configurations
Reverse caching support
jQuery updated to the latest version
Delete and rebuild Extension Update Sites
To view a full list of the features please visit our 3.6 site.
Joomla 3.6 and Our Joomla Templates & Extensions
We're in progress to update all of our Joomla Items to the 3.6. Now more than 25+ Premium Joomla Templates has been updated, you can check all Joomla 3.6! Template Here
Follow us and keep in touch to quickly access a wide range of high performance Joomla 3.6 templates and extensions.

Thanks for reading!