So, How to use this new feature?
After setting the languages for the content and menus, we can create associations. It used for linking together the menu items in different language. As you know, each menu item you can set several languages, but it is still only one and general purpose, so, when we click on a menu item on the page, it doesn't redirect to the home page, we stay on the page we choose.
1. First of all, to use this feature, you need to activate the Language Filter plugin and make sure that "Menu Association" is set to "Yes". Save the parameters, a new "Association tab" will display all content languages in the Category Manager when editing a category. There are all content Languages display and dropdown, you can choose the language want to use.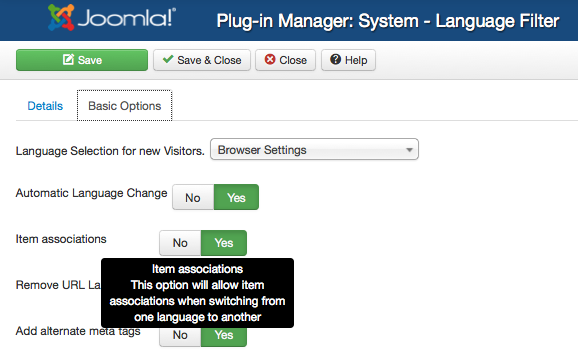 2. There is a new Association column will display in the Category Manager and Article manager. When you hover, the icon will display the associations implemented for a specific item.
When you edit an article, you want to set different languages, you can write the languages you want and click on the Select button to choice the corresponding languages.

3. On the front-end (the outside interface), It's a page displaying a list menu item of a category set to en-GB. There is Mutil-lingual Tutorial item with some article displayed below. You can click on that section and choose your languages with the Switcher. After that, the suitable article will display.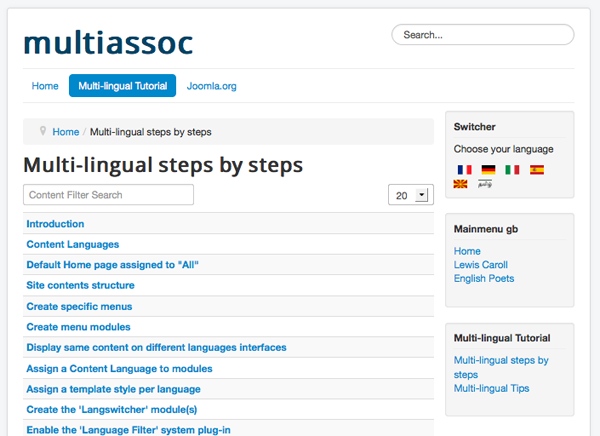 Such as: when you choose "Introduction" section and want to read it by French, click the icon French flag in Switcher, then the content will be translated in French. Like the below: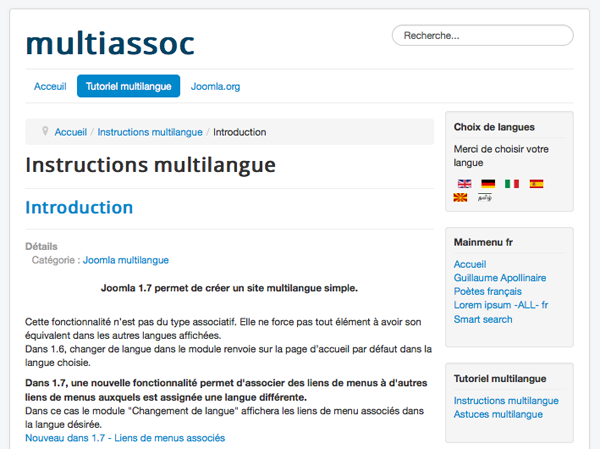 In addition to support the building of your multi-language website better, you can use extensions that support for Joomla 3.x such as: GTranslate, EDocman, SEO glossary…They will help you easily convert languages and more literal.
Hope you get useful information!