Joomla Information, Tutorials, Tips, Discussion | Professional Joomla Templates and Extensions
ANNOUNCEMENT: Due to our holiday break, we would like to extend this offer to 2nd January 2018. Hope that you can enjoy our promotion!
» Customer Support Notice for New Year Holiday 2018
Merry Christmas & Happy New Year!
A silent night, a star above, a blessed gift of hope and love. A Merry Christmas to you and your whole family! To celebrate this special holiday season,  SmartAddons would like to give you exciting offers for all our products including Joomla Templates, Extensions and subscription plans as well.
This offer is available to 02nd January, 2018! So don't miss out this great chance.
Hey Guys,
SmartAddons wish you a very happy and blessed Thanksgiving and the coming Black Friday! To take part in this moment, SmartAddons would like to give you exciting offers for all our products including Joomla Templates and Extensions at SmartAddons Store and 10 newest Joomla Templates at Themeforest Store. The discount is applied to SA membership clubs as well.
The holiday season is the most important time of year for online businesses to earn more. It's a golden opportunity that no shop owner wants to miss. Whether B2B or B2C, eCommerce or not, having some type of promotion or event can keep your company in the ring during this time. As Christmas is near, we would like to share some tips which help you to prepare your store in advance  for holiday season and create a successful promotion.
SJ TheDaily
is a new
Responsive Joomla 3.x Template
in SmartAddons 's news/magazine template collection. With many in-house extensions that we have created for this template, you will have a comprehensive toolkit to show trending, latest, most reviews... items to your visitors.
Do you want a website which displays your products in an impressive style?
SJ Product comes out with a simple but effective interface. You can attractively set your own featured products with name, short description, detail links by the powerful slideshow. In addition, the product categories are presented with a simple and nice look which makes your website more professional and easy-to-use. Specially, a video box on the homepage is a great news for you to display more interesting information. Go along with this, very cool hover effect is supported, so your website will be more pleasant to follow.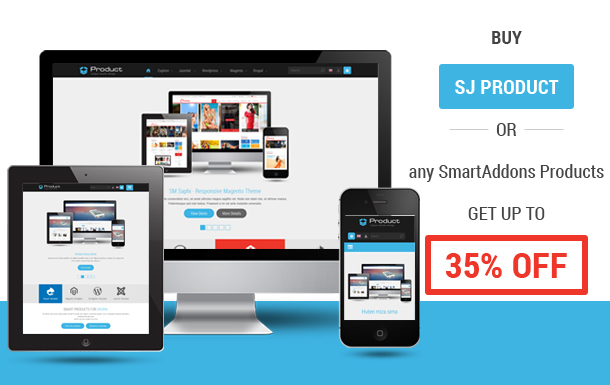 Love all our templates?
Join our membership clubs starting at $49 only for access to all of our templates
Join Now
Join Affiliate Program
Earn money with SmartAddons!
Get paid immediately.
Up-to 30% of every sale
Join Affiliate Program
Joomla Extensions
Information
Copyright © 2009 - 2019 SmartAddons.com. All Rights Reserved.