There are many different page builders to choose from, so which is the best? And here is the list of top page builder for Wordpress which are very easy to use with a modern drag and drop interface, highly customizable and feature-heavy.
With the following page builders (both Free and Premium), you won't need any special technical skills, for sure.
FREE PLUGINS

The Page Builder by SiteOrigin is one of the most popular free page builder at WordPress.org with more than 1 million download times for now.
It lets you build pages using widgets as building blocks you can drag-and-drop into a responsive layout. This page builder works with your existing widgets and adds some more other useful widgets, such as gallery, image, video, post, button, call to action, list, price, testimonials. The page builder works well with any WordPress themes, you can easily resize columns and style your page with its options or using CSS.

The Aqua Page Builder is an easy-to-use page builder that gives you the power to create custom page templates for your WordPress site. Simply use the drag & drop editor to create your own custom page layouts. Then when you create a new page, just select one of custom templates created to use your layouts.
This page builder will be an excellent tool when you use a theme that gives it more elements/shortcodes to use for building page layout.

The free Page Layout Builder WordPress plugin is a great option to create quickly beautiful page layouts without running to learn HTML or finding a website designer.
The page builder gives you all necessary modules like sliders, galleries, images, heading, post loop, notification box... and all you need to do is to drag and drop widgets, you can build a new page layout. Plus the plugin is compatible with over 3000+ widgets from WordPress.org so you can add even more page building options if you need them.

WR Page Builder is a simple drag-n-drop WordPress plugin that includes a lot of built-in shortcode and page elements to make creating custom page layouts simple.
Besides that, this page builder has a preview mode which enables you to have a quick look at how your page looks like when you create your custom layout without having to go to the fron-end.
PREMIUM PLUGINS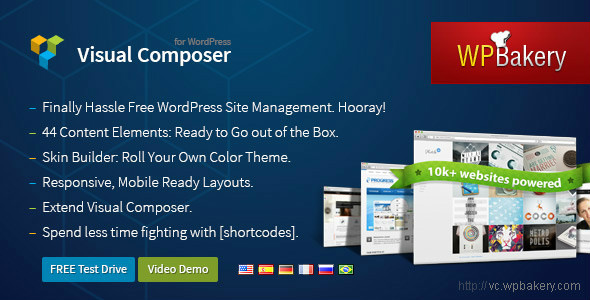 Visual Composer is a feature-rich page builder plugin and very popular page builder plugin over at Code Canyon. It allows you to build beautiful pages all by dragging and dropping modules to your desired page location.
The plugin also includes more than 40 built-in content block elements of everything from post/page sliders, Google maps, call-to-action button and social icons to accordions and tabs. This is a great plugin built on the jQuery UI framework and Twitter Bootstrap and has a strong code core. With this plugin, you can do so much and even insert your own page elements.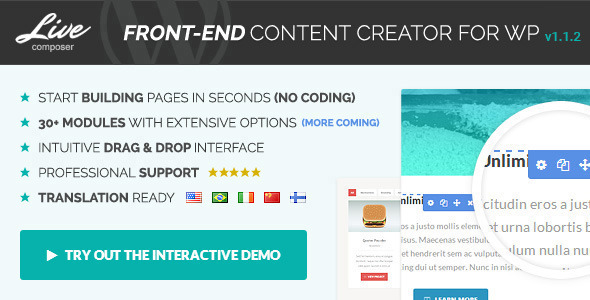 As its name, Live Composer is a front-end WordPress Page builder plugin that allows you to build directly on the page, not in the admin.
This plugin offers 30+ modules with extensive options that you can use to insert and edit page modules such as text, blog posts, galleries, testimonials, slider, staff members, promos and much more. This makes it easy for any user to create custom page layouts in minutes.

BeaverBuilder is a drag-n-drop and lightweight page builder that comes with 20+ gorgeous page templates like contact forms, content sliders, and pricing tables to help you build pages without installing other plugins.
By using this page builder, all of the layouts and modules are responsive, making them adaptable to mobile devices. Beaver Builder is also integrated perfectly with the WPML translation plugin. This allows you to display your content in their language. Besides, the page build offers you Import and Export Tools which are available for transferring layouts to other websites.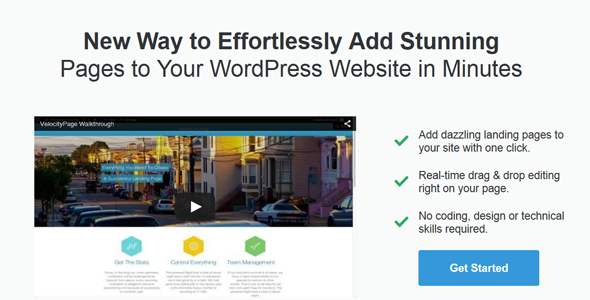 Developed by WordPress lead developer Mark Jaquith, VelocityPage helps you create a wide variety of pages such as landing pages, content pages, and more. Pre-built pages are included with the plugin to help you develop pages in the quickest way.
VelocityPage provides a real-time drag and drop editing environment which lets you to modify pages in the frontend of your website. It has an intuitive system that makes it easy to style content and place content into columns. It offers essential modules such as media, header tags, and custom HTML and support for the email marketing services MailChimp and Aweber.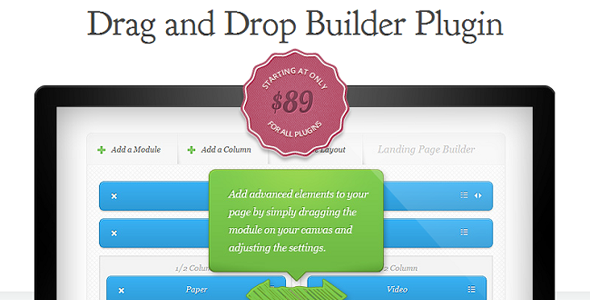 This page builder is a clear and easy to use page builder plugins. It's pretty basic and designed to work with any theme. It allows you to build a page by adding elements, then drag and drop, arrange and re-size to suit your need.
The page builder appears below the regular text editor when you add a new page or post, and you can add modules, and create columns, sliders, tabs, buttons, boxes and other elements.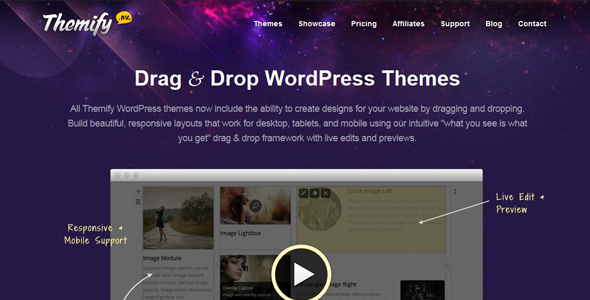 Themify released their own drag & drop page building for their themes and it also can work with other WordPress plugins.
This plugin includes a great live front-end preview so you can visually see what you're creating as you add page elements. The backend edit lets you drag the different modules over to your page, from within your site admin area. The frontend edit lets you view changes as they happen from the front.
The page builder also has some highlight features, such as pre-built layouts, Import and Export tools, high customization, mobile and SEO friendly, etc. Moreover this plugin support multi-site and 3party addons.
Which should you choose?
If you have never used any page builders before and just want to try one FREE first, we highly recommend you Page Builder by Siteorigin, it seems the clear winner for a newbie here, this plugin is also the first builder I've used and found very easy to use and design custom page layouts. At SmartAddons, we offer many WordPress templates with pre-defined layouts, built-in shortcodes and support perfectly these plugins, you can check out them HERE.
If you are using other page builder out there and have success with, please share with us by leaving your comment below.
Thanks for reading!