First of all, make sure you always download the newest version. When you buy the module, you already have the last version.
The following documentation is applied for packages from version 1.0 of SJ Content Mega Slider, SJ K2 Mega Slider and SJ VM Mega Slider Joomla extensions.
REQUIREMENTS
– Joomla! 3.x latest stable versions are highly recommended.
INSTALLATION
1. Please to refer the installation in administrator of module on Joomla! 3.x after:
In Administrator page, go to Extensions -> Install/Uninstall
In this page, click on Browse.. button, choose our module and then click Upload File & Install
Go to Extensions -> Module Manager, click Select Type box and choose the module you have installed
Then click the module listed below to configure it as SETTINGS part hereafter
2. And now, please to preview module with layout of Sj Mega Slider for Content for example: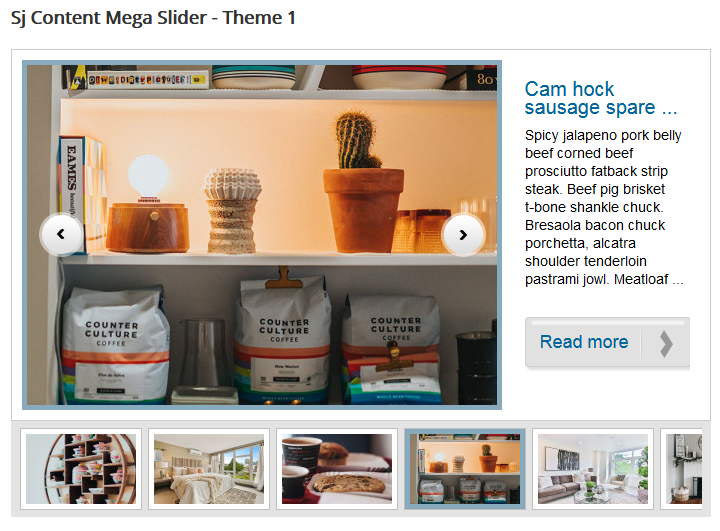 Large/Small Image: This is the first image in the description of Article
Main/Normal Description: This is the intro text in the description of Article
SETTINGS

Let's examine all the settings detail on Sj Content Mega Slider

The parameters are divided into the following areas:
Module Settings
Source Options
Items Options
Navigation Options
Image Option
Effect Options
Advanced Options