If you are running a WordPress website, there is no reason that you do not use Sitemap plugin and submit it to major search engines. Because setting-up a Sitemap is very easy. Here are some best Sitemap plugins that we have collected from plugin directory. Especially, it is totally FREE to download.
Let us take a look at the best FREE Sitemap plugins for WordPress below:
Download: 15,381,719+
The Average rating: 4.7 out of 5 stars
Required WordPress version: 3.3 or higher

This plugin has been downloaded over 15 million times and is extremely easy to use and set up. This plugin will generate a special XML sitemap which will help search engines like Google, Bing, Yahoo and Ask.com to better index your blog. With such a sitemap, it's much easier for the crawlers see the complete structure of your site and retrieve it more efficiently. The plugin supports all kinds of WordPress generated pages as well as custom URLs. Additionally, it notifies all major search engines every time you make a post about the new content.
Download: 13,749,117+
The Average rating: 4.7 out of 5 stars
Required WordPress version: 3.8 or higher

Yoast's WordPress SEO plugin has the most advanced XML Sitemaps functionality in any WordPress plugin. Once you check the box, it automatically creates XML sitemaps and notifies Google & Bing of the sitemaps existence. These XML sitemaps include the images in your posts & pages too, so that your images may be found better in the search engines too.
Download: 263,483+
The Average rating: 4.4 out of 5 stars
Required WordPress version: 2.3.1 or higher

PS Auto Sitemap is a plugin that automatically generates a site map page from your WordPress site. It is easy to install for beginners and easy to customize for experts. It can change the settings of the display of the lists from administration page, several neat CSS skins for the site map tree are prepared. When you use WordPress as CMS of the Web site, you can expect the effect of SEO, improvement of the usability, and so on...
Highlighted features:
Display/hide of particular home.
Display/hide of particular categories and posts.
Display/hide of pages.
Limitation of the depth of the list.
Set the display order of the page list and the post list.
Combine/Divide category & post
Set the excluded categories from the list.
Set the excluded posts and pages from the list.
Select the display style of the site map from 12 prepared designs (or no style).
Use or not caching sitemap content.
Download: 117,423+
The Average rating: 4.8 out of 5 stars
Required WordPress version: 3.0 or higher

By using the shortcode [wp_sitemap_page] on any of your page, this plugin will automatically generate a sitemap of all your pages and posts. This gives your site visitors a quick overview of your site and how it is structured. They can find easily pages or previous posts. In additional, it helps you improve the SEO of a website. The limitation of this plugin is that do not generate an XML sitemap.
Highlighted features:
Display all pages, posts and categories
Display the Custom Post Type (such as: "event", "book"...)
Display only one kind of content using the attribute "only", like [wp_sitemap_page only="page"]
Easy to use
Possibility to customize the way it will be displayed through the admin panel
Possibility to exclude some pages or some Custom Post Type (CPT)
Posts and categories displayed hierarchically
Has CSS class to customize it if you want
Available in multi-languages (English, French, Russian, Italian, Spanish, Dutch, Czech, Persian...). You can add your own translation if you want
Downloads: 116,772+
The Average rating: 4.4 out of 5 stars
Required WordPress version: 2.7 or higher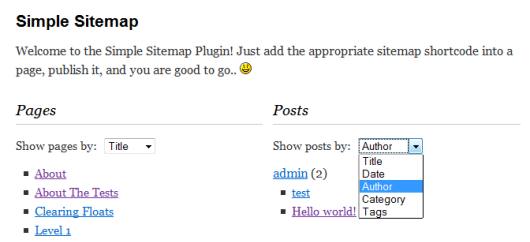 Simple Sitemap is the easiest and fastest way of adding a powerful sitemap HTML to your own website simply by adding a single shortcode to a page. Content are displayed as a single linked list of posts and pages, or as groups sorted by taxonomy (via a drop-down box). The style and order which the pages and blog posts will be displayed on your screen depends on the dropdown option chosen in Plugin settings. Posts and pages are arranged as a single linked list of titles that can be grouped by date, author, category and tag.
Highlighted features:
Show posts, or pages (or both)
Show posts first, or pages (if both displayed)
Exclude individual posts/pages
Sort content by date added (ascending, or descending)
Sort content alphabetically (by titles)
Add custom sitemap links (to non WordPress areas)
Do you have a sitemap on your website? Don't hesitate to share with us your experiences in the comment box below. More importantly, do you want to optimize your site? Let's discover 5 Free Contact Form Plugins and 10 Free WordPress SEO Plugins. Certainly, these blog posts are useful for you.
Thanks for reading this!